Apple iPad sales predicted to reach 7M in 2010, 20.1M by 2012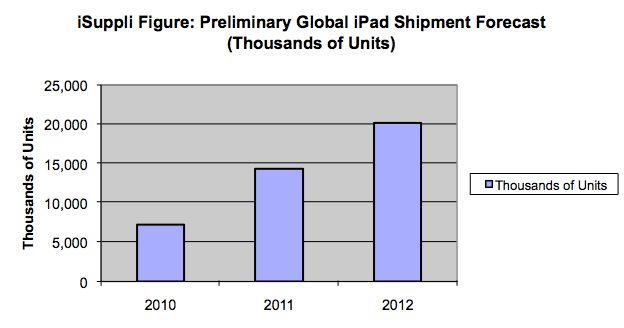 AppleInsider is supported by its audience and may earn commission as an Amazon Associate and affiliate partner on qualifying purchases. These affiliate partnerships do not influence our editorial content.
A new forecast of iPad sales predicts Apple will sell 7 million units in 2010 — a number higher than most expect on Wall Street — with sales doubling in 2011 and nearly tripling by 2012.
Research firm iSuppli on Friday issued its expectations for the iPad, calling for 14.4 million sales in 2011 and 20.1 million in 2012. The analysis said that 2010 sales will be driven by early adopters and others who are attracted to the device's unique touch-screen user interface. But by 2011 and 2012, mass-market adoption will begin based on the number of applications available on the App Store, improved functionality, and declining prices.
The firm also noted that it considers its forecast to be "conservative," as the company believes Apple could quickly boost sales by adding features or adding support for Adobe Flash, the latter of which is highly unlikely, as detailed in AppleInsider's three-part Flash Wars series.. But with or without Flash, sales will still come, iSuppli said, thanks in large part to Apple's patented multi-touch interface.
"Touch is the new standard for user interfaces, providing a naturally intuitive way of operating an electronic device, whether you are two or 92," said Rhoda Alexander, director of monitor research for iSuppli. "The tablet form factor is ideally suited to touch. The iPad represents an intriguing mix of two devices that have struggled to gain traction for years: Internet appliances and tablet PCs.
"In a sharp departure from past tablet implementations, it appears that Apple has both minimized and maximized the capabilities of the devices, limiting it as a creation device but compensating for this shortcoming by offering a wealth of easily consumable applications. The device's initial limitations are likely to be overlooked if Apple provides enough content to keep users engaged within the product limitations."
iSuppli said the iPad is a "huge gamble" for Apple, as some believe the darling of the tech industry may have "finally overplayed its hand." Here, again, the primary criticism from the firm is the lack of support for Adobe Flash.
"Apple has a track record of defying great odds and successfully navigating previously uncharted waters, such as it did with the iPhone," the report said. "With initial orders falling in line with expectations, Apple is likely to stick with its strategy of not using Flash unless there is a notable impact on sales."
Source: iSuppli Corp. April 2010
The numbers from iSuppli skew higher than most on Wall Street, who expect the iPad to sell between a million and 5 million in its first year. Analyst Gene Munster this week said he believes the device will sell 900,000 in the June 2010 quarter and 2.7 million in calendar year 2010, though like iSuppli, he said his numbers could be conservative.
As for Flash, its exclusion from the iPad and subsequent comments attributed to Apple co-founder Steve Jobs, in which he allegedly called the Web standard a "CPU hog," have led to a considerable amount of debate over its merits and shortcomings. On Thursday, Apple went as far as to highlight iPad-ready, Flash-free Web sites that have embraced HTML5 for streaming video.
HTML5 is an in-progress standard that Apple has backed as the company has shunned Flash by not allowing it on iPhone OS devices, including the iPhone, iPod touch and iPad.
Although Jobs reportedly said he believes it is "trivial" for Web developers to switch from Flash, some employees of leading publishers recently said they believe such a move wouldn't be so simple. But some major Web sights have still sought to have compatibility with Apple's mobile devices, and last month it was revealed that National Public Radio and The Wall Street Journal were creating specific versions of their Web sites completely devoid of Flash for iPad users. Virgin America, too, dropped Flash content from its Web site in order to allow users of iPhones to check in for flights.
In addition, Brightcove announced it has contracted with Time and The New York Times to allow HTML5 to seamlessly replace Flash video content on the publications' Web sites. The new platform provides support for intelligent device detection, playlist rendering, and playback of H.264 encoded content. Also, U.S. TV network CBS will offer HTML5 video playback for its streaming episodes when the device launches.