Apple hints at first-party Mini DisplayPort to HDMI adapter [u]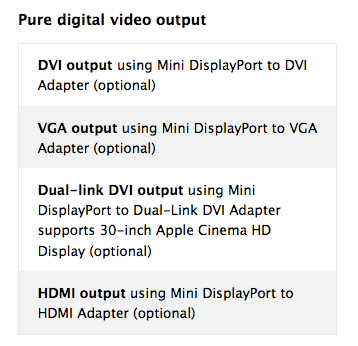 The specification sheet for Apple's new line of MacBook Pro notebooks states that HDMI output is possible using an optional Mini DisplayPort to HDMI adapter, hinting that Apple could release a first-party solution [Update: New ports support audio output].
The bullet point is included under the "Pure digital video output" section of the technical specifications for Apple's new MacBook Pro machines. It advertises the functionality as: "HDMI output using Mini DisplayPort to HDMI Adapter (optional)."
Apple does not make a first-party Mini DisplayPort to HDMI adapter, and there is no sign of one yet on the Apple store. Existing third-party options have been available since early 2009 for under $20. Such cables allow Macs to be connected to nearly any HDTV with HDMI for video output.
Apple does sell first-party Mini DisplayPort adapters that convert the output to VGA and DVI. Both items cost $29 direct from the hardware maker.
In March, AppleInsider exclusively reported that Apple has created in its internal labs a Mini DisplayPort to HDMI connector. The alleged hardware was said to include technology that would allows Macs shipping with an updated Mini DisplayPort spec to channel both video and audio through the Mini Display port to the HDMI adapter, rather than just video.
Update: ArsTechnica confirmed that the new Mini DisplayPort supports both audio and video output on the new MacBook Pros. However, Apple also reportedly said it has no plans to release its own HDMI adapter.
The Mini DisplayPort became a part of Apple's LED Cinema Display, MacBook and MacBook Pro lines in late 2008. It replaces DVI video with a much smaller port. The new 27-inch iMac, introduced last October, only supports DisplayPort input. Unlike the Mini-DVI and Micro-DVI connectors common on previous generation Apple products, the port is capable of driving resolutions up to 2560x1600, which is commonly used on 30-inch displays.
Though the Mini DisplayPort technology was originally created by Apple, in 2009 the Cupertino, Calif., company agreed to license the interface to the Video Electronics Standard Association for its own DisplayPort standard. Prior to the agreement, Apple had to license its technology itself and made the standard free, as an incentive for rapid adoption.
Last November, the Mini DisplayPort standard created by Apple was officially adopted by VESA, which is also finalizing the DisplayPort 1.2 standard, which will double the technology's bandwidth capabilities to 21.6GB/s.
Last week, a new patent application suggested Apple is creating a new proprietary cable that could simultaneously transmit both USB 3.0 and DisplayPort data through one cable. The described technology would offer more functionality and greater data transfer rates via smller cable connector form factor.