Apple's new MacBook Pro has antenna mounted to optical drive frame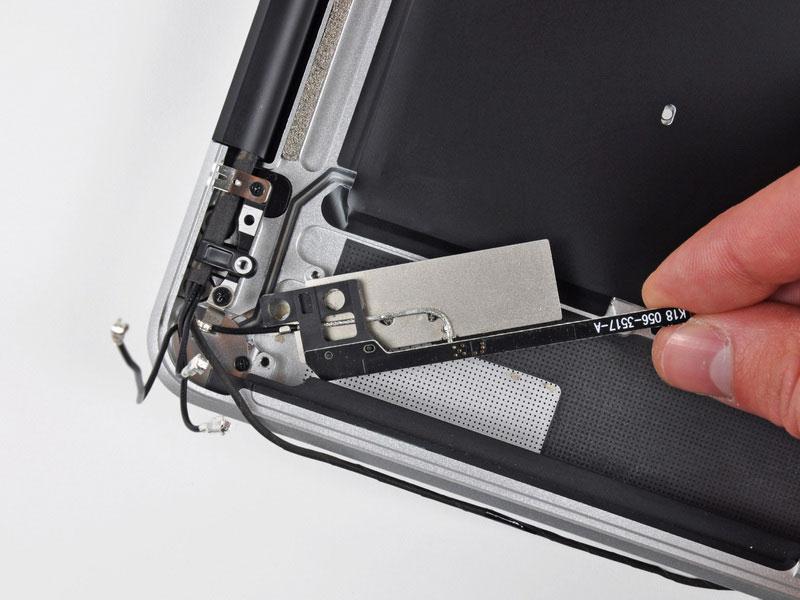 AppleInsider may earn an affiliate commission on purchases made through links on our site.
A disassembly of Apple's new 15-inch Core i5 MacBook Pro has uncovered Intel's HM55 chipset, a redesigned speaker assembly, and a wireless antenna mounted on the frame of the optical drive opening.
"The new MacBook Pro doesn't look any different than its predecessor, but Apple has made quite a few subtle tweaks within their latest professional laptop," said Kyle Wiens, teardown specialist over at iFixIt. "We dove inside to find out exactly what a year's worth of tweaks and improvements looks like."
In an email, Wiens noted the following highlights from the tear-down:
Apple moved the WiFi/Bluetooth board. This redesign no longer requires that the wireless connections be integrated into the camera cable, greatly decreasing the size of the connector.
Since the WiFi/Bluetooth board is now mounted inside the all-metal case, Apple added an antenna that is mounted on the frame for the optical drive opening. "Pretty clever! Time will tell what impact this move has on wireless performance."
Apple changed the design of this speaker assembly slightly, moving from a single plastic enclosure to separate plastic enclosures for the speaker & subwoofer that are connected by the speaker leads.
Apple's homebred automatic graphics switching calls on the OS to switch to the NVIDIA GeForce GT 330M graphics as needed for higher demand applications "like Chess, and uses the integrated Intel Core i5 graphics for Solitaire."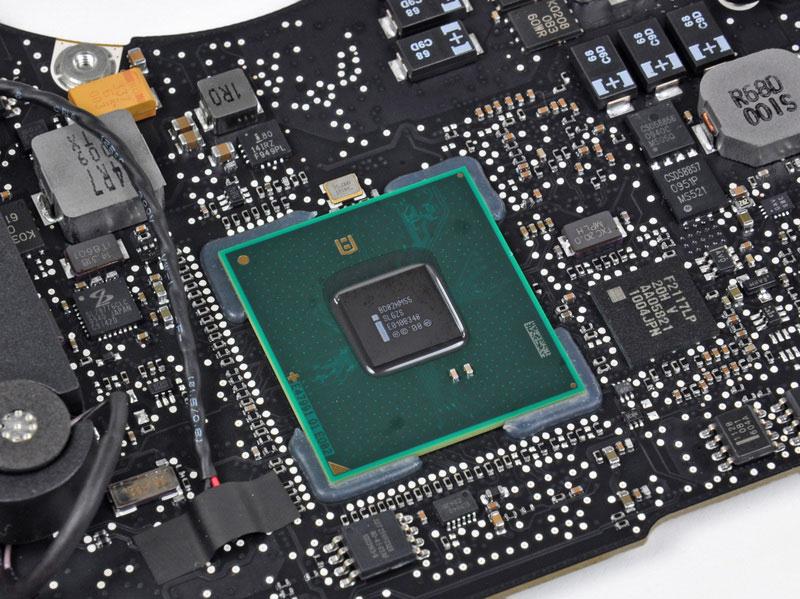 Apple is using Intel's HM55 Express Chipset. Apple has clearly tweaked Intel's chipset to enable the seamless switching between the Intel and NVIDIA graphics. Interestingly enough, the chipset hub (BD82HM55) is not connected to the heat sink. Enough heat is convected from the surface of the silicon to remove the small amount of heat generated. Another advantage of this Intel chipset over Optimus is that the integrated graphics are powered down when the discrete GPU is active.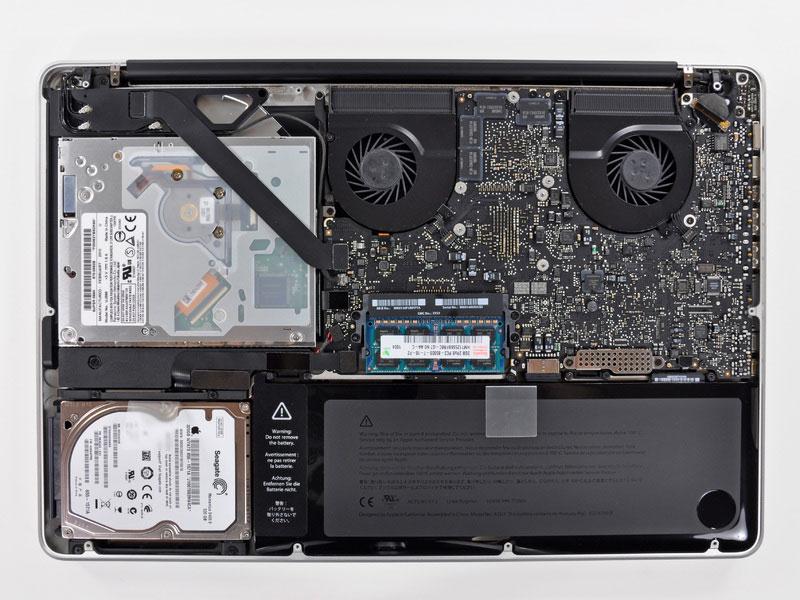 The battery is now rated at 77.5 Wh. That's just a tad bit bigger (6%) than the 73 Wh battery we found in last year's 15" model, but not enough to explain the 2 hour battery life (22%) improvement Apple is claiming for this machine. Apple has dramatically reduced this machine's power consumption, and we expect it to run quite a bit cooler than the previous model.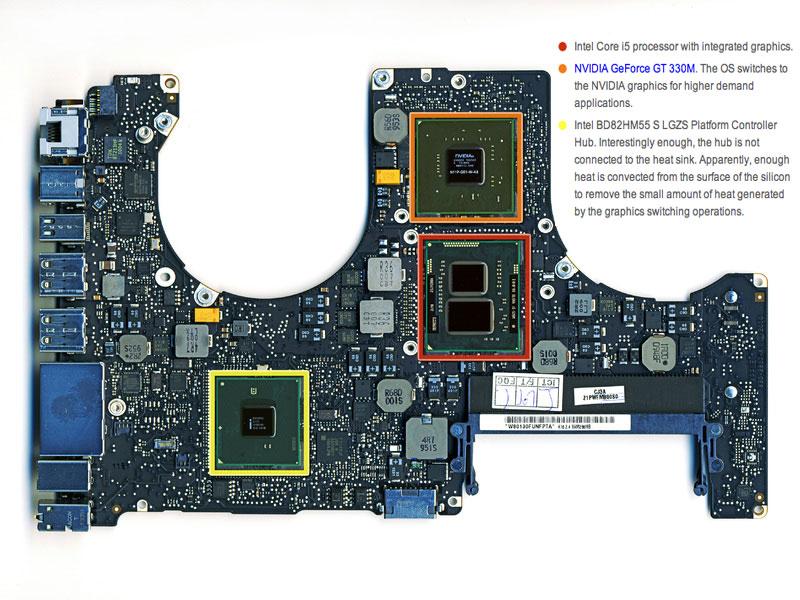 Apple has stopped using five-point Torx screws found on other MBP 15" Unibodies in favor of Tri-Wing screws.