New international Apple iPad preorders now ship by June 7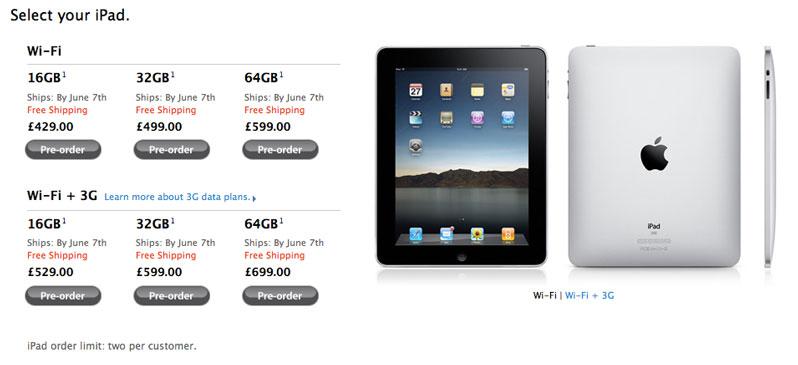 AppleInsider is supported by its audience and may earn commission as an Amazon Associate and affiliate partner on qualifying purchases. These affiliate partnerships do not influence our editorial content.
Apple this week updated its online stores across the globe to reflect a new estimated shipping date of June 7 for those who did not initially preorder an iPad overseas.
The update suggests that Apple has completely sold out of its initial launch run of iPads in both the Wi-Fi and 3G model. Both are scheduled to launch on May 28, and those who were among the first to secure preorders should see the device on launch date.
The change came quickly, as Apple only began accepting preorders from the nine international launch countries this week. Updates to Apple's online stores in the U.K., Australia, France, Germany, Japan, Canada, Switzerland, Spain and Italy on Tuesday now all reflect a new ship date of June 7 for the latest preorders. That's all nine countries where the iPad will launch on May 28.
The international launch of the iPad was originally scheduled for late April, but Apple delayed it by a month due to stronger than expected demand of the device in the U.S.
Late preorders in the U.S. also had a short wait, as those who ordered toward the end of March didn't receive the hardware until April 12. The iPad formally launched in the U.S. on April 3, and Apple sold more than 300,000 on the first day.
Nearly a month later, Apple launched the iPad 3G in the U.S., and the first day of availability was enough to push total hardware sales over a million. Since the launch of the iPad 3G just a few weeks ago, Apple's retail stores have struggled to keep the item in stock, with many remaining sold out.
In the face of short supply, Apple has staggered the international launch of the iPad, beginning with the nine countries on May 28. Nine more countries — Austria, Belgium, Hong Kong, Ireland, Luxembourg, Mexico, Netherlands, New Zealand and Singapore — will enter the fray in July. Apple has said that dates for nine additional countries will be announced at a later date.