56% of developers support Apple's iOS, 90% are single-platform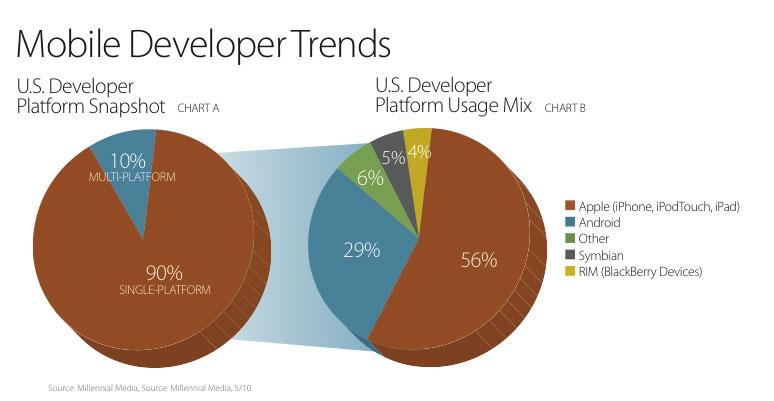 AppleInsider is supported by its audience and may earn commission as an Amazon Associate and affiliate partner on qualifying purchases. These affiliate partnerships do not influence our editorial content.
The iOS mobile operating system for the iPhone, iPod touch and iPad remains the dominant platform for developers, most of which write exclusively for Apple's devices.
Advertising agency Millennial Media's Mobile Mix survey for May 2010 found that 56 percent of U.S. developers write software for Apple's iOS. That's nearly double the next-largest platform, Google's Android. 5 percent write for Nokia's Symbian, while 4 percent create software for Research in Motion's BlackBerry devices.
And while Apple has the lion's share of developers, the study also suggests that those developers are exclusive to Apple. Among all U.S. developers in May, 90 percent were single platform, while just 10 percent wrote mobile applications for multiple platforms.
Millennial Media says that its advertisements reach 82 percent of the mobile Web, according to Nelson, with 59.6 million users. The company is the largest independent mobile advertising network, following Google's acquisition of AdMob.
Other details revealed in the latest Mobile Mix report:
Requests for the Apple iPad on Millennial Media's network grew 160 percent month-over-month.
Apple remains the top mobile device maker, with a 25.4 percent share among all manufacturers. However, that was a decrease of nearly 10 percent form the April figures. iOS still has 46 percent share among smartphones alone on the company's network.
Google's Android has grown 338 percent since January. Ad requests for Android increased 15 percent month-over-month in May.
Research in Motion is the second-largest mobile operating system on the company's network. RIM had five devices in the top 20 mobile phones, lead by the BlackBerry Curve which represented 7.92 percent of traffic in May.
Despite what have been reported as lackluster sales, Google's Nexus One was the third most popular smartphone on Millennial Media's network. In May it accounted for 3.94 percent of all mobile phones.