Photo, video quality of Apple's iPhone 4 demonstrated in Prague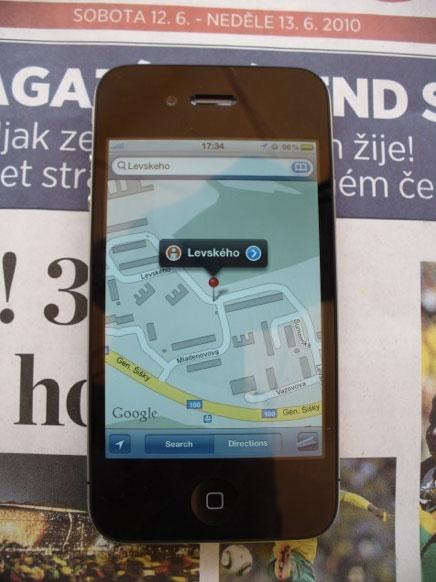 An iPhone 4 obtained early by a user in the Czech Republic has allowed a look at the photo and video recording quality of Apple's latest handset, prior to its public release.
A reader of Jablickar.cz offered the hands-on impressions and details, including photos and video recorded with the 5 megapixel lens on iPhone 4. The user, named Swenak, said the phone is fast and responsive, and its thinner and flat design makes it a better fit in a pocket.
The tipster said the new glass front and back prevented scratches, though they guessed that the stainless steel perimeter of the device could become scuffed up over time. The report also noted that the device received a GPS signal in a "surprisingly quick" fashion, obtaining a lock "almost immediately."
The site also noted that the phone was given heavy use for about an hour, playing games, surfing the Web, watching videos on YouTube and accessing Google Maps. During that time, the battery fell by just 10 percent.
The latest apparent leak is not the first early look at Apple's latest iPhone, as two other high-profile reveals showed off prototype version of iPhone 4 before the handset was officially announced. The preview in Prague does, however, represent the first time the handset was demonstrated in working fashion in public, outside of Apple's Worldwide Developers Conference. The previously obtained prototypes were non-functional when they were handled in the wild.
The iPhone 4 includes a whole-new camera system that includes LED flash with a 5 megapixel lens that records HD video. The new rear camera will record 720p video at 30 frames per second. Users can also conduct video editing via the $4.99 iMovie app to trim their HD clips right on the phone.
Analyst Yair Reiner with Oppenheimer said earlier this month that suppliers informed him the new camera module in iPhone 4 is "orders of magnitude more sophisticated than anything previously attempted in a smartphone."
Photos taken with iPhone 4 are included below, while the video sample is available in the original report.