First iPhone 4 in official retail box spotted at Walmart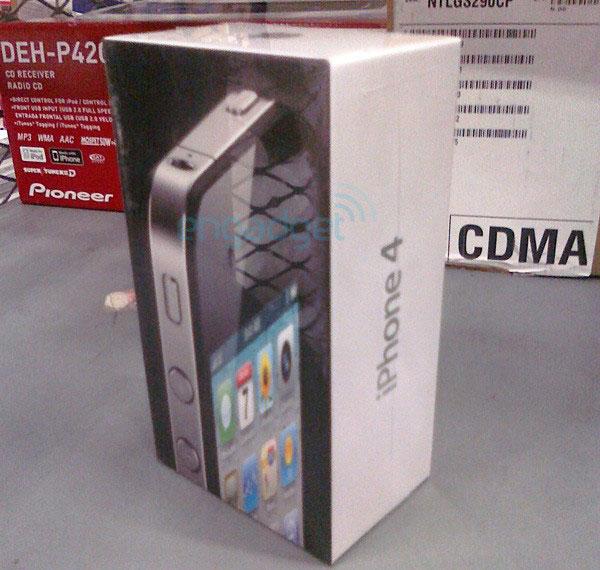 The official packaging of Apple's iPhone 4 has been revealed days before the product is set to launch, thanks to a photo taken at a Walmart where the devices have already arrived.
A tipster to Engadget sent the photo, along with the information that the iPhone 4 has arrived at Walmart's storehouses.
The box labeled "CDMA" in the background is unrelated, housing an LG 290C handset. While rumors of a Verizon-compatible CDMA iPhone continue to persist, there will not be a surprise this week.
Walmart joins Best Buy and Radio Shack as the U.S. retail locations where customers can purchase the iPhone 4 on day one. Unlike Best Buy and Radio Shack, Walmart did not offer preorders for the new handset, leaving availability to the first customers who arrive on launch day.
The iPhone 4 has an official release date of June 24, though an e-mail sent by Apple to customers on Tuesday suggested that those who preordered directly through the Cupertino, Calif., company may receive their handset a day early. FedEx shipment notifications for early buyers state that delivery will occur on June 23, and the date was reiterated in the note from Apple to its customers.
Walmart, the largest retail chain in the U.S., has been an important part of Apple's sales for some time. Their partnership started in 2005, when the retailer began a pilot program selling Apple's short-lived HP-branded 20GB iPod. Over time, the nation's largest retail chain began carrying Apple's full line of iPods, and in 2008 some of its stores began selling the iPhone 3G.
Earlier this year, the company revealed it also hopes to sell the iPad by the end of 2010. Currently, availability of Apple's touchscreen tablet at brick-and-mortar stores is limited to its own retail stores, select Best Buy outlets and other assisted locations, including Apple Specialists.