Special Report: The end of Apple's iPod era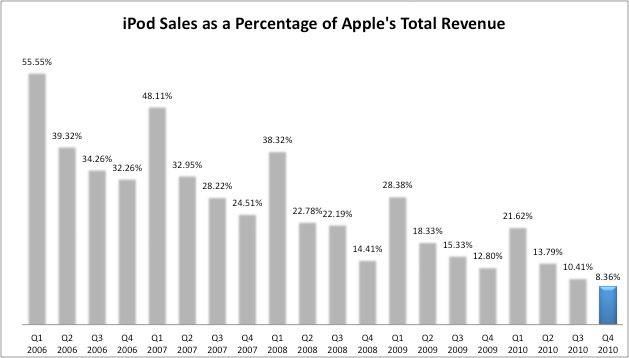 After years of serving as Apple's main source of revenue, the iPod's influence on the company's financial health has diminished to the point of being effectively irrelevant as a revenue driver, marking an end to the 'iPod era.'
As the halo effect of the iPod reached its maximum potential, reinvigorated Macintosh sales and deep market penetration by the iPhone have completely taken over as the main source of Apple's revenue and earnings. Â Even the iPad in its inaugural quarter will post more revenue and earnings than the iPod, pushing the device to Apple's 4th largest source of income. Â What's more, the iPod as a percentage of Apple's total revenue will drop below 10% in 2011.
A few years ago, I wrote an article detailing the iPod's diminishing importance to Apple's revenue growth. As Macintosh sales starting picking up steam, and as the advent of the iPhone assumed the helm of Apple's future growth prospects, the iPod started a slow descent down from its throne as Apple's key revenue driver.
In January 2006, when Apple hit all time highs of $86.40, I remember how investors and financial analysts feared Apple's best years were behind it. This fear, while apparently unfounded in retrospect, stemmed from the perception that the iPod was near market saturation, and that Apple wouldn't be able to innovate further. And though the market was in the midst of a raging bull market, investors saw Apple's share price drop from $86.40 to $50.00 by that July.
Turn the page to 2010, the iPod is a mere afterthought and Apple has since seen its share price grow almost 6 fold. And while the iPod demonstrated a lot more resilience than anticipated by the financial world, posting record quarter after record quarter through 2008, its significance as a revenue driver has now diminished to the point of being almost irrelevant to Apple's overall growth. In Q1 2006, the iPod accounted for an astonishing 55.55% — or more than half — of Apple's total revenue.
For the 2010 holiday shopping season, though the iPod posted 250% more revenue than it did in 2006, it only accounted for 21.62% or just a fifth of Apple's total revenue. That right there is a very tangible example of Apple's ability to innovate in the face of an inevitable and impending slowdown of its main revenue driver, the iPod. The chart below details iPod revenue as a percentage of Apple's total revenue from 2006 through 2010. Please note that Q3 and Q4 of 2010 are merely estimates based on a detail analysis I've published, and that actual results may vary.
Notice how the iPod's impact to Apple's total revenue has been on a consistent and continual downtrend since 2006. It is as if the importance of the iPod wanes by the day. In fact, I'm projecting that the iPod as a percentage of Apple's overall revenue will fall under 10% for the first time in Q4 of this year. And to get an idea of just how significant that really is, I'm expecting iTunes to account for 6.9% of total revenue in the same quarter. That's an indication that the iPod is becoming just as insignificant of a revenue driver as is iTunes.
Yet, the chart above is even more impressive when one makes a side by side comparison to Apple's total revenue in the same period. Even though the iPod has a diminishing impact on Apple's total sales from 2006 to present, Apple's revenue has outright exploded.
In Q1 2006, Apple reported $5.75 billion in revenue of which 55% were iPod sales. In 2010, Apple reported $15.7 billion or almost triple what it reported in 2006. Yet iPod sales only accounted for a meager 21.6% of that revenue. Any way you look at it, Apple is no longer dependent on the iPod, and any future signs of weakness should produce nothing more than a yawn. The chart below is a quarterly overview of Apple's revenue from 2006 to 2010. Please be advised that Q3 and Q4 are merely projections, and that actual results may vary. A detailed look at how I arrived at those estimates can be found here.
Though the iPod is contributing less in terms of percentages, it still makes very hefty contributions in terms of revenue. In fact, while iPod revenue as a percentage of Apple's overall revenue has been on a constant decline since 2006, the iPod has posted very consistent revenue throughout that period of time. The only thing that has changed is Apple's product lineup, and an untouchable capacity to innovate. Hopefully this article puts the old adage, "As goes the iPod, so goes the Apple," definitively the rest. Apple isn't just the iPod maker or the iPhone maker, it's a money maker. 2010 marks the end of the iPod era.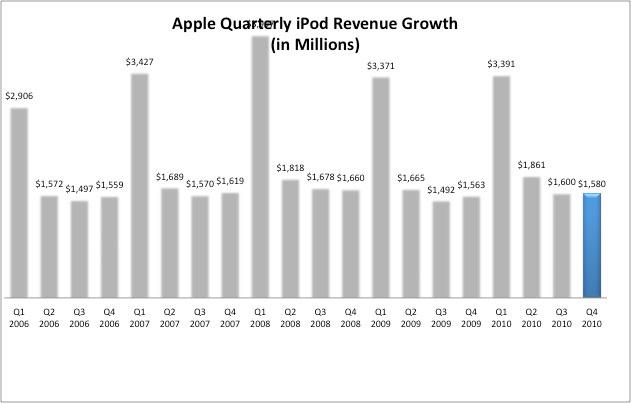 Andy Zaky is a graduate from the UCLA School of Law, an AppleInsider contributor and the founder and author of Bullish Cross — an online publication that provides in-depth analysis of Apple's financial health.