Review: Apple's aluminum Mac mini and Mac mini Server (2010)

Apple's newest entry-level Mac recently received a full hardware makeover, with a wider but flatter aluminum unibody shell, integrated power supply, built in HDMI for home theater applications, and a greener more efficient design.
Position in the Mac family
The redesigned Mac mini continues to hold down the low end of both Apple's desktop offerings and server products, shipping in both a standard version equipped with an optical drive and one 320GB hard disk, or alternatively a server model that drops the optical drive and its slot to make way for two 500GB hard disks.
Apple markets the Mac mini as being a convenient, compact replacement for an existing PC. It sits a step or two behind the mainstream iMac all-in-one system, and is not even close to the professional market Apple targets with the Mac Pro. In its server configuration, the Mac mini is similarly a long ways from the high end Xserve product line.
In terms of performance, the standard Mac mini is built with the same general architecture as the entry level 2010 MacBooks: a 2.4 GHz "P8600" Intel Core 2 Duo processor paired with NVIDIA's GeForce 320M graphics chip. The previous Mac mini paired a Core 2 Duo CPU with NVIDIA's GeForce 9400M, just like last year's MacBooks and the current low end iMac.
The server version ships with a slightly faster 2.66 GHz "P8800" Intel Core 2 Duo and the same graphics hardware; the standard version can also be upgraded to that same CPU for $150 more.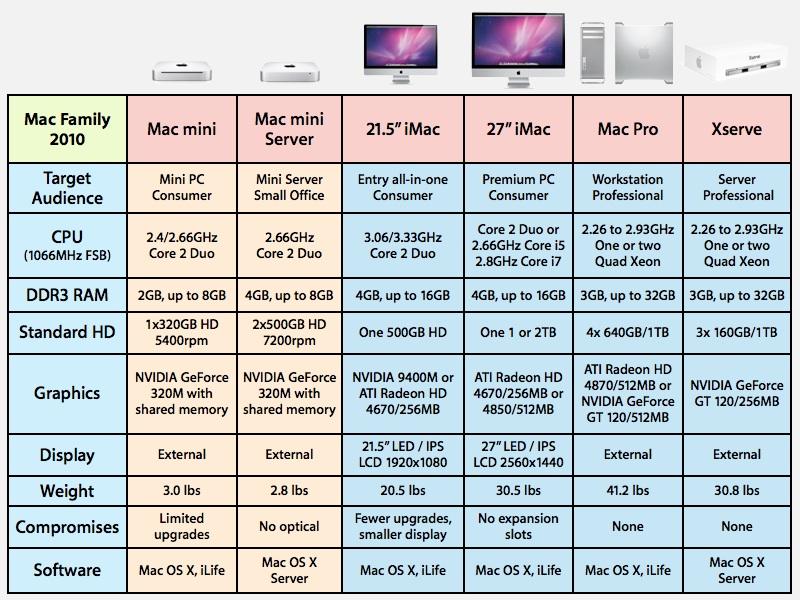 Slightly bumped processors, no jump to Nehalem
Apple's higher end MacBook Pros and iMacs use an Arrandale (mobile) or Lynnfield (desktop) Core i5 or i7 CPU (both use the Nehalem microarchitecture rather than the earlier Core). Intel's mobile Arrandale processor packs its own Intel HD Graphics, which Apple augments with a GeForce GT 320M, which kicks in when necessary. That chip is faster than the graphics chip in the Mac mini, and also has its own dedicated 256MB of graphics memory rather than just sharing system RAM as the Mac mini's graphic chip does.
Lynnfield iMacs using a Core i5 or i7 include a dedicated ATI Radeon HD GPU, which similarly has its own own dedicated 256MB or 512MB of graphics memory. On the higher end, Apple's Mac Pro uses a Quad-core Xeon, and either an NVIDIA GeForce GT 120 or ATI Radeon HD GPU, each of which has its own dedicated 512MB of graphics memory
Like the MacBook and the low end of both Apple's MacBook Pro and iMac line, the Mac mini continues to use Intel's Core 2 Duo paired with NVIDIA's "graphics chip plus chipset." This architecture supports a lower overall cost while still providing decent performance very competitive to the entry level Nehalem Core i3, and much faster than alternative, low end Windows PC CPU designs including Intel's very low end Atom or AMD's low price Athlon X2 options (see next page comparisons).
Still, the Mac mini is now priced higher, with the standard model with 2GB of RAM starting at $699 and the server version with 4GB of RAM beginning at $999. Both can be expanded to 8GB, although Apple's own maximum memory upgrade costs a whopping $500 extra.
On page 2 of 4: All new body, New HDMI audio/video output for home theater
The new aluminum construction of the Mac mini makes the tiny computer appear targeted more toward the living room as a computing appliance; it shares the same 7.7" square footprint of Apple TV and the company's Time Capsule wireless base station. It also includes the same internal power supply, which packs the system's AC transformer within the device rather than using an external power brick.
The new unibody construction provides an elegant outline with minimalist, precision details. Its wrap-around rear panel presents a series of ports and a single outlet slot for the fan's air exhaust. In contrast, the previous 6.5" square Mac mini looked more like a tiny PC than a home theater appliance, with a bit more ill-fitting back panel and a light, cheaper look overall.
The new redesign also now supplies an easy-access, twist-off bottom for exposing the RAM; the old version required using a putty knife to open up the case, a task Apple reserved for authorized technicians. It's still a big job to replace the new unit's hard drive; users are probably about as likely to need to do that at some point over the next three years as they are to need to access the RAM once they've upgraded it.
The plastic bottom lid doubles as a radio window into the metal case for WiFi and Bluetooth signals. The antennas sit just below the metal lip, poking down into the lid that also serves as the Mac mini's foot. That gives the antennas a 360 degree exposure. The lid itself locks into place leaving a slight (and invisible) gap all the way around that serves as a cool air inlet for the fan.
The new metal shell serves double duty as both a rugged shell and a heat sink for the electronics. Even so, the new design is only slightly heavier (3 lbs compared to its former 2.9 lbs; the new server model weighs in a just 2.8 lbs). It feels a lot more dense and solid. It's also now just 1.4" tall, compared to the previous 2" mini cube design.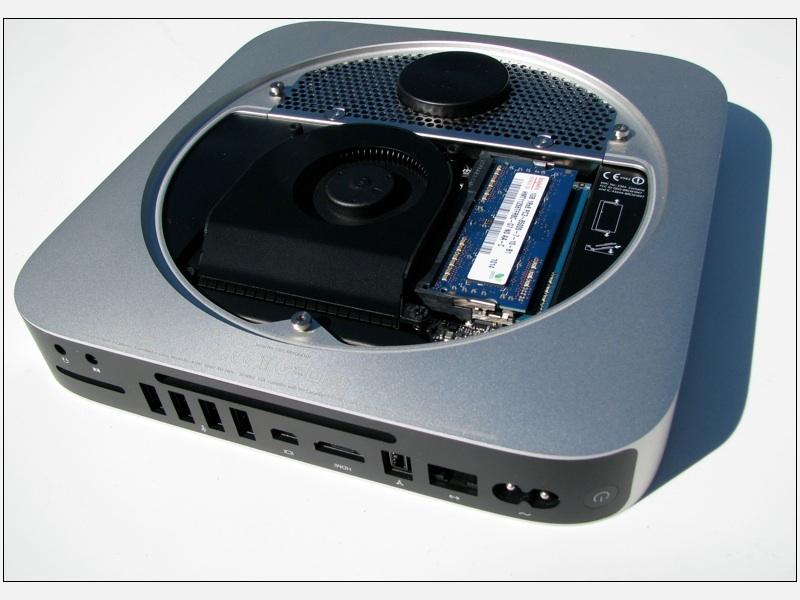 New HDMI audio/video output for home theater
The new Mac mini replaces Apple's unique, mini-DVI port with a standard HDMI connector. The HDMI 1.3 compliant port supplies up to 1080p video with 8 channel, 24-bit audio that supports both stereo and Dolby Surround 5.1. Using an HDMI to DVI connector, the port can also be used to drive a DVI monitor up to 1920x1200 resolution.
The unit also includes a Mini DisplayPort for a second display; that port can drive a monitor up to 2560x1600 resolution (it also supports HDMi/DVI or VGA signaling in addition to DisplayPort, with the appropriate dongle), and like recent MacBooks, also supports audio output. That means, with the proper connector cable, you can drive two HDMI displays, providing audio to both. Beware that early Mini DisplayPort-to-HDMI dongles do not support audio, because the original Mini DisplayPort Macs didn't support audio over Mini DisplayPort.
Note that when you plug in an HDMI display, you may still need to manually select HDMI as the audio output source from System Preferences. In testing with a Samsung HDTV, plugging in HDMI began delivering a 1080p video signal that cropped off the Mac menu bar, something that's easy to fix from the Displays panel, using the Overscan slider. We also had to activate "Samsung HDMI" as the audio output before the internal speaker delegated audio to the display's speakers.
The Mac mini continues to provide Apple's normal audio input and output jacks, each of which handle both analog and optical-digital signaling. The audio output port also handles iPhone-style headphones with an integrated mic for chat applications and voice recording.
Video performance on both ports is plenty capable of HD video from iTunes, Hulu and YouTube. As with its other products, Apple steadfastly refuses to support Blu-Ray on the Mac mini, which will limit its appeal to users who want a one-box unit to handle all sorts of modern video playback for their HDTV home theater.
The new $699 price of the Mac mini is likely on the high end of what most users might want to pay for a dedicated set top box. The more limited Apple TV is priced at just $229, while a variety of mini Windows PCs aimed at the home theater market are in the range of $250 to $550, even if they skimp on certain features to hit those price points.
While the Mac mini is fully capable of performing as an HD video appliance, it's not powerful enough to run the latest first person shooter games at its full resolution. Valve Software's new Team Fortress 2 begs to be run below 1080p for example, although less demanding titles are more responsive. Apple's not quite in the game console business just yet, but if you've splurged on the Mac mini as a dedicated home theater appliance, you do have the ability to play a variety of modern games with it if you adjust your resolution and other game settings to fit its entry level performance.
On page 3 of 4: Performance as a general purpose PC, server
Testing the Mac mini against an Asus Eee Box EB1501 (using a 1.6GHz Intel Atom N330), Dell Inspiron Zino HD (with a 1.5GHz AMD Athlon X2 3250e), and Gateway SX2840 (packing a 2.93GHz Intel Core i3-530), CNET determined that the latest Mac mini tied or bested the slightly faster CPU in the Gateway, while far outpacing the other mini PC designs in a variety of tests. Only in a multithreading benchmark test did the Gateway and its multithreading-optimized i3 CPU substantially outperform the Mac mini.
The new Mac mini design also includes an SD card slot supporting high capacity SDXC (Secure Digital Extended Capacity)memory cards 32 GB and larger (the first Mac to do so), in addition to the Standard SD format of 4 MB to 4 GB and SDHC (Secure Digital High Capacity) cards from 4GB to 32 GB. SDXC theoretically supports cards up to 2TB, but Apple does not specify a supported ceiling for the new slot.

The SD slot is a handy feature for photographers loading up their photos into iPhoto, Lightroom or Aperture, but comes at the expense of one of the 5 USB ports on the former model.
The new design also lacks a Kensington security slot, which is intended to both lock the device to a cable, and prevent it from being opened up; note that the new twist off bottom means the Mac mini's RAM is easy to steal. That easy access is probably going to be perceived as a feature rather than a vulnerability by most Mac mini owners, however.
The Mac mini retains its existing Firewire 800 and Gigabit Ethernet, as well as WiFi 802.11a/b/g/n wireless networking and standard Bluetooth 2.1+EDR for peripherals. The device also supports IR for use with the Apple Remote, which is sold separately for $20.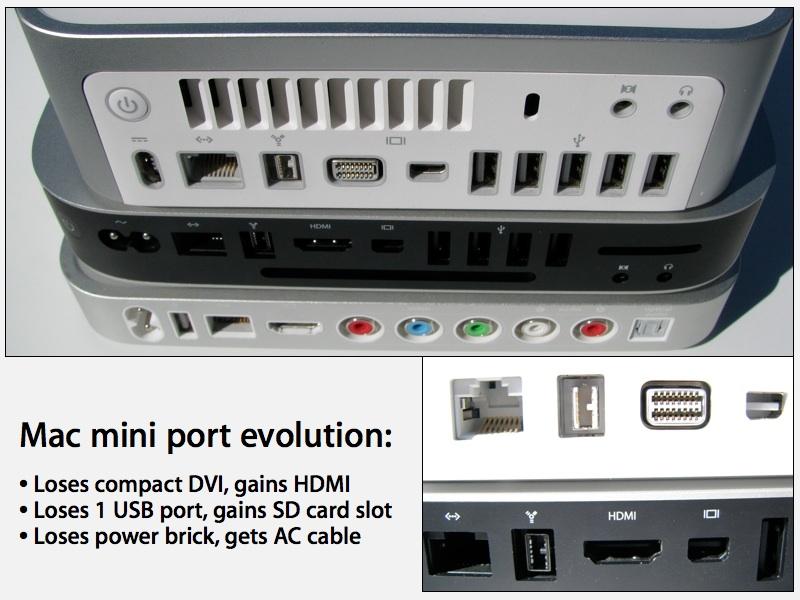 Cheaper mini-PCs often supply more RAM, but skimp on features such CPU and video performance, WiFi (dropping support for faster 802.11n, or sometimes lacking any WiFi support at all), Firewire, or Gigabit Ethernet. All the same, at its higher new $699 price, the Mac mini is less likely to win over lots of price conscious Windows switchers.
However, it's more likely to satisfy new users to upgrade to a Mac and find themselves with a well rounded machine. The skimpy hard drive capacity is an issue, and the design of the Mac mini makes it tricky to replace the drive. However, USB and Firewire offer external hard drive options that will likely be enough to cover the needs of most users who want additional storage space.
Overall performance in Geekbench scores (below) indicates a significant bump over last year's Mac mini and overall scores slightly better than the higher-end, faster-clocked iMac from two years ago.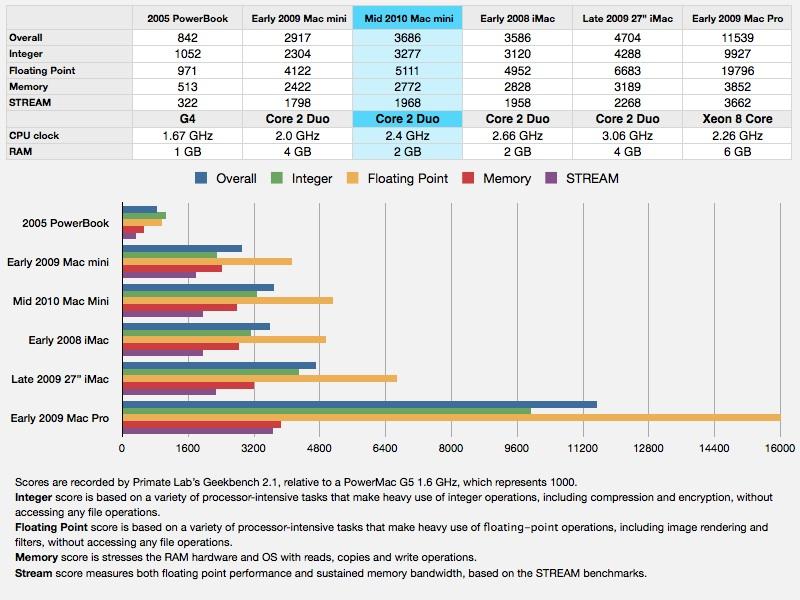 Apple introduced a server version of the Mac mini last fall, and maintains the configuration in this new form factor. For an additional $300, server buyers get a faster processor upgrade (sold separately for $150), 4GB of RAM rather than 2 (which Apple sells for $100) a hard drive upgrade from a 5400rpm, 320GB disk to a 7200rpm, 500GB disk (sold for $100 by itself).
If you were planning an upgrade all around, you're already ahead on the server model, but wait there's more: you also get a second 7200rpm, 500GB disk that replaces the optical drive (the option to buy an external optical superdrive for $100 more). Relative to the base model, the server hardware bundle is already a pretty good deal. But the real kicker is that Apple throws in an unlimited user version of its Mac OS X Server operating system, something it sells separately for $500 (and used to offer for $1,000).
The redesigned Mac mini server is also a slightly better deal than the previous model because it provides faster 7,200rpm drives; before, the server option only delivered larger but not faster disks. Apple also offers an external RAID option: the Promise SmartStor DS4600, a Firewire 800 device with 4x1TB SATA disks for $800, or a 4x2TB model for $1300.
Note that the internal hard drives in the Mac mini are notebook style 2.5" disks, which are designed to be thin and draw less power; they are not well suited to regular server use. If you are doing heavy file serving or other tasks that constantly work the disks, that data should be put on an external drive or RAID unit. And of course, any valuable data you have on the unit should be regularly backed up.
The Mac mini server supplies an entry level option for workgroups to set up easy to use and maintain file sharing; email, calendar and contact services; web-based collaboration tools (blogs, wikis and web calendars), and VPN services for secure remote access. As a fully fledged Mac, the server configuration is far faster for network Time Machine backups when compared to Apple's anemic server embedded within the Time Machine appliance.
With a Gigabit Ethernet switch, users will be able to copy files to the server nearly as fast as they can locally. Even with 802.11n wireless networking, the Mac mini Server should perform well enough in light duty to cover its cost of entry. A Mac mini server certainly isn't going to take over server functions for offices larger than a couple dozen people, but it's a great deal for small offices that don't want to deal with complex hassles or invest a lot of money in server gear (and very expensive server software) to handle basic needs.
Learning how to setup and use Mac OS X Server is a significant project, and involves more work and expertise that most other Apple products, simply because of the complexity of managing network services. If anything, Apple's highly simplified "Server Preferences" setup might be easy enough to give users the impression that everything will "just work," which is not actually something that happens for very long when dealing with network and server issues. Running a server requires planning and experience, not just a nice interface.
That said, the new Mac mini Server model provides a slightly improved version of Apple's new entry level server at a price point that should be attractive to small businesses or even professionals who work from home and want to set up essential services that run independently of any desktop computer.
On page 4 of 4: The New Mac mini in Review.
The Mac mini Server configuration appears to be better value than buying a Mac mini as a desktop PC or a home theater appliance, where there are much cheaper alternatives and slightly more expensive options that deliver a lot more.
For example, as a general purpose computer, Apple's comparably fast MacBook is just $300 more and includes a display, keyboard and mouse (a $100 option on the Mac mini), portability and a battery backup. For just $500 more, you can get a 21.5" iMac that is significantly faster, has more RAM and hard drive capacity, a big display and $100 worth of Apple's keyboard and mouse. Both examples make the Mac mini look overpriced for only being a core computer, unless you plan to use it to swap out an existing PC and can reuse an existing display, keyboard and mouse; that's also the target audience of the Mac mini, so it makes sense that's the case.
It's still the cheapest new Mac you can buy, it just isn't super cheap, and certainly not as good of a deal nor as attractive to new users as the original $500 Mac mini was, or even last year's $600 model. This appears to shift the Mac mini from its debut as a practical, entry level Mac — essentially a conservative resurrection of the Power Mac G4 Cube — and back toward a higher-end and premium priced, nice looking appliance, which is what the Cube originally delivered, albeit without much commercial success.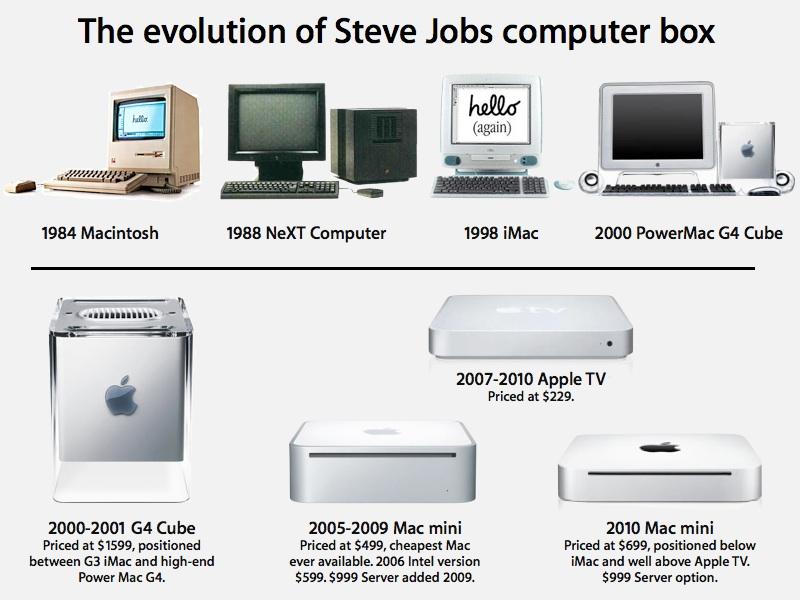 As a home theater appliance, the Mac mini looks even more expensive, particularly when compared to Apple's limited-duty, $229 Apple TV. The new Mac mini might make sense if you want a device to drive your living room HDTV that can also play games, DVDs, work as a DVR and run other third party applications. However, you'd probably also want to check out the availability of a used, late-modeled Mac mini for such a job, too, unless you're sold on the sharp new appearance of the unibody case.
Apple's newest redesign definitely makes the latest Mac mini more esthetically attractive, and also makes it slightly better suited to a variety of tasks from running the HDTV to replacing a PC to driving server applications for a small office. If cost isn't your primary concern, the model is a solid, well designed device. It's also tiny, making it a viable option for embedded installation in applications such as in-car integration. It's just got a price tag that isn't likely to impress bargain hunters.
There is one last factor that might attract buyers to Apple's premium Mac mini product: its efficiency and responsibly sustainable design. Apple notes that the Mac mini "achieved a Gold rating from EPEAT in the U.S., Canada, France, Germany, and the UK," and that it's BFR-free, Lead-free, PVC-free internally, built with a "highly recyclable aluminum enclosure," meets Energy Star 5.0 requirements and "uses 68 percent less plastic than the previous generation."
Apple also notes that the new Mac mini incorporates a 90% efficient 85 watt power supply rather than the 110 watt power brick the previous model used, and "uses less than 10 watts of power when idle." According to PC comparison tests performed by CNET, the new Mac mini now slurps just 33 watts under load, 7 watts when idle, and just 1.2 when sleeping. That's half the overall power consumption of last year's model, and much less (a quarter to a sixth) the power consumed by competing mini-PCs, even those powered by an anemic Atom processor.
Apple's efforts to target efficiency and sustainability are likely to help woo exactly the type of consumers the company is attracting to boutique retail stores, who care more about environmentally friendly design and efficiency than their neighbors who shop for deals in a big-box retail store.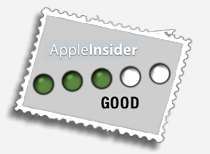 Attractive, compact and solid
HDMI for home theater applications
Environmentally friendly design
Premium priced, limited specs
Hard to upgrade beyond RAM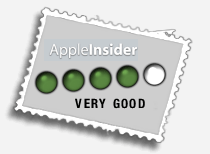 Includes faster hard drives
Bundles $500 copy of Mac OS X Server
Reasonably priced server package
Harder to upgrade beyond RAM
Below is a table of Mac mini prices from leading Apple Resellers that was extracted from AppleInsider's MacPriceGuide.
More on the 2010 Mac mini