Limited iMac retail inventory precedes anticipated update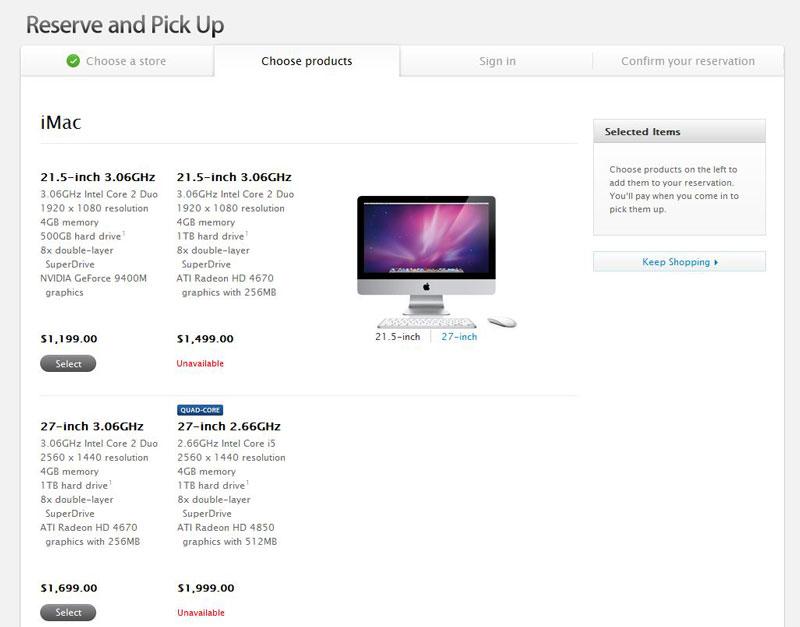 Some Apple retail stores have run out of stock of both 21.5-inch and 27-inch iMac models, ahead of an expected refresh to the desktop Mac hardware.
An AppleInsider reader sent word Sunday that the 21.5-inch iMac, and quad-core 27-inch model are both unavailable for the Reserve and Pick Up option at the company's retail store in Buffalo, N.Y. In addition, some desktops are unavailable in other locations, including Apple's Fifth Avenue store in New York City, where the quad-core 27-inch is not available for pick-up.
However, for those shopping on Apple's online store, the hardware is still scheduled to ship within 24 hours.
The changes to the company's Reserve and Pick Up option come soon after Apple warned its direct and indirect sales channels of near-term shortages of the iMac. The company is drawing down its inventory ahead of the launch of new models, expected to arrive in the coming weeks.
Among those out of stock in some locations are the 3.06GHz 21.5-inch iMac, of which Apple has told distributors not to expect any further stock, implying that production of the model has ceased.
Potential configurations of the new hardware include a dual-core Core i5 model and quad-core Core i5 and Core i7 configurations. People familiar with the plan previously indicated to AppleInsider that Intel's low-end Core i3 processor would also find its way into the iMac line.
Earlier this month, it was alleged that the forthcoming iMac update would add USB 3.0, as well as faster FireWire connectivity. The new hardware is not expected to have support for Blu-ray discs.
Signs of another hardware update also came through Apple's online store Reserve and Pick Up option last week, when customers discovered limited availability of the company's other line of desktop machines, the Mac Pro. Users found that multiple retail stores showed no availability of either the Quad-Core or 8-core Mac Pro models.