Hackers release carrier unlock for Apple's iPhone 4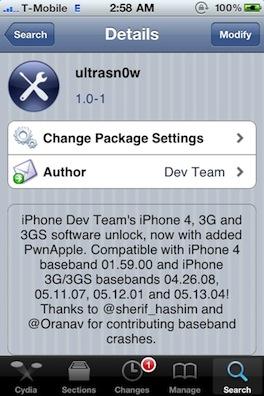 Hackers on Wednesday released a carrier unlock for the iPhone 4, allowing users with "jailbroken" devices to use their handset on carriers not approved by Apple.
Dubbed "ultrasn0w," the updated hack now works with the iPhone 4 and its baseband version 01.59. It is also compatible with the iPhone 3G and iPhone 3GS, which have basebands 04.26.08, 05.11.07 and 05.13.04.
To run the carrier unlock, users must be on a jailbroken handset, a process that modifies the iOS software and allows users to run unauthorized code. The ultrasn0w unlock can be found in the Cydia store. The unlock comes just days after hackers released a browser-based jailbreak for all iOS devices, including the iPhone 4.
The mastermind behind the free software unlock was David Wong, a member of the iPhone Dev Team who goes by the handle planetbeing. He is the same programmer who earlier this year ported Google Android to the iPhone.
While many countries have access to the iPhone on multiple carriers, in the U.S., Apple's iPhone is available exclusively through AT&T. Unlocking it can allow for voice calls and EDGE data speeds on rival carrier T-Mobile. An unlock could also allow iPhone owners to use localized SIM cards while traveling abroad, to avoid paying high roaming charges when using their native carrier.
Last month, the U.S. Library of Congress reiterated its stance that unlocking is legal. It also officially made it legal for iPhone owners to jailbreak their iOS-based device and run unauthorized third-party software. Doing so, however, can still void Apple's warranty.