iOS 4.1 beta supports for mobile-free FaceTime via email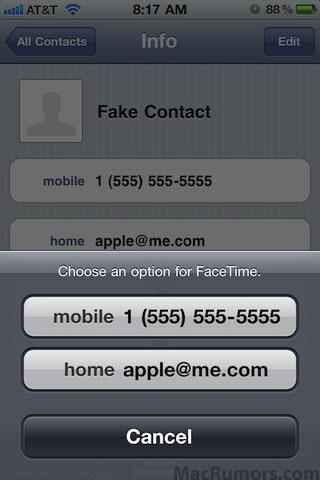 AppleInsider is supported by its audience and may earn commission as an Amazon Associate and affiliate partner on qualifying purchases. These affiliate partnerships do not influence our editorial content.
New support in the developer beta 3 release of iOS 4.1 allows users to make FaceTime video calls without needing a phone number or mobile service, strengthening the case for FaceTime support on iPod touch, iPad and Macs.
When Apple announced FaceTime as a feature on iPhone 4, chief executive Steve Jobs indicated that it would soon be available on tens of millions of devices and that the standard would be opened up for third parties to implement.
The current FaceTime system on iPhone 4 is tied to the user's phone number, making it easy to initiate video calls without setting up an account. In order to bring the feature to other devices, including the iPod touch, iPad, and Macs, FaceTime needs an alternative way to discover and connect with users.
AppleInsider indicated this would likely happen in conjunction with a MobileMe account, which Apple already uses to enable Mac users to remotely find and connect to shared files and other services on their home systems via the "Back to My Mac" feature.
FaceTime with mobile service
Previous articles noted that FaceTime on iPhone 4 only used the mobile network to discover the remote user, meaning that FaceTime sessions did not use cell minutes.
Additionally, it was later discovered that FaceTime only needs a mobile connection to initially register the user, meaning that subsequent calls to a user could take place even when there was no mobile service available.
Last month, company executives dodged a question about when FaceTime would expand beyond iPhone 4 to reach other mobile devices and or Windows and Mac desktop systems. However, a report by BGR noted that the initial 4.1 beta contained support for associating FaceTime calls with an email address.
According to a new report by Eric Slivka of Mac Rumors, the latest iOS 4.1 beta 3 includes a streamlined interface for initiating FaceTime calls, prompting the user to connect via a phone number or email address (below).
Set to be an open standard
Connecting via email would enable FaceTime on forthcoming new models of iPod touch, which are already rumored to include a front facing camera that would be primarily suited for video calls. The beta graphics also indicate the forthcoming iPod touch 4 is likely to include the same Retina Display as iPhone 4.
Adding support for FaceTime via an email account would also enable Apple to bring FaceTime support to iChat AV on the Mac, which already shares nearly identical video chat technology. This would give Apple a leg up on competing, proprietary video chat networks such as Skype, which currently does not support video chat from mobile devices, or Fring, which was banned by Skype from making mobile to desktop calls via its VoIP network.
Adding iChat AV support would immediately open FaceTime to around 30 million Mac users. It could potentially increase interest among iPhone 4 and new iPod touch 4 users in buying Macs as well. Apple has also announced official intent to open the FaceTime technical specifications to other vendors to allow compatible video calls between any mobile devices.
However, despite the existence of open standards in other areas, including Jabber text instant messaging, there has not been a widespread adoption of open IM across vendors. Yahoo, Microsoft, and AOL IM all continue to maintain their own closed, proprietary IM chat networks while mobile phone operators similarly cling to paid SMS. Only Apple and Google have embraced open Jabber IM.
However, with Skype being the primary video chat network available, and because it does not currently officially support video chat between mobile devices, Apple's FaceTime standard has a much greater opportunity to quickly become the de facto standard for video conferencing. Apple's FaceTime is almost entirely based on IETF standards already, making it very easy for existing video conferencing vendors to support the specification.