One third of iPhone owners waiting for Verizon to upgrade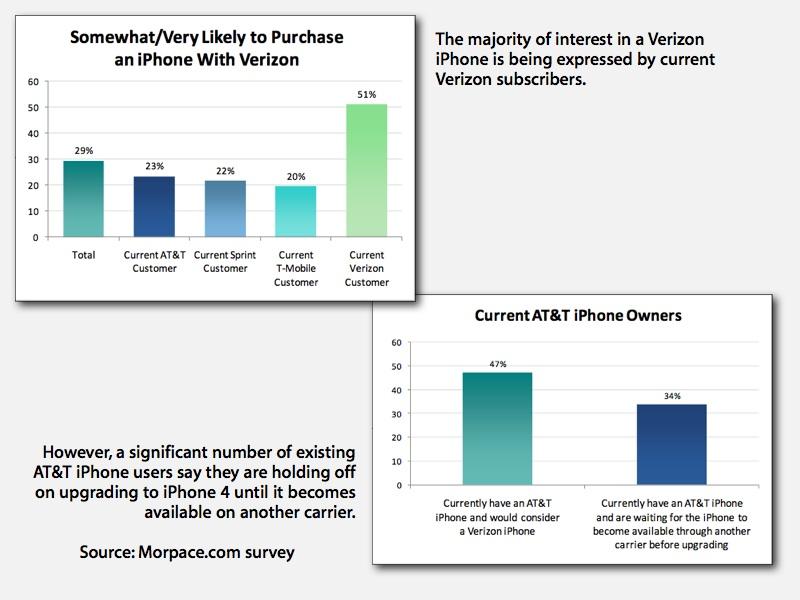 A survey of 1,000 consumers indicates that a significant number of subscribers are waiting to purchase the expected Verizon iPhone 4, indicating new threats for both AT&T and Android.
A report by market research firm Morpace shows that the majority of interest being expressed in a Verizon-compatible iPhone comes from existing Verizon customers.
While 29 percent of all respondents said they were somewhat or very likely to purchase an iPhone on Verizon's network, 51 percent of current Verizon subscribers said they were waiting to buy it. Those sales would likely come from Android and BlackBerry customers.
Among all AT&T subscribers, 23 percent said they'd be interested in switching to Verizon for an iPhone, while 22 percent of Sprint subscribers and 20 percent of T-Mobile customers said the same. However, among AT&T's iPhone users, 47 percent said they "would consider" a switch to Verizon once the iPhone becomes available there.
Additionally, over a third existing iPhone users who have not yet upgraded to the latest iPhone 4 said they were waiting for it to become available on another carrier before they upgrade, indicating significant pent up demand over and above the record sales Apple has already seen on AT&T since the launch of iPhone 4.
At the same time, the fact that only a third of users who decided not to upgrade to iPhone 4 waited because they wanted the option of another carrier seems to be good news for AT&T, and flies in the face of claims that most users aren't satisfied with AT&T.
Additionally, a ChangeWave report indicates that only 13 percent of iPhone users said they were "very likely" to switch to Verizon, while another 18 percent said they were only "somewhat likely" to make the switch.
The impact of broader iPhone 4 availability in the US
In its report, Morpace concluded that "the impact on other Verizon smart phones that have not previously had to compete directly with the iPhone may be significant if Verizon begins to carry the iPhone. It could drastically impact the purchase of other phones."
The lack of availability of the iPhone on Verizon has offered Android a fertile niche to expand its sales as a platform, allowing Android to outpace Apple's iPhone in unit sales in the US in stark contrast to most other markets globally, where Android has experienced real growth but has not yet rivaled iPhone sales.
The report also noted that a sharp increase in iPhone subscribers on Verizon may result in "concerns over how the Verizon network will handle the bandwidth demands of iPhone users."
Growing tensions between Apple and AT&T appear to now outweigh the benefits Apple has enjoyed in its exclusive partnership with the carrier in the US. Along with the increased competitive threat from Android-based devices on Verizon, this has resulted in circumstances that make it appear all but certain that Apple will launch a Verizon model of the iPhone early next year, with new evidence regularly pointing to that inevitability.