VPN capabilities of iPhone, iPad targeted in patent suit against Apple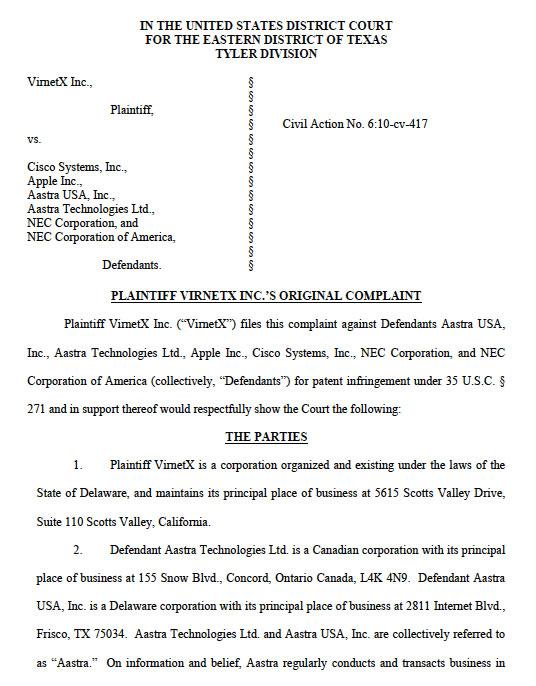 AppleInsider is supported by its audience and may earn commission as an Amazon Associate and affiliate partner on qualifying purchases. These affiliate partnerships do not influence our editorial content.
Apple, along with a handful of other companies, is the target of a new lawsuit that claims iOS devices, including the iPhone and iPad, violate a patent related to virtual private networking.
This week VirnetX filed a complaint against Apple, along with Cisco Systems, Astra Technologies, and NEC Corporation. The California-based corporation has accused the defendants of patent infringement. In all, five specific patents are named in the suit:
U.S. Patent No. 6,502,135 - "Agile Network Protocol for Secure Communications with Assured System Availability"
6,839,759 - "Method for Establishing Secure Communication Link Between Computers of Virtual Private Network Without User Entering Any Cryptographic Information"
7,188,180 - "Method for Establishing Secure Communication Link Between Computers of Virtual Private Network"
7,418,504 - Agile Network Protocol for Secure Communications Using Secure Domain Names"
7,490,151 - "Establishment of a Secure Communication Link Based on a Domain Name Service (DNS) Request"
With respect to Apple, VirnetX has accused the Cupertino, Calif., company of violating the patents ending in 135 and 151. The suit specifically mentions the iPhone, iPhone 3G, iPhone 3GS, iPhone 4, iPod touch and iPad as violating numerous claims in each patent.
"Apple's acts of infringement have caused damage to VirnetX," the complaint reads. "VirnetX is entitled to recover from Apple the damages sustained by VirnetX as a result of Apple's wrongful acts in an amount subject to proof at trial. In addition, the infringing acts and practices of Apple have caused, are causing, and, unless such acts and practices are enjoined by the Court, will continue to cause immediate and irreparable harm to VirnetX for which there is no adequate remedy at law."
VirnetX bills itself as "seamless, automatic, Internet security." Its website says that the company is "engaged in commercializing its patent portfolio by developing a licensing program." It said it owns more than 48 U.S. and international patents.
As noted by Bloomberg, earlier this year VirnetX won $200 million in a similar lawsuit against Microsoft. The Redmond, Wash., software giant settled the case over the VPN-related patents.
The latest complaint against Apple was filed in a U.S. District Court in the Eastern District of Texas. Patent suits are frequently filed there in hopes of a favorable outcome.