Anticipated Apple TV update seen as stepping stone for connected HDTV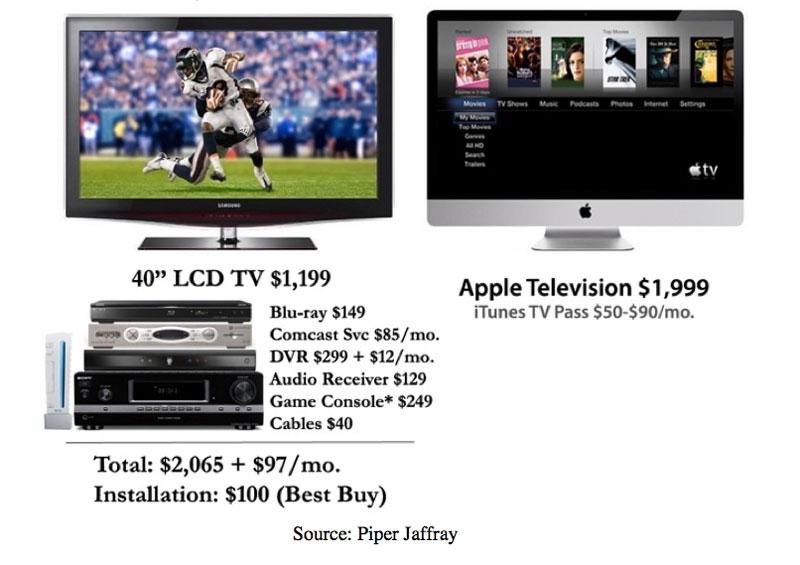 AppleInsider may earn an affiliate commission on purchases made through links on our site.
Apple is expected to launch a new Apple TV in the coming months with limited storage, a lower price, and its own App Store, paving the way for an Internet-connected HDTV as soon as 2012.
Analyst Gene Munster with Piper Jaffray on Monday issued a note to investors in which he reiterated his belief that Apple plans to launch a connected, full-fledged HDTV in the next 2 to 4 years. He acknowledged recent rumors that the existing Apple TV set top box will be renamed iTV, but said that the anticipated product update will only be a stepping stone to the eventual flat panel living room TV.
A key component for the Apple television set, Munster believes, will be Apple's soon-to-launch data center in North Carolina. He believes the massive location could serve as a hub for a cloud-based iTunes service that would allow users to stream their catalog of movies and TV shows.
Munster believes the upcoming Apple TV update will add an App Store, allowing users to download applications to run on the device. He also sees the product having a lower price and less internal storage, as more content is streamed without a need to save it on the device.
The new Apple TV would be an attempt by Apple to fight the set top box model that currently exists in America. In June, Apple Chief Executive Steve Jobs explained that the Apple TV remains a hobby because it's hard to break in to a market where consumers are used to receiving a cable box for free or for $10 per month.
"The only way that's ever going to change," Jobs said, "is if you can really go back to square one, tear up the set top box, redesign it from scratch with a consistent UI across all these different functions, and get it to consumers in a way that they're willing to pay for it. And right now there's no way to do that."
But a new cloud-centric Apple TV is rumored to cost just $99, potentially making the device a much more attractive option for consumers.
When Apple can overcome the "primary" hurdles of set top boxes and live TV, Munster believes that is when the company will strike with an Internet-based iTunes TV pass for $50 to $90 per month. An App Store could also offer games, and services like Netflix and Hulu Plus, built right into the set.
As he has said before, Munster believes Apple could push into the hDTV market in the next 2 to 4 years, and could "move the needle" in a market that as of January of 2010 was worth more than $30 billion.
"Apple's ability to deliver hardware, software and content that could replace an entire entertainment system with a single TV, puts Apple in a unique position for the emerging connected TV cycle," he wrote. "Apple already has several of the key ingredients for success in the connected TV market, many of which would differentiate Apple from current market players."