iOS 4 purportedly references CDMA iPhone 4, next-gen iPad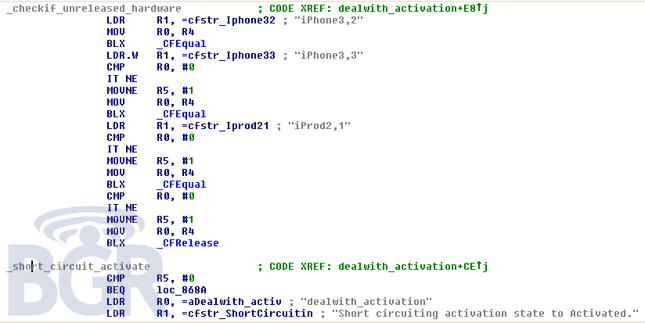 AppleInsider is supported by its audience and may earn commission as an Amazon Associate and affiliate partner on qualifying purchases. These affiliate partnerships do not influence our editorial content.
A new report claims that the source code of iOS 4 references new hardware from Apple that is about to begin field testing, including a two revised iPhone 4 models potentially compatible with the Verizon network, and a next-generation iPad.
With a screenshot of the alleged source code to bolster their claim, Boy Genius Report reported on Monday that an "intriguing" piece of code found in iOS 4 indicates that new hardware is set to begin field testing. The source code is said to reference three products: "iPhone3,2," "iPhone3,3," and "iProd2,1."
"Our source says that the code queries the device, and if the device is either a CDMA iPhone or iPad 2, the device will auto-activate, thus bypassing the need for iTunes," the report said. "We're told this block of code has appeared every year consequently before a major iPhone / device release, removed right before launch. This allows the products to be field tested by carriers (or partners) without having to activate the handsets or devices."
Last year, a mystery device known as "iProd" began showing up in beta builds of iOS 3.1. The hardware eventually became the iPad, announced in January of 2010. The "2,1" distinction allegedly found in iOS 4 would suggest that it is actually a revised, next-generation version of the iPad in testing.
Apple always uses the first number in these device identifiers to refer to major revisions, the naming schemes allude to a second major reworking of the iPhone in testing at Apple as well as a minor revision of the current iPod touch and a third-generation overhaul. The original iPhone is seen as iPhone 1,1, while the iPhone 3G appears as iPhone 1,2 — a minor upgrade to an existing design. The first- and second-generation iPod touch show as 1,1 and 2,1 respectively.
The two iPhone models said to be referenced in the source code carry the same "3,X" suffix, which likely means that the devices are not a complete revision from the existing iPhone 4.
Another tipster reportedly told BGR that CDMA iPhone is code-named N92AP, while the platform for the next-generation iPod touch is N81AP.
Boy Genius Report has had a respectable track record in forecasting AT&T and iPhone related announcements, but some of its Apple rumors have been less than accurate. Last year the site incorrectly indicated iTunes 9 would add Blu-ray support and said Apple would create a social media consolidation application, both times citing a "reliable" source. In January, the site also inaccurately hinted that a Verizon announcement would coincide with Apple's introduction of the iPad.
In June, the site claimed that a Verizon-compatible CDMA iPad with 4G LTE was being tested. It said that a CDMA iPhone and iPad would likely arrive "very soon." And in July, the site claimed that a cloud-based iTunes service was "definitely happening soon," but was quickly disputed by insiders contacted by CNet.
Apple's public relations also recently denied a purported email exchange between a customer and Steve Jobs that was published by the site as being "100% legitimate." The most sensationalist remarks attributed to Jobs, telling a customer to "Retire, relax, enjoy your family. It is just a phone. Not worth it," were mistakenly attributed to Jobs on accident.