Apple's online store now allows customers to 'Compare Macs'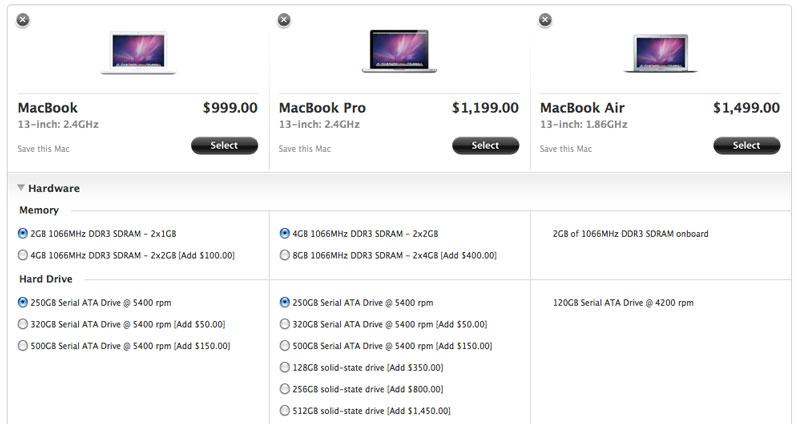 AppleInsider may earn an affiliate commission on purchases made through links on our site.
A new "Compare Macs" option was added to Apple's online store Thursday, allowing customers to review the hardware specifications and prices of multiple machines at once.
The Apple Store was down temporarily early Thursday, and returned to quietly offer the unannounced new feature, which was first noted by The Loop. When browsing the Mac section of Apple's online store, the new feature is listed to the left of the product lineup atop the page.
After selecting Compare Macs, users are taken to an interactive Web application in the browser that allows them to select up to three different Macs, including notebooks and desktops. Users can view the standard hardware, or make additions such as more RAM or a larger hard drive, and compare the prices of each machine.
The side-by-side breakdown of each computer is presented in five categories: hardware, software, technical specifications, environmental status report and configuration summary.
After configuring a Mac in the comparison tool, if customers decide they want to buy that machine, they can quickly add it to their cart with the click of a button. In addition, customers save the configuration for later as they ponder their purchase.
Shoppers can also compare prices on Macs from Apple and other resellers by turning to the AppleInsider Mac Pricing Matrix, including below. Deals are available on all current generation Macs, which include the MacBook, MacBook Pro, MacBook Air, iMac, Mac mini and Mac Pro.