Palm unveils webOS 2.0, SDK available to developers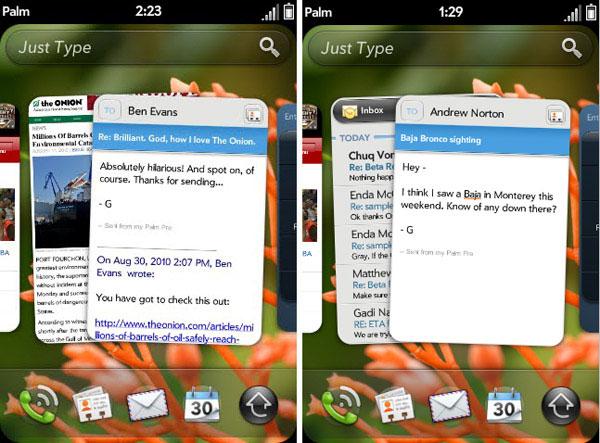 AppleInsider is supported by its audience and may earn commission as an Amazon Associate and affiliate partner on qualifying purchases. These affiliate partnerships do not influence our editorial content.
Palm on Tuesday introduced the beta software development kit of the next version of its mobile operating system, webOS 2.0, bringing new features like an expanded universal search that developers can tap into, and new HTML5 capabilities and enhancements.
One major new feature in webOS 2.0 is "Stacks," which Palm has dubbed the "next-generation of multitasking." Expanding the cards concept from the first version of webOS, found on the Palm Pre, the new feature will group related cards in stacks, reducing clutter.
"webOS 2.0 automatically stacks cards for you when it makes sense, and you can also drag and drop cards to manage stacks for yourself," the company said.
webOS 2.0 is Palm's response to Apple's iOS 4 currently available for the iPhone and iPod touch, as well as Google's Android 2.2. It's also the first major update to the webOS platform since HP acquired Palm for $1.2 billion earlier this year.
In addition to competing with Apple's iPhone in the smartphone market, webOS 2.0 is expected to appear on an HP-built iPad competitor in the near future. Officials at HP have indicated their interest in using the webOS platform to build its own touchscreen tablet.
The Universal Search in webOS has been renamed to "Just Type" for version 2.0. The expanded functionality allows developers to enable users to search within an application. Programmers can also define their own "Quick Actions," allowing users to complete tasks like updating their social status or setting reminders quickly.
Other features highlighted by Palm include:
HTML5 features and enhancements: enhanced canvas support, support for Web storage, geolocation features and application caching.
Exhibition: An application that launches when a phone is docked with the Palm Touchstone charging dock. Developers can add slide shows, news content, social network updates and more.
Contacts, calendar and messaging: Developers now have access to Palm Synergy, which allows them to access data such as contacts, calendar and messaging.
JavaScript Services: Developers can now create webOS apps and services in JavaScript using the Node.js runtime environment built in to webOS 2.0.
PDK Plug-ins: Developers can now mix Web technologies and C/C++ components in a single app, allowing applications with logic easily ported from other platforms.
Palm has teased that its reveal on Wednesday is not "all there is to webOS 2.0," with more information to come. The company also reaffirmed that webOS 2.0 will be released later this year.