AT&T on track to launch LTE 4G network by mid-2011, expand HSPA+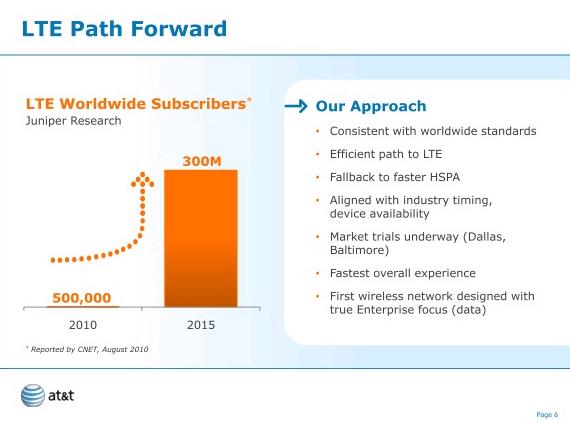 AppleInsider is supported by its audience and may earn commission as an Amazon Associate and affiliate partner on qualifying purchases. These affiliate partnerships do not influence our editorial content.
AT&T, the exclusive carrier of Apple's iPhone in the U.S., plans to launch its fourth-generation high-speed wireless network by mid-2011, and will continue to expand its speedy HPSA+ 3G network this year.
AT&T is currently conducting trials of its 4G long-term evolution network in Baltimore, Md., and Dallas, Tex., the company's operations chief executive, John Stankey, said Thursday at the Bank of America Merrill Lynch 2010 Media, Communications & Entertainment Conference. According to FierceWireless, he also said the company is on track to launch its LTE network by mid-2011.
The timing of AT&T's launch could allow for the next-generation iPhone, likely to be unveiled in June as it is every year, to connect to the high-speed 4G wireless network. Apple in the past sought to hire experts on LTE, presumably for a forthcoming handset.
AT&T will spend $700 million on its LTE network this year, and plans to "go far beyond that" in 2011, Stankey reportedly said. His news comes as competing carrier Verizon said it will launch its own LTE network in 30 National Football League cities by the end of 2010.
Stankey also said AT&T is preparing a nationwide HSPA+ upgrade for this year, which will allow for real-time download speeds of 7Mbps. Earlier this year, the company vowed that its high-speed upgrade will reach 250 million Americans in 2010.
AT&T has partnered with Alcatel and Lucent to build out its LTE network, which will deliver higher broadband throughput and lower latency than the company's existing 3G network, including the HPSA+ upgrades.
Stankey also revealed that AT&T has seen a 5,000 percent increase in wireless data traffic over the last three years, since the iPhone was introduced in 2007. The company's wireless data revenue is also up 27 percent.