Nielsen: Android overtakes Apple's iOS in latest US smartphone sales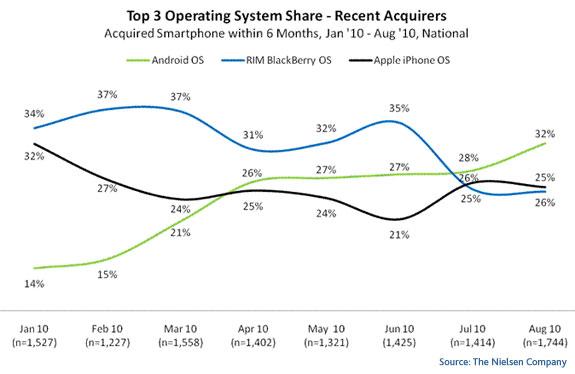 AppleInsider may earn an affiliate commission on purchases made through links on our site.
New sales data from Nielsen shows that Google's Android mobile operating system was the top-selling platform in recent months, ahead of Apple's iOS, which powers the iPhone.
The data, released on Monday, covers a six-month period of U.S. that went through August. The figures include one full month of iPhone 4 sales, as the device went on sale in late June.
Nielsen's survey found that for the first full month of iPhone 4 sales, Android devices represented 28 percent of new smartphone purchases, while Apple's handset took 26 percent. The gap widened in August, when Android was 32 percent of all smartphone sales, compared to Apple's 25 percent.
Since the company said the results only included one full month of iPhone 4 sales, presumably the poll did not cover the entirety of August.
Regardless, the figures show that Android devices have collectively outsold the iPhone since April of 2010, and continued their climb even after Apple's latest smartphone launched in the summer.
Looking beyond new purchases, Apple still maintains a large lead in overall mobile operating system share. Nielsen's figures show that iOS is represented on 28 percent of smartphone owners polled.
Apple remains behind the leader, Research in Motion's BlackBerry, which had a 31 percent share in August. But the gap is narrowing from the start of the year, when RIM carried 36 percent.
BlackBerry sales were also most affected by the launch of the iPhone 4. Sales of BlackBerry phones declined significantly in July, the first full month of iPhone 4 sales.
Android sales have been on a steady rise, however, growing from just 8 percent in January to a 19 percent smartphone share in August.
Of course, in the U.S. the iPhone remains available on only one carrier — AT&T. In addition to being available on multiple hardware configurations, Google's mobile operating system is also available on all four major domestic carriers.
Polling companies have been saying for months that the total sum of Android phones has been outselling the iPhone in the U.S. Still, no single Android phone has compared to Apple's iPhone — the iPhone 4 sold 1.7 million units in just its first three days of availability.
In a keynote presentation in early September, Apple Chief Executive Steve Jobs made a thinly veiled attack against Android, noting that Apple is activating over 230,000 iOS devices per day, and has shipped more than 120 million iOS devices since the first iPhone launched in 2007.
"We think that some of our friends are counting upgrades in their numbers," Jobs said. "If we counted upgrades in our numbers, they'd be way higher than 230,000."
Google fired back with an official statement, suggesting that Jobs' comments were inaccurate. "The Android numbers do not include upgrades and are, in fact, only a portion of the Android devices in the market, since we only include devices that have Google services," the company said.