More details surface on Apple's next-generation MacBook Airs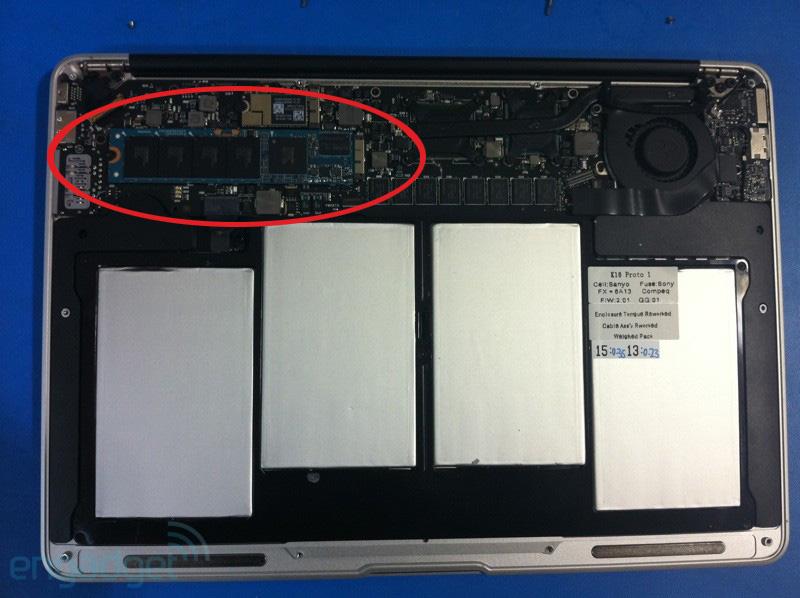 A few more alleged details on Apple's forthcoming revamp of the MacBook Air line continue to trickle in, with one data point likely providing an explanation for the photo of a unreleased 13.3-inch MacBook Air design that surfaced overnight.
The 11.6-inch MacBook Air won't replace the 13.3-inch model, but will instead complement it as a more aggressively-priced option.
Both the new 11.6- and 13.3-inch models sport matching outfits in the form of new, all-unibody designs and single button trackpads.
The port door found on the existing MacBook Air is gone from the new designs, which feature a port layout similar to the existing MacBook Pros.
The new "SSD card" storage is based off an SATA connection.
The base component of both models is just slightly thicker than a standard USB port at its thickest point.
As such, AppleInsider believes the photo of the mysterious 13.3-inch MacBook Air that appeared on Engadget last night is indeed a prototype (from back in April) of the new 13.3-inch MacBook Air and is architecturally very close to what Apple plans to release next week alongside the new 11.6-inch model.
From that image, along with one also published of the machine's system profile, it appears that:
The new SSD card-based storage sits above and to the left of the new battery chamber, which appears to include 4 separate battery components.
The unit has dual USB ports, one on each side
Other I/O include a MagSafe power adapter, mini DisplayPort, and SD card reader
The prototype from April is running the same 1.86GHz Core 2 Duo SL9400 processor found in the current generation MacBook Air
It also has 2GB of memory as standard
Bus speed clocks in at 1.07GHz
The unit identifies itself as MacBook Air 3,1
For additional details on the new MacBook Air's, please see AppleInsider's earlier report.