Lawsuit forces HyperMac to cease sale of Apple-patented charging cables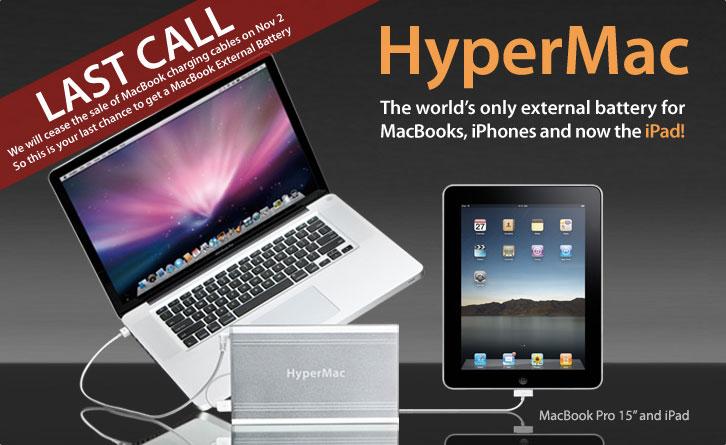 Computer accessory maker HyperMac has announced that it will cease the sale of patented MagSafe MacBook charging cables on Nov. 2, 2010, in response to a lawsuit from Apple.
Sanho, the parent company of HyperMac, made the announcement on its website Monday. The letter to customers was also utilized in an effort to generate some final sales, with the Nov. 2 deadline being pitched as a "last call" for purchases.
"While we will continue to sell the same batteries together with the rest of our product line after November 2nd, they will not be able to charge MacBooks without the cables," the accessory maker wrote. The official deadline is at midnight on Nov. 2, Pacific Time.
As first revealed by AppleInsider in September, Apple has sued Sanho Corporation over alleged violation of patents it owns related to MagSafe cables, as well as cables that use the iPod 30-pin connection. The Sunnyvale, Calif., corporation has been accused of infringing on six MagSafe- and iPod-related patents.
Instead of mimicking Apple's patented MagSafe connectors, Sanho's products rely on official MagSafe products actually manufactured by Apple. The company previously touted that its use of those official products ensured "maximum compatibility."
Named in the suit were the company's magnetic power adapters, known as MBP-PRO, MBP-AIR and a MacBook car charger dubbed MBP-CAR. The suit also singles out chargers for the iOS ecosystem of devices, including the "HyperMac Nano," "HyperMac Micro" and "HyperMac Mini" products.
The HyperMac product line includes a number of small, portable external batteries that can provide extra power to portable devices on the go. Apple, in its official complaint with a U.S. District Court in the Northern District of California, said it notified Sanho of its alleged infringement via three official letters sent in 2010, before the complaint was filed.
The patents cited by in the suit are: