Apple's iCal to get 'Year' view, Mail to get iTunes-like interface in Mac OS X Lion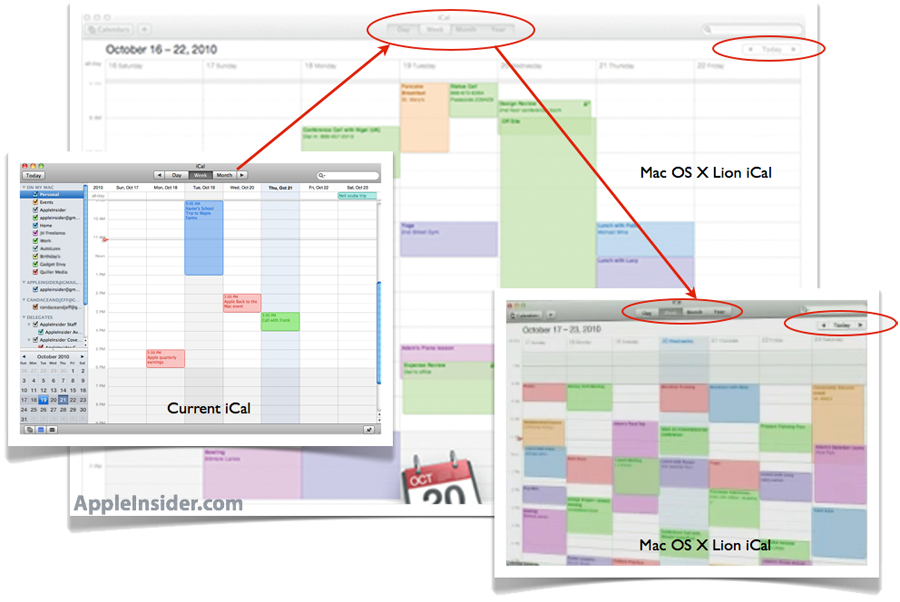 Apple's forthcoming operating system update, Mac OS X 10.7 Lion, will bring new features and new looks to longstanding applications on the Mac, including the mail and calendar software.
Craig Federighi, vice president of engineering for Mac OS X at Apple, offered a quick demo of Mac OS X 10.7 Lion on stage to members of the press, including features like Mission Control and Launch Pad. In addition, some of the more subtle design tweaks found in the current build of Lion could be glimpsed.
Apple emphasized that the upcoming operating system upgrade will bring iOS features "Back to the Mac," creating a more unified experience between products running Mac OS X and iOS.
The new iCal application in Lion, shown in an early form Wednesday, has a new feature which appears as if it will let users to view their upcoming events in a "Year" view. The version of iPad Apple ships for iPad also offers a fourth view (in addition to Day, Week, and Month) called "List" view.
In general, the new iCal app in Lion sports a look and feel similar to the calendar application found on the iPad. Controls for flipping through days, weeks and months have also been relocated down and to the right, with buttons on each side of the "Today" button, aligned on the right side across from the date.
Changes to make Mac OS X more like the iOS mobile operating system that runs on the iPhone and iPad are a central theme with the upcoming release of 10.7 Lion. In addition to more subtle tweaks and design changes, Apple is also bringing major features such as multi-touch gestures, the App Store, Home screens, full-screen applications, and auto-save and auto-resume.
The updated Mail.app in Lion previewed Wednesday takes some design elements found in the recently released iTunes 10. Most noticeably, Lion's Mail.app has greyed out icons and a more toned-down color scheme, like the latest release of the company's digital media software.
Unlike iTunes 10, Lion's Mail.app does not have the uniquely positioned red close, yellow minimize and green zoom buttons laid out in a stacked vertical fashion. For now, the buttons appear next to each other horizontally, in the top left corner, as they are in previous releases of Mac OS X, and the vertical buttons remain unique to iTunes 10.
In addition to losing their colors, buttons for functions like composing a new message or replying have been made more square and less round, and are now aligned to the left.