Apple's new 11" MacBook Air a "much faster iPad" or "much slower MacBook Pro"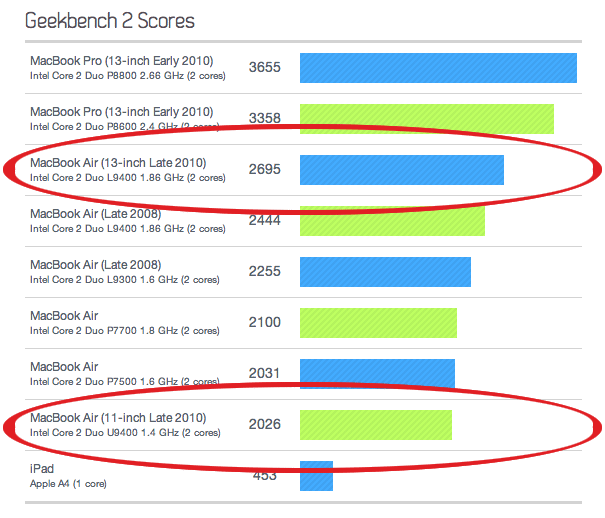 AppleInsider may earn an affiliate commission on purchases made through links on our site.
The first benchmarks on Apple's new MacBook Airs have hit the web, revealing that the 13.3-inch models trail the company's similarly-sized MacBook Pros by a small margin while the 11.6-inch models fall far shorter in processing power, and may be more appropriately categorized as a larger, faster iPad.
Geekbench developer Primate Labs has compiled scores from the Geekbench Result Browser for all the standard MacBook Air CPU configurations dating back to 2008 and pit them against scores for the iPad and the latest 13-inch MacBook Pro models, as those are the two products most customers will use as comparisons.
The new 13.3-inch MacBook Airs, which include a 1.86GHz Core 2 Duo processor, faired pretty well, posting scores that suggest it's capable of roughly 80% of the performance of the latest 13.3-inch MacBook Pros, which ship with 2.4GHz and 2.66GHz Core 2 Duo chips.
On the other hand, the 11.6-inch MacBook Air, which includes a 1.4GHz Core 2 Duo, was only capable of reaching 60% of the performance of the 2.4GHz 13.3-inch MacBook Pro, raising questions as to whether it would make a good fit as a primary machine.
"There are two ways you can look at the new 11-inch MacBook Air; it's either a much smaller but slower MacBook Pro, or a much faster but larger iPad," wrote Geekbench author John Poole. "The 11-inch MacBook Air is small enough that I'd consider bringing it instead of an iPad, but I'd worry it's not fast enough (or have enough screen space) to be my primary laptop."
It should be noted that Poole did not include scores for Late 2010 1.6GHz or 2.13GHz MacBook Airs, which are $100 build-to-order options for the 11.6- and 13.3-inch models, respectively, through Apple's online store.
AppleInsider recently published a first look at the new Airs ahead of its formal review. It also lined up a deal with reseller MacMall, which is currently offering AppleInsider readers an additional 3% off its already reduced pricing when ordering online using the links in the chart below, or through AppleInsider's full-fledged Mac Price Guide. It's also offering $102 savings off a high-end, non-standard 13.3-inch configuration that includes the 2.13GHz Core 2 Duo processor mentioned above.