Apple's iWork '11 suite tracking for release alongside Mac App Store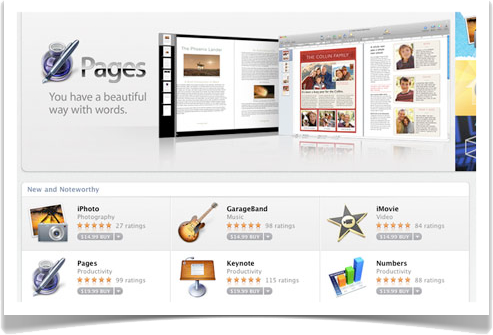 The next major revamp of Apple's iWork productivity suite is finished and ready to go, but the company may hold back the release until it gets around to launching the Mac App Store early next year, AppleInsider has been told.
People familiar with the matter say development of iWork '11 wrapped up this fall and the software was initially slated for an introduction alongside iLife '11 last month, but was held back at the last minute for undisclosed reasons.
Apple's revised plans currently call for the company to launch the new productivity suite alongside the forthcoming Mac App Store, these same people say. The applications included in the bundle — Pages, Numbers and Keynote — will be available for purchase individually when the Mac App Store debuts.
Those familiar with the matter said it remains undecided whether Apple will also release a retail box version of the iWork suite, as it has been sold previously. Alternatively, it could become the first piece of major Mac software from the Cupertino-based company to be available exclusively online.
Last month, visual cues presented during Apple's "Back to the Mac" media event suggested that it would sell the iWork and iLife suite applications individually on the Mac App Store. Images of the forthcoming software download destination included the ability to purchase iWork apps for $19.99 each, while iLife applications were shown at $14.99.
While Apple highlighted updates to GarageBand, iMovie and iPhoto at the event, no mentions of iWork were made. The same event saw the announcement of the Mac App Store, which is scheduled to launch before the end of January 2011. Like the App Store on iOS devices, it will allow users to download and install software with just one click. Developers will take a 70 percent cut of sales, while Apple will retain 30 percent.
Apple began the sale of mobile versions of the iWork suite applications individually earlier this year, when Pages, Keynote and Numbers debuted on the iPad. Priced at $9.99 each, the multi-touch versions of iWork have consistently been among the top grossing options on the iPad App Store.
Though Apple has not yet announced a firm launch date for the Mac App Store, it has already begun accepting submissions for the digital service. Like with the existing App Store for the iPhone and iPad, software will be hosted and licensed by Apple.
The current version, iWork '09, was released in January of 2009 and sells for $79 as a standalone product, or $49 with the purchase of any Mac. It was introduced alongside iWork.com, Apple's online document sharing service.