Sprint to launch ZTE Peel 3G hotspot for Apple's iPod touch on Nov. 14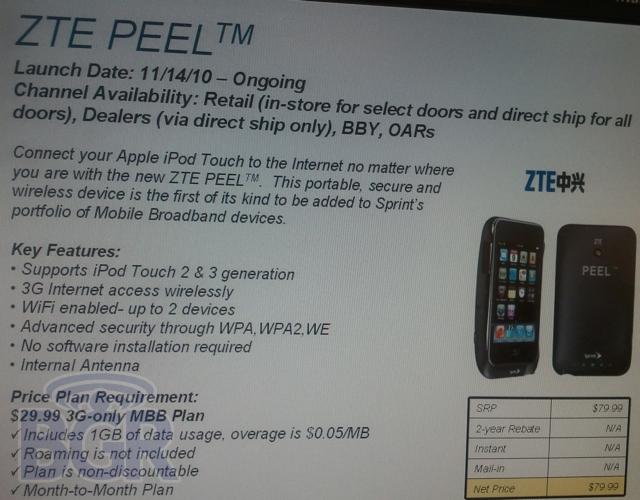 AppleInsider is supported by its audience and may earn commission as an Amazon Associate and affiliate partner on qualifying purchases. These affiliate partnerships do not influence our editorial content.
Leaked documents show that Sprint plans to launch the ZTE Peel case for Apple's iPod touch this Sunday for $79.99, giving the media player 3G access and also sharing it over Wi-Fi with up to two devices.
A leaked document obtained by Boy Genius Report states that the ZTE Peel will debut in Sprint retail stores this Sunday, Nov. 14. The hardware — which encases Apple's iPod touch — will cost $79.99, and the data plan will be $29.99 per month a 1GB cap.
"Connect your Apple iPod touch to the Internet no matter where you are with the new ZTE Peel," the internal document reads. "This portable, secure and wireless devices is the first of its kind to be added to Sprint's portfolio of Mobile Broadband devices."
The Peel supports Apple's second- and third-generation iPod touch, but not the fourth-generation hardware, released in September. As pictured in the paperwork, the Peel does not have the correct placement on the back for the camera on the back of latest iPod touch.
For users who go over the 1GB-per-month data cap, Sprint will charge an additional 5 cents per megabyte. The plan also does not include roaming, and, like AT&T's iPad data plan, is month-to-month.
The Peel has its own internal antenna that will access Sprint's 3G network for Internet access. It shares that data with the iPod touch without the need for any additional software on the media player. The Internet connection can also be shared over Wi-Fi securely with WPA, WPA2 and WEP encryption.
Though Sprint does not sell any of Apple's products, including the iPhone and iPad, the company has attempted to connect itself to the Cupertino, Calif., company on numerous occasions. Sprint has featured the iPhone in a commercial for the Overdrive, its mobile hotspot, and also sold an iPad case that included an Overdrive, to allow Apple's touchscreen tablet to use its 3G network. Last month, Sprint's CEO said the popularity of the Wi-Fi-only iPad has helped sales of the Overdrive.