Apple may delay support for AirPrint through Macs and Windows PCs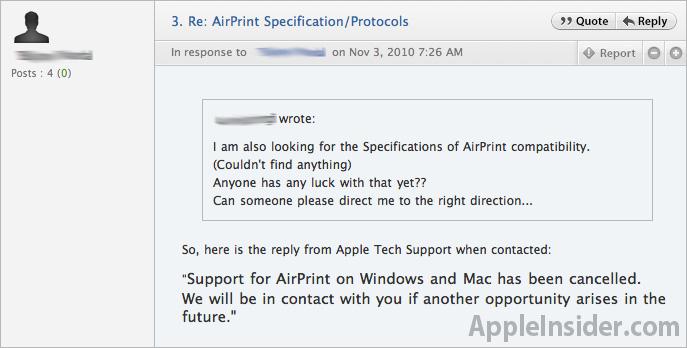 AppleInsider is supported by its audience and may earn commission as an Amazon Associate and affiliate partner on qualifying purchases. These affiliate partnerships do not influence our editorial content.
Last minute stability and compatibility problems with Apple's AirPrint for iOS devices may have forced the company to delay Mac and Windows support indefinitely, mitigating the impact of the much-anticipated wireless printing technology first previewed two months ago.
Apple CEO Steve Jobs first demoed the new wireless printing capabilities for iOS 4.2 on the iPad on Sept. 1, setting a November release date for the update. Two weeks later, in a press release to announce the beta version of the AirPrint feature in iOS 4.2, Apple specifically stated that AirPrint would work with shared printers on a Mac or PC.
"AirPrint is Apple's powerful new printing architecture that matches the simplicity of iOS—no set up, no configuration, no printer drivers and no software to download," said Philip Schiller, Apple's senior vice president of Worldwide Product Marketing, in the press release. "iPad, iPhone and iPod touch users can simply tap to print their documents or photos wirelessly to an HP ePrint printer or to a printer shared on a Mac or PC."
On Tuesday, rumors arose that the AirPrint feature for printing from an iOS device to a printer connected to a Mac or PC had been canceled. AppleInsider has since confirmed that the Apple Developer site and iOS 4.2 golden master release notes no longer reference AirPrint support for Mac or Windows.
Release notes from the iOS 4.2 GM, which was released on Nov. 1, state that "iOS 4.2 devices can print wirelessly only to printers that support AirPrint and are running the latest available firmware." Prior references to printing to Mac or Windows have been removed.
5 HP printer models are now listed as "some" of the currently available printers that support AirPrint:
HP Photosmart Premium Fax e-All-in-One Printer - C410
HP Photosmart Premium e-All-in-One Printer series - C310
HP Photosmart Plus e-All-in-One Printer series - B210
HP ENVY 100 e-All-in-One Printer Series - D410
HP Photosmart eStation Printer series - C510"
On the Apple Developer forums, one developer claims that Apple Tech Support told him that "support for AirPrint on Windows and Mac has been cancelled."
The limitation of AirPrint to a select few HP printers would severely limit the usefulness of the feature, forcing most users to purchase a new printer to take advantage of it. Users, especially business users, have been greatly looking forward to the wireless printing feature, which was promised to be easy to use and to work with any printer connected to a Mac or PC, and will undoubtedly be disappointed to discover that AirPrint has been hobbled by a lack of Mac or PC support.
Adding to the confusion of whether support for the feature has been removed, developers have reported being able to print to Macs using earlier versions of Mac OS X 10.6.5 and the iOS 4.2 GM, as well as Windows PCs via the iTunes 10.1 Beta 2 for Windows, although it is unclear whether AirPrint support for Macs is still functioning in the latest Mac OS X 10.6.5 beta released Monday,.
Rumors suggest that Mac OS X 10.6.5 and iTunes 10.1 will arrive Wednesday, with iOS 4.2 coming on Friday at 10 a.m.
Though AirPrint support for Mac and PC printing may have been delayed, it's clear that Apple is committed to developing wireless printing on the iOS. In September, a batch of patent applications for Apple's AirPlay and AirPrint communications protocols hinted that the company has big plans for the wireless printing feature.