iTunes movies come to Japan, US TV networks blocking Google TV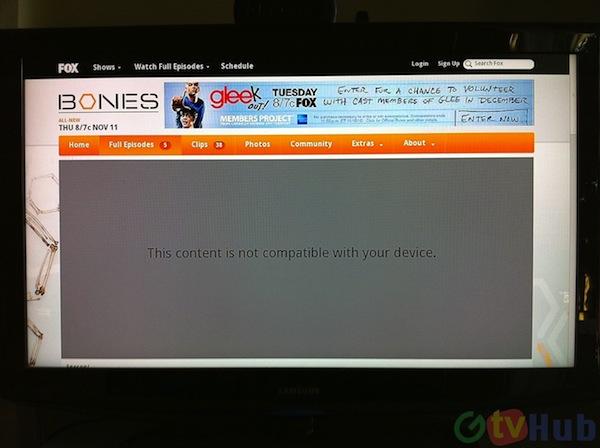 Apple announced Thursday that movies are now available on the iTunes Store in Japan, while the major TV networks in the U.S. have blocked Google TV from playing content from their websites through the Chrome browser.
The news of iTunes movies coming to Japan came on the same week that Apple released the new streaming Apple TV in the country. With over 1,000 movies to rent or buy from major international and top Japanese studios, including Asmik Ace Entertainment Inc., Fuji TV, Kadakowa Pictures, Nikkatsu, Shochiku Company Limited and Toei Company Limited, early adopters of the Apple TV in Japan will have plenty of content to watch.
"iTunes HD movie purchases in Japan start at ¥2,000 for catalog titles and recent releases and ¥2,500 for new releases, and SD versions are priced at ¥1,000 for catalog titles, ¥1,500 for recent releases and ¥2,000 for new releases. iTunes HD Movie Rentals start at ¥300 for library title rentals and ¥500 for new releases, and SD versions start at ¥200 for library title rentals and ¥400 for new releases," wrote Apple in the press release.
Apple appears to be increasing its efforts to reach Japan, as it also announced this week that it will partner with The Dentsu Group to launch the iAd service in the country. The first iAds will arrive in early 2011, with Dentsu responsible for selling and creative execution of the ads, while Apple will host, target, and deliver the ads to its users.
According to a recent report from The Wall Street Journal, the Tokyo-based MM Research Institute claims iPhone sales of 1.7 million resulted in Apple commanding a 72 percent share of the Japanese smartphone market for the March 31 fiscal year. Smartphone competition looks to be heating up, however, as Softbank, Japan's sole official distributor for the iPhone, announced last week it will begin carrying 7 new Android smartphones alongside the iPhone.
Every major U.S. TV network site has blocked Google TV's Chrome browser, various sources report. Fox recently joined the likes of ABC, CBS, and NBC in refusing to serve up full-length streaming episodes of television shows to Google TV set-top boxes.
Google TV has been billed as a better-featured alternative to Apple TV because it can access the "full internet," but the Android-based platform could lose its competitive edge if the major networks continue to block it from playing their content.
Google has faced resistance from the studios for some time. According to an earlier Reuters report, Google has been "actively negotiating" with the television networks to gain access, but the networks remain wary.
"Everybody knows the lock that Google has on Internet traffic in terms of advertising. If you take that model and you extend it to television, suddenly Google's power becomes enormous in the advertising space and the broadcasters don't like that idea," said Gartner analyst Van Baker.
For its part, Apple is betting on a 99-cent TV show rental model through its redesigned cloud-centric $99 Apple TV. The device forgoes high-capacity storage in favor of streaming content from iOS devices, Macs or PCs, and the internet.