Google activating 300,000 Android devices per day, for free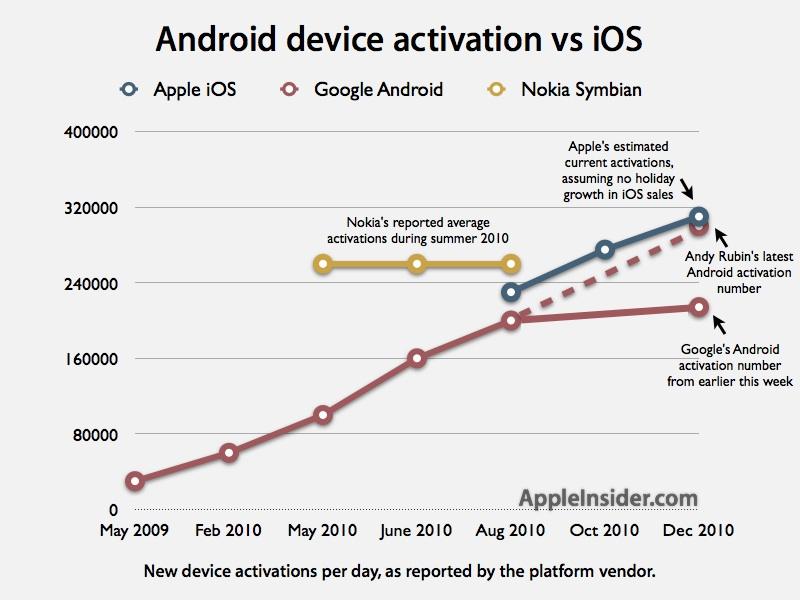 Google's vice president of engineering Andy Rubin sent out his second tweet, this time announcing the company is now activating 300,000 Android phones each day. That's unlikely to have passed Apple's current activation rate for iOS devices, and Google is making no direct revenues from the widespread distribution of its software.
"There are over 300,000 Android phones activated each day," Rubin tweeted from his little used Twitter account. The tweet appeared to be a response to reports that Android activations were plateauing.
In August, Google reported activations of 200,000 Android devices per day, while just days ago, the company reported a weekly activation number of 1.5 million, or just over 214,000 activations per day. If the company is actually activating 300,000 devices per day, it should have reported a weekly figure of 2.1 million.
If Rubin's latest figure is the correct number, it indicates that Android's 50 percent growth has continued at nearly the same pace as this summer, when it added a whopping 60 percent more activations across a single month.
Rubin's new figure is higher than the 270,000 iOS device daily average Apple's chief executive Steve Jobs provided back in October, a point at which the company was only hitting 300,000 daily activations on occasional peak sales days.
Google almost certainly still behind Apple's iOS activations figure
However, given the growth in activations Apple reported between the beginning of September at its iPod Event, and mid October during the company's quarterly earnings conference call, a rise of 40,000 new activations per day on average across just a month and a half, it seems likely that Apple has continued to experience growth of its own in the past two months. If the holidays haven't boosted Apple's sales rate at all, it should now be activating at least 310,000 iOS devices per day, with peak days likely exceeding at least 340,000 activations.
Android may still catch up and surpass Apple's iOS activations at some point next year, unless the iPhone's debut on Verizon Wireless results in a rapid burst of new sales at Android's expense. Verizon has been activating a large number of Android phones in "buy one, get one" deals intended to push its subscribers toward more lucrative data contracts.
The primary difference between Apple's activations and Google's is that Apple earns billions of dollars per quarter on those device activations as it inhales the largest chunk of hardware profits of the mobile phone industry, the vast majority of the profits in media players with the iPod, and nearly all profits related to the tablet market with the iPad, while Google is giving away its software just to gain market share it hopes to use to sell advertising space.
If Google could charge a $10 licensing fee per Android device, it could be earning $3 million per day, or over a $1 billion per year in software revenues at the current pace of activations. Of course, charging anything for licensing would make Android that much less attractive compared to Nokia's Symbian or Microsoft's Windows Phone 7, both of which have conceded severe cuts in their licensing fees just to get phone makers to use their software.
Google does earn revenues from mobile ads on Android, but it recently reported that it projected just $1 billion in total mobile revenue from ads across all mobile platforms. Apple also earns advertising revenues from its own iAd program, which is restricted to iOS devices. Both have been assigned identical 21 percent shares of the mobile ad market.
Rubin's only other public tweet was a geeky retort to Steve Jobs' October comments, when the chief executive of Apple complained that "Google loves to characterize Android as open and iPhone as closed. We see this disingenuous and clouding the difference."
Rubin replied via Twitter, "the definition of open: 'mkdir android ; cd android ; repo init -u git://android.git.kernel.org/platform/manifest.git ; repo sync ; make." That's the command to create a new directory, download the Android source code, and then compile it into usable software.
Rubin's tweet didn't really answer the issue Jobs raised however, which was that "unlike Windows, where PCs have the same interface, Android is very fragmented. HTC and Motorola install proprietary user interfaces to differentiate themselves. The user left to figure it out."
Jobs had also noted that, "many Android apps work only on selected handsets, or selected Android versions. This is for handsets that shipped 12 months ago. Compare with iPhone, where are two versions to test against, the current and most recent predecessor."
While Google does indeed offer the core distribution of Android code for free, it does not provide free, open source distribution of its own "with Google" apps, which offer a large portion of the value present on Android phones, nor does the company release upcoming software builds in the same manner as other open source projects such as Apple's WebKit, where anyone can download the latest nightly builds as the software is developed, and contribute toward development as a member of the community.
Google frequently closes Android development to work in secret with one hardware maker per release. For example, the company debuted Android with HTC, then exclusively shipped Android OS 2.0 first on Motorola hardware, Android 2.2 Froyo on its own Nexus One (built by HTC), and most recently Android 2.3 Gingerbread in a secret partnership with Samsung's new Nexus S.
As of December 1, 17 percent of Android phones accessing Android Market continue to use a 1.x version of Android dating back to 2009, while nearly 40 percent use a 2.x version prior to the most recent 2.2 Froyo release, according to Google.
This fragmentation complicates the deployment and testing of Android apps, which is part of the reason why Google makes very little from Android Market compared to the revenues Apple earns from the iOS App Store. Apple says it intends to run the App Store at break even, allowing its profit share from app sales to be invested back into the iTunes experience for iOS users and developers, something Google does not provide for Android users at all.