Apple iPad, iPhone dominate Twitter's Top Tech Trends for 2010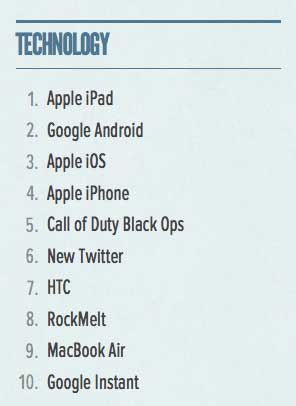 AppleInsider may earn an affiliate commission on purchases made through links on our site.
Demonstrating the public mindshare domination held by Apple's products, Twitter's list of the social network's top trending tech topics of 2010 was led by the iPad, followed closely by iOS, the iPhone, and the MacBook Air.
In Twitter's official year in review, the company revealed the most popular topics and trends discussed by users of the popular social media site in 2010. In the technology category, Apple's iPad was the top subject, beating out the Google Android mobile operating system at No. 2.
Apple's own mobile operating system, iOS, which runs on the iPad, was the third most popular subject. And another iOS-powered device, the iPhone, came in fourth, giving Apple three of the top four tech topics on Twitter in 2010.
Apple had another subject in the top 10 of tech, with its new thin-and-light MacBook Air, released in October, took ninth place. Other topics in the technology category were "Call of Duty: Black Ops," the new redesign of Twitter, smartphone maker HTC, and Google Instant search.
The iPad was so popular in 2010 that Apple's touchscreen tablet also cracked the "overall top trends" category on Twitter's list. The iPad came in sixth, behind the Gulf oil spill, FIFA World Cup, the film "Inception," the devastating Haiti earthquake, and the vuvuzela instruments used at the World Cup. The iPad also edged Android, which was the eighth most popular overall subject of 2010.
Soon after the iPad was released earlier this year, an analysis of Twitter posts found that users' most common complaint about the device is that it can't replace an iPhone. The second biggest complaint was the lack of support for Adobe Flash, while users were most pleased with the applications available for the device.
As Twitter has grown in popularity, Apple has even turned to the site with official accounts to promote iTunes content. In November, Apple also forged a deal with Twitter to integrate the site with Ping, Apple's own music social network for users of iTunes.