Twitter users' biggest complaint with iPad: it can't replace an iPhone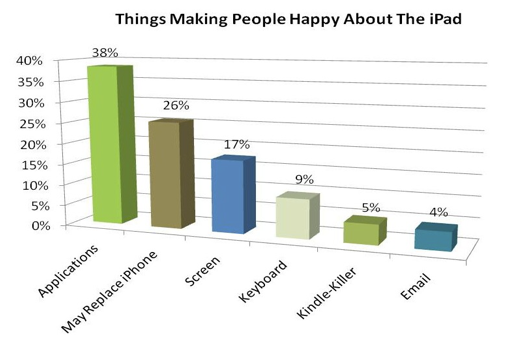 AppleInsider is supported by its audience and may earn commission as an Amazon Associate and affiliate partner on qualifying purchases. These affiliate partnerships do not influence our editorial content.
Twitter users reacting to Apple's iPad after it launched on Saturday were overwhelmingly happy with the new device, with the biggest complaint being that the device can't replace their iPhone, a new survey of the social networking Web site found.
On Tuesday, Attensity Group released its analysis of public reaction from Twitter, which analyzed 50,000 "tweets" related to the iPad. The survey found that 67 percent of people "like the iPad," and another 6 percent "love" it." For those against the product, 24 percent were said to be "not thrilled" with the iPad, while 2 percent "hate" Apple's new device.
In perhaps the best bit of news for Apple from the survey, 87 percent of those talking about the iPad on Twitter after the product launched indicated they will buy an iPad, while just 13 percent said they will not purchase one.
The biggest complaint from new iPad users was the fact that the device will not replace an iPhone. The study found that 26 percent of those complaining about the device wish it could replace their handset. Another 19 percent were upset over the lack of support for Adobe Flash, while 17 percent believe the pricing of applications on the App Store is too high.
The mention of iPhone replacement could suggest that users who bought the Wi-Fi-only iPad on Saturday wish they had waited for the 3G model, due to arrive later this month. Like the iPhone, the 3G model will offer a persistent wireless data connection through carrier AT&T in the U.S. There's also the iPad's custom-built, speedy A4 processor, which makes the large-screen device more responsive than the iPhone 3GS.
Unsurprisingly, the thing that made users most happy about the iPad is the range of applications from the App Store, with 38 percent of positive Twitter comments related to iPad software. Another 26 percent said the new device could replace some of the functions of their iPhone, while 17 percent were satisfied with the screen and 9 percent praised the soft keyboard.
Users' favorite iPad application, with 34 percent of the Twitter discussion, was Apple's iBooks, the book reading and purchasing application that users are prompted to download upon launching the App Store. Another 31 percent spoke positively of Netflix, while the iWork suite of applications was represented by 27 percent.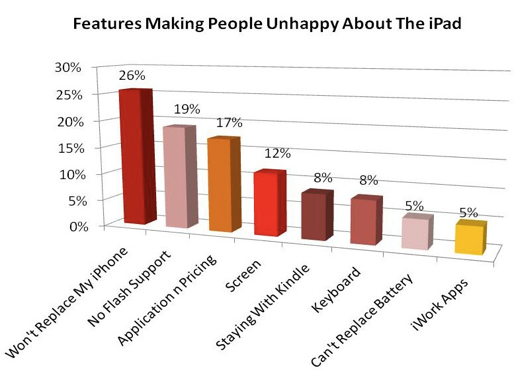 Apple revealed on Monday that the iPad got off to a strong start in sales, with 300,000 of the new device being sold on its first day alone. That's a number better than the 270,000 the first-generation iPhone sold at launch.