As corporate interest in tablets spikes, Apple's iPad remains tops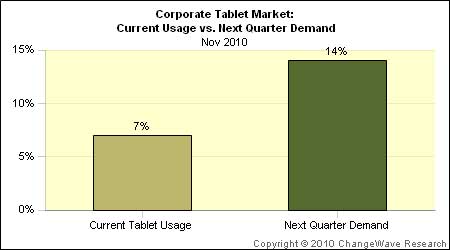 A new survey has found a "corporate explosion" of interest in tablets, with the potential market for Apple's iPad doubling in the first quarter of 2011.
ChangeWave Research on Wednesday revealed the results of its latest survey of 1,651 business IT buyers conducted in November. A total of 7 percent of respondents said they have equipped their employees with tablet devices, and 82 percent of those are Apple's iPad.
Like in the consumer market, customer satisfaction with the iPad in enterprise is head and shoulders above its peers. iPad users were 69 percent "very satisfied," compared to 23 percent for an HP tablet and 12 percent for Dell.
While current tablet usage sits at 7 percent, the survey found that it is set to double to 14 percent in the next quarter. That indicates that the total number of companies deploying tablets is set to double in the next three months.
And although there are new options on the market like the Samsung Galaxy Tab, companies have indicated they are sticking with the iPad. Of those surveyed, 78 percent said they plan to buy an iPad versus competing tablets. Dell and Research in Motion were tied in a distant second place with 9 percent each.
Corporations said their iPad will mostly be used for Internet access, checking e-mail and working away from the office. But business users are also now more likely to use the iPad as a desktop replacement than they were in the previous August survey.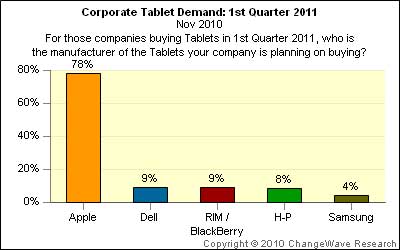 Enterprise isn't the only targeted market where the iPad is making a splash. In November, ChangeWave found that the Amazon Kindle is rapidly losing share in the e-reader market to Apple's iPad.
ChangeWave also found that netbook demand has shrunk since the iPad was introduced. And among consumers looking to buy a tablet in October, 80 percent said they would choose the iPad, compared to just 8 percent for the RIM Playbook.