Apple legal not amused by Steve Jobs figurine, halts $1,125 eBay sale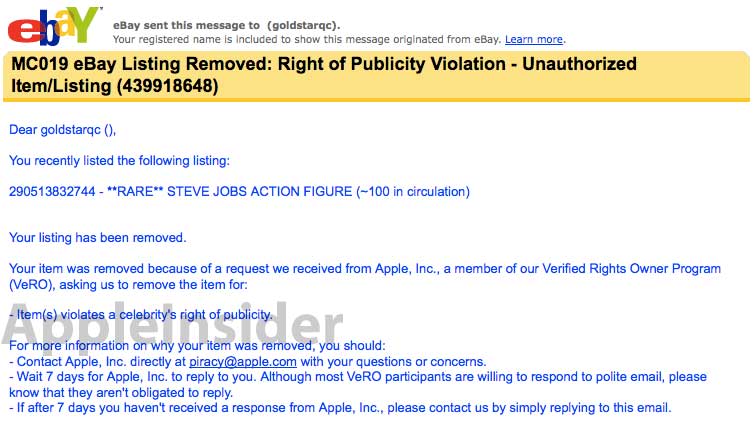 Apple's legal team has taken apparently interest in sales of Steve Jobs figurines on eBay, canceling one listing that went to the highest bidder for $1,125.
A Canadian eBay seller contacted AppleInsider on Tuesday to share that they had sold a popular, rare Steve Jobs figurine on the bidding site. It went for a final price of $1,125, but eBay soon after allegedly canceled the listing.
A note from eBay indicated that the website had removed the listing due to a complaint received directly from Apple. It was said that the object "violates a celebrity's right of publicity."
"The rights owner or an agent authorized to act on behalf of the rights owner, Apple Inc., notified eBay that this listing violates intellectual property rights," the letter reads. "When eBay receives a report of this type of violation, we remove the listing to comply with the law."
That particular listing is no longer available on eBay. However, some figurines remain available for sale on eBay, calling into question whether Apple's legal action was an isolated incident, or evidence of a coming crackdown.
One listing on eBay reads "APPLE HAD ALL STEVE JOBS ACTION FIGURE AUCTIONS REMOVED! BUY IT NOW SO YOU CAN GET ONE! HURRY! NO GUARANTEE THAT THIS AUCTION WILL RUN A FULL DAY!"
The Steve Jobs figurine gained attention over the weekend, when one of them apparently sold on eBay for $2,500. The website MIC Gadget began selling them in November, but was promptly sent a cease and desist letter from Apple.
Apple's complaint to the website cited California Civil Code Section 3344, "which prohibits the use of any person's name, photograph or likeness in a product without that person's prior consent."
The figurine shows Apple's chief executive in his trademark black mock turtleneck, blue jeans, and New Balance sneakers. He is shown holding up an iPhone, and is standing on a white Apple logo.
A charismatic figure who has legions of fans, Jobs is also very secretive with regards to his personal life. When Jobs experienced health troubles in recent years, he insisted that his condition was a "private matter."