Asus takes aim at iPad with scattershot of Android and Windows products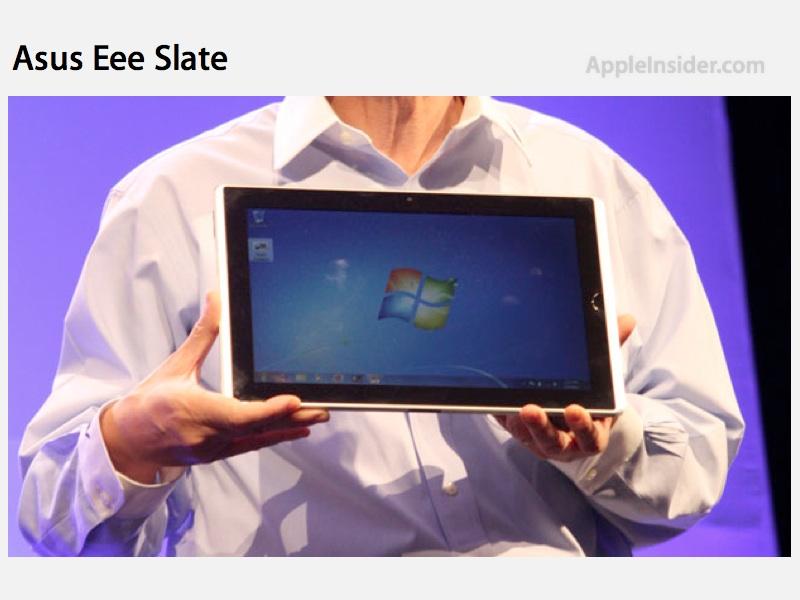 AppleInsider is supported by its audience and may earn commission as an Amazon Associate and affiliate partner on qualifying purchases. These affiliate partnerships do not influence our editorial content.
Taiwan's ASUSTeK Computer, which produces components for Apple, Dell and HP as well as selling PCs and logic boards under its own Asus brand, has announced the details behind its expected series of tablet sized devices which have been waiting on new software from Google and Microsoft.
According to a report by TechCrunch, the company plans to release three families of tablet-style products targeting everything that's already been attempted, with a few new wrinkles.
The first product, available later this month for $999 to $1099, is the Eee Slate, a conventional Tablet PC running Windows 7. The device packs an Intel Core i5 with 2 or 4GB of RAM, a 64GB SSD, and a 12.1 inch 1280x800 IPS stylus-sensitive display, making it comparable to a small MacBook Pro without a keyboard.
Existing Tablet PCs have never been popular, even after Microsoft attempted to reboot the franchise with last year's Slate PC. While Microsoft promised a variety of hardware partners, only HP delivered anything significant, and its product was a dismal failure.
In April, Asus plans to ship the Eee Pad Transformer, a 10.1 inch tablet similar to the iPad, with NVIDIA's ARM-based Tegra 2 application processor and a 1280x800 IPS touchscreen. It also sports front and rear cameras, miniHDMI video output, a miniUSB port, and a microSD card slot.
Like Motorola's upcoming tablet expected at CES, the Asus Transformer is waiting for Google's Android OS 3.0 Honeycomb. Asus already outlined that it planned to release a series of tablets, but was waiting for a version of Android that was optimized for tablet use.
Like last year's iPad, the Transformer fits into a keyboard dock that "transforms" it into netbook-like device. Unlike the iPad and more akin to the MacBook Air, the Transformer's keyboard base packs an external battery that boosts its core 8-hour lifespan by an additional 8 hours (although unlike the Air, the Transformer detaches in half). The Transformer is expected to cost between $400 and $700.
In May, Asus plans to ship the Eee Pad Slider, with similar specifications to the Transformer except with a slide out keyboard. It plans to sell for $500 to $800.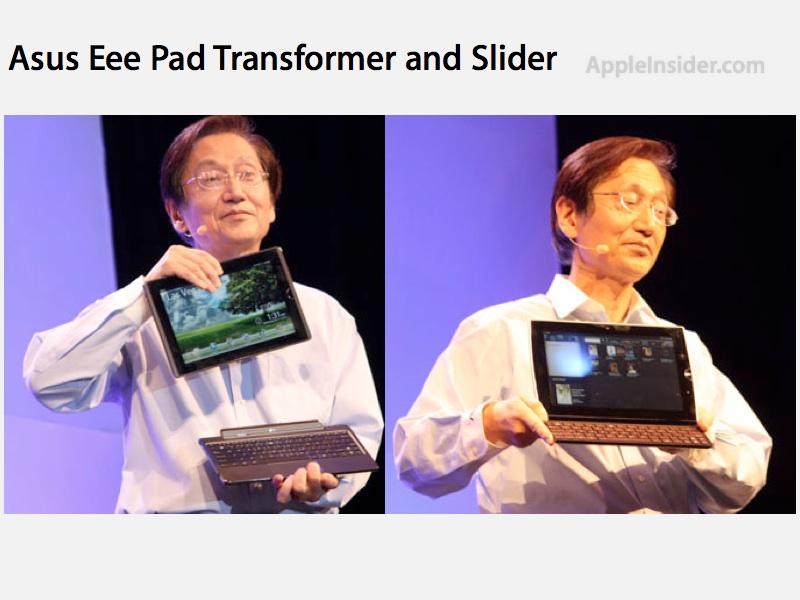 In June, Asus will release another tablet called the MiMO, with a 7 inch screen and a capacitive stylus, similar in format to the Newton MessagePad Apple introduced in the 90s. The MiMO will pack a lot more computing power however, with a new dual-core Qualcomm 8260 Snapdragon ARM application processor.
The MiMO also includes front and rear cameras and, like the the Transformer and Slider, run Google's Android 3.0. It is said to include a note taking and painting app that highlight the use of its included stylus.
While Apple's iPad can be used with a third party stylus, the company itself has eschewed any promotion of stylus features, with its chief executive Steve Jobs introducing the new iPhone in 2007 centered on touch, not a writing stick. "We are all born with the ultimate pointing device — our fingers," Jobs said, "and iPhone uses them to create the most revolutionary user interface since the mouse."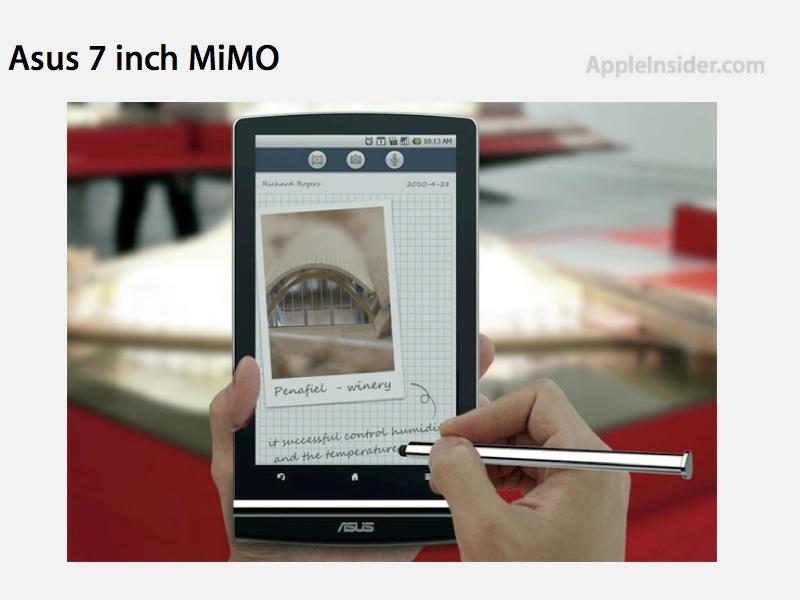 Asus bucking industry trends
Apple's success with the iOS caused Microsoft to eventually rethink its own stylus-based Windows Mobile operating system, which it finally replaced last fall with Windows Phone 7, using a touch-based user interface pattered after the iPhone's direct multitouch experience.
Google's Android has similarly moved away from the mini-button Palm OS and BlackBerry-like phone designs it originally intended to deliver and has since 2008 instead adopted the full touch screen design of Apple's iPhone. This year, Android 3.0 is similarly expected to expand Google's platform to better fit iPad-like tablets.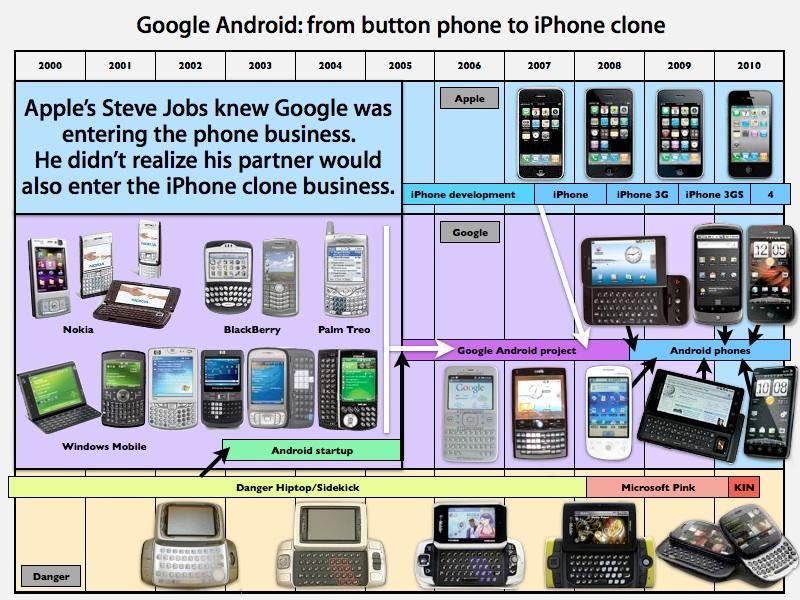 Whether Asus can resurrect the stylus and make mini keyboards popular among tablet users remains to be seen. The company's PC volumes exploded under dramatic growth of netbooks in 2009, quickly making it the third largest PC maker. However sales of netbooks have cooled and growth within the netbook segment has gone negative ever since the release of the iPad last April.
When iPads are figured into PC sales along with netbooks, Apple becomes the third largest mobile PC maker, behind HP and Acer and ahead of Dell and Toshiba.