Photos, video may show Apple's 5th-gen or Verizon iPhone antenna redesign [ux2]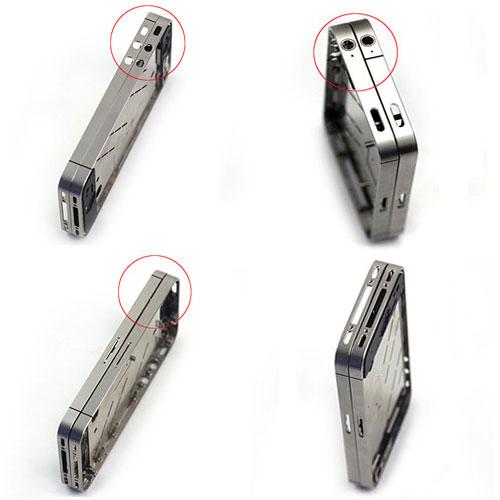 New pictures claim to show a redesigned stainless steel frame for the iPhone, with new placement of black bands on the perimeter of the handset's frame, the metal band which also acts as the phone's antenna [update: video removed].
The photos from SmartPhone Medic claim to be from a "very reliable source" and purport to show an "unreleased iPhone design." The alleged new frame is pictured next to the existing one used in the current iPhone 4.
The photos appear to have been doctored in order to, at the very least, remove shadows and colors from the white background. AppleInsider cannot make any claims about the authenticity of the photos in question, but they are reposted here for interest and discussion.
SmartPhone Medic gained attention last August, when it acquired a genuine front panel for the then-unannounced fourth-generation iPod touch, complete with a spot for a forward-facing camera. But unlike that scoop, the alleged iPhone frame published Wednesday is not a hands-on look, just pictures.
Both frames look largely the same in the pictures, but the alleged new part has a few key differences found in the placement of "antenna gaps." The current iPhone 4 has three gaps — two on the side, one on top — while the pictured part shows four — two on each side, none on top.
Update: An identical looking part has also been spotted in a video on YouTube, embedded below:
Update 2: The video has been removed following a legal complaint from Apple.
The antenna gap on the bottom left side of the current iPhone 4 caused a major controversy last year, when it was revealed that bridging that gap with a hand or even a fingertip could result in degradation of wireless reception. There were numerous rumors that Apple would revise the design of the iPhone 4 to address the issue, but Apple instead held a press conference to explain the situation and offered customers a free "bumper" case to fix it.
The alleged iPhone part also shows the device's frame with a retained spot for a micro-SIM card, suggesting it could be a redesign of the current GSM handset, or could be a new "world" phone with both GSM and CDMA. Apple is rumored to release a CDMA compatible phone in the near future.
Another possibility, if the frame is legitimate, is for a CDMA phone that also has a micro-SIM slot for 4G long-term evolution connectivity. While CDMA does not use a SIM card, Verizon's high-speed 4G network does. Finally, it's possible the alleged part could be for a prototype "iPhone 5," thought Apple is not expected to release a full-fledged fifth-generation device until this summer.