Verizon iPhone to attract 9 to 12 million new US users for Apple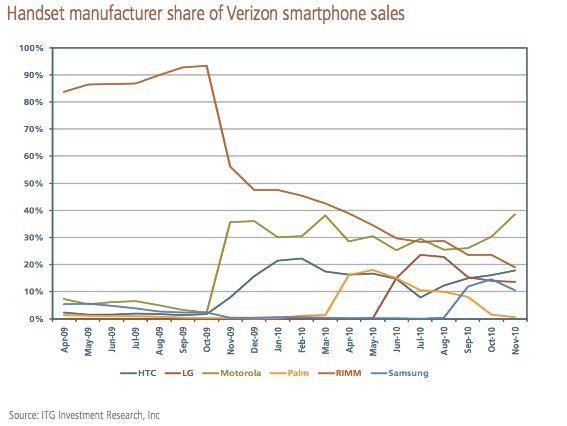 AppleInsider may earn an affiliate commission on purchases made through links on our site.
Analysts predict Apple's expansion of the iPhone to Verizon in the US will net 9 to 12 million iPhone subscribers this year, nearly as many as AT&T attracted in 2010.
A new report filed by the Wall Street Journal said that analysts are closely watching the iPhone's expansion, with "many" agreeing that Apple "will likely sell 9 to 12 million iPhones on Verizon's network this year."
It contrasted that with estimates from Piper Jaffray & Co., which said AT&T sold 11.1 million iPhones in the first three calendar quarters of 2010, and around 14.5 million in the full year. AT&T's iPhone sales account for 12 percent of Apple's revenue and 30 percent of its iPhone unit sales, the report noted.
Piper Jaffray analyst Gene Munster expects Verizon to add 5 percent to Apple's overall sales with 9 million new units this year, but said the new deal could be twice as sweet if Verizon pursues attracting new iPhone subscribers rather than just trying to woo AT&T subscribers into switching.
Analyst Brian Marshall of Gleacher & Co. said Apple's new deal with Verizon could upgrade 5 percent of the carriers' existing customers to iPhones in its initial launch quarter, a transition that would be faster paced than AT&T's iPhone launch, which began in 2007 with a far more expensive model.
Marshall estimates that AT&T has around 17 million iPhone subscribers, but said "over time Verizon could be even bigger than that," setting an initial estimate of 12 million new iPhone users on Verizon this year.
Verizon had 93.2 million subscribers at the end of September, making 12 million new iPhone users nearly 13 percent of its subscriber base. AT&T has 92.8 million subscribers, so its estimated 17 million iPhone users represent more than 18 percent of all users on its network.
AT&T and Verizon, along with the smaller Sprint and T-Mobile, have been long been battling for new subscribers and to retain their existing ones. However, since smartphones began to emerge over the past few years, the goal has shifted from new subscribers (who are harder to find) to upgrading existing subscribers to more expensive data contracts.
The iPhone was the first mass market smartphone in the US to successfully (and rapidly) encourage millions of users to sign up for more expensive plans, propping up AT&T's weaker network. Despite having slightly fewer overall subscribers than Verizon, AT&T has a larger mix of smartphone users, thanks in large part to the iPhone.
Verizon's smartphone mix was almost entirely represented by RIM's BlackBerry users through the end of 2009, but after RIM's attempts to deliver the Storm as an iPhone alternative flopped in 2008 and again in 2009, Verizon turned to Android licensees to deliver a credible alternative to the iPhone, which has been exclusive to AT&T in the US since it launched in 2007.
Verizon's "Droid" branded marketing blitz, which began in late 2009 with Motorola's Droid and HTC's Droid Eris, helped to nudge Motorola back into profitability and induced HTC to focus more resources on Android than the slow selling Windows Mobile phones it had been making.
However, with the launch of iPhone 4, growth in Verizon's Android sales appears to have leveled off, sending the carrier back into negotiations with Apple.
Verizon picked up the iPad last fall, and is expected to heavily promote the iPhone this year. Its next new wave of Android devices supporting the company's LTE data network and promoted and last week's CES even, aren't expected to hit until the second half of the year.
Verizon is expected to attract at least some AT&T iPhone users who are affected by their carrier's poor level of service, but the Wall Street Journal report cited Forrester Research analyst Charles Golvin as saying that "initial sales will mostly involve existing Verizon customers who want to upgrade to the iPhone and Sprint Nextel Corp. and T-Mobile USA customers who weren't willing to switch to AT&T because of its poor network reputation."
AT&T has worked to tie existing iPhone users into two year contracts, particularly family and business plans that provide stronger incentives to stay put. The company also recently offered the iPhone 3GS for just $49 with a contract. Verizon is said to be offering the iPhone with its existing contracts, which are very similar to AT&T's.
Kuo Ming-Chi, an analyst with Concord Securities and formerly DigiTimes of Taiwan, has estimated that Apple's Chinese manufacturing partners will ship 7.1 million CDMA iPhones that can work with Verizon's network in the first quarter. While those devices won't work on AT&T and other GSM providers globally, they could be sold to other CDMA carriers in China, Israel, South America and India, and may have the potential to be unlocked for use on Sprint's network in the US.