First look: New SMS alert settings, multitouch iPad gestures in Apple's iOS 4.3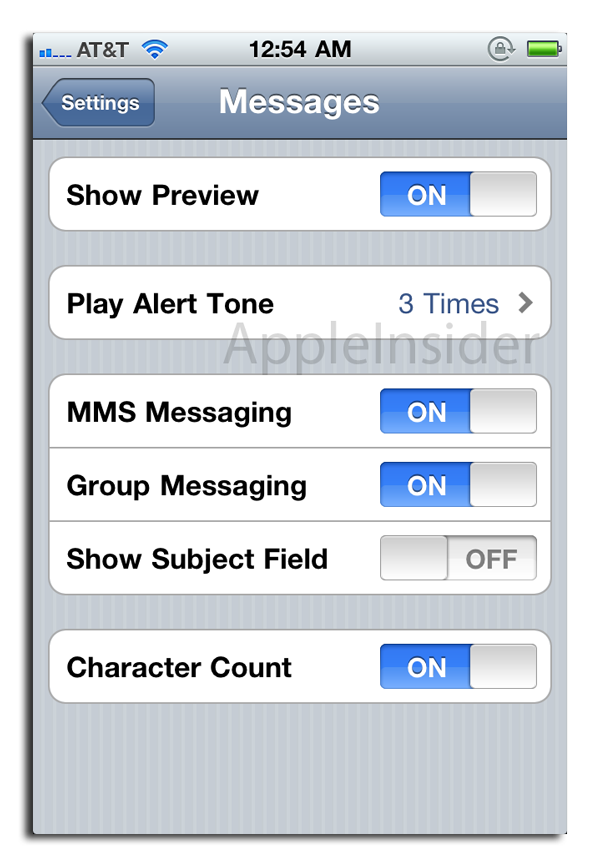 Apple's first beta of iOS 4.3 for the iPhone and iPad packs a number of new features for the mobile operating system, including more options for iPhone text message alerts and new multitouch gestures for the iPad.
Apple released the first beta of iOS 4.3 for the iPhone, iPad, iPod touch and Apple TV on Wednesday. The initial build is known as 8F5148b, and is only available to developers for testing purposes.
AppleInsider offers readers a first look at some of the new features found in the iOS 4.3 beta, including Personal Hotspot, new multitouch gestures, custom text message alert settings, and even a new look for App Store updates.
Custom text message alert intervals
A new addition to the iPhone with the first iOS 4.3 beta is the ability to choose how many times an alert tone for an SMS message is played. By choosing "Messages" in the native Settings application, users can now see the "Play Alert Tone" option.
From here, users have the ability to choose to play an alert tone once, twice, three times, five times, or ten times. The alerts repeat at two minute intervals.
Currently, on iOS 4.2, users only have the option to turn on "Repeat Alert." If a message is ignored, users are given two more alerts before they stop.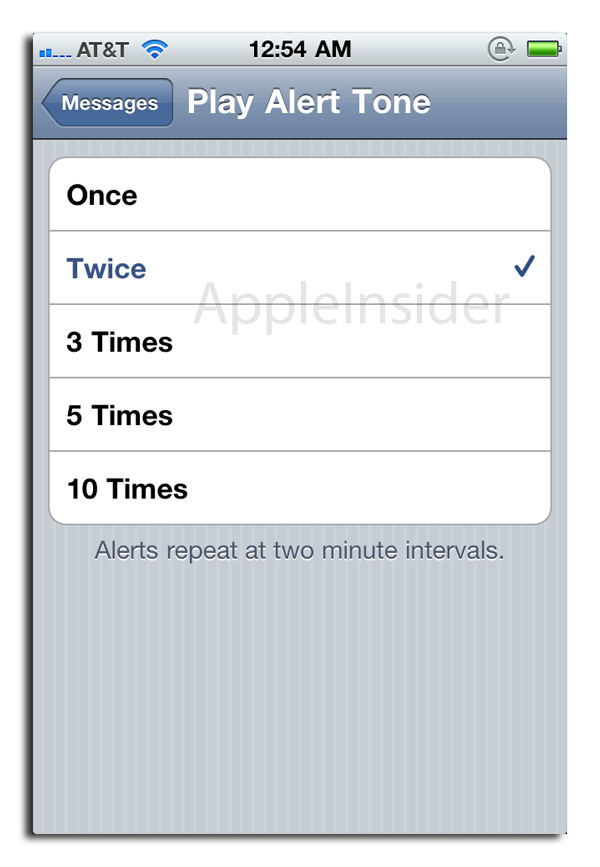 New look for App Store updates
Updating software on the iPhone has a new look through the App Store application in the first iOS 4.3 beta. Currently, updates are shown through a gray background in the "Updates" tab of the App Store.
In the first beta, applications are instead shown against a white background, and a rectangular border with rounded corners circles the application name and icon. Blank background space has also been changed to black from gray.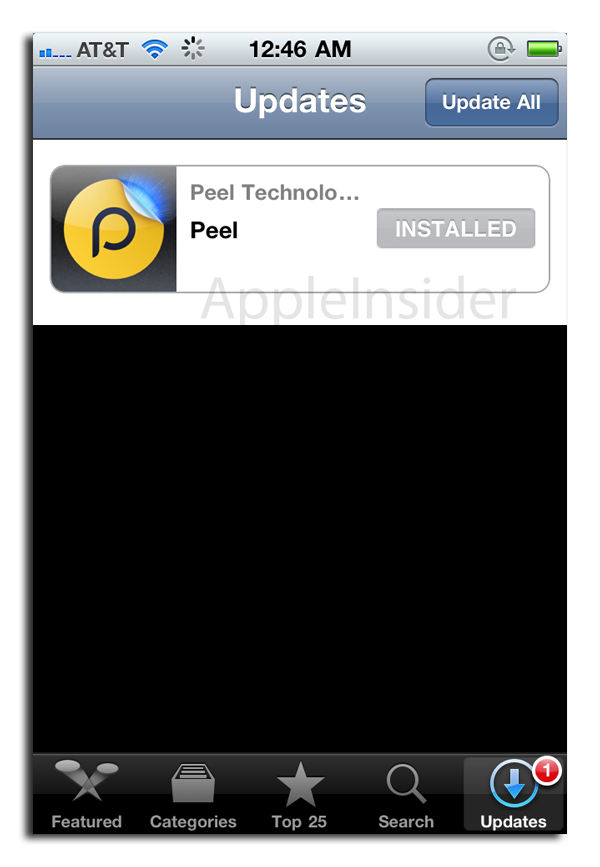 New multi-touch iPad gestures
As revealed on Wednesday, Apple has added new multi-touch gestures to the iPad which aim to make it easier to multitask. Users can now quickly invoke the app drawer, where multitasking items and recently opened applications reside.
As seen in the video included below, users can also quickly switch between open tasks and return to the home screen with new four- or five-finger swiping gestures. Swiping left or right flips between applications, and pushing up returns to the home screen.
The physical switch on the side of the iPad was originally used as an orientation lock, but beginning with iOS 4.2, it instead served as a mute switch. The change prompted numerous complaints from iPad users, who preferred the ability to quickly lock the iPad orientation.
Apple has responded to those complaints, at least in the first beta of iOS 4.3, and added a new option in the Settings application to choose between mute and orientation lock for the physical switch.
As revealed on Wednesday, the first iOS 4.3 beta includes the new Personal Hotspot feature first unveiled this week with the new Verizon iPhone. The new feature allows the iPhone to share a 3G data connection with up to five separate devices over Wi-Fi.
Various reports have said the update will only be available in iOS 4.3 for iPhone users who have a carrier that opts to allow the functionality. As with previous iOS tethering methods over Bluetooth and USB, it's likely that carriers will charge for that ability.
Personal Hotspot is enabled through the native Settings application on the iPhone. Selecting the option allows users to turn on the feature, noting that "additional usage charges may apply." Users can set a custom password for their local Wi-Fi network.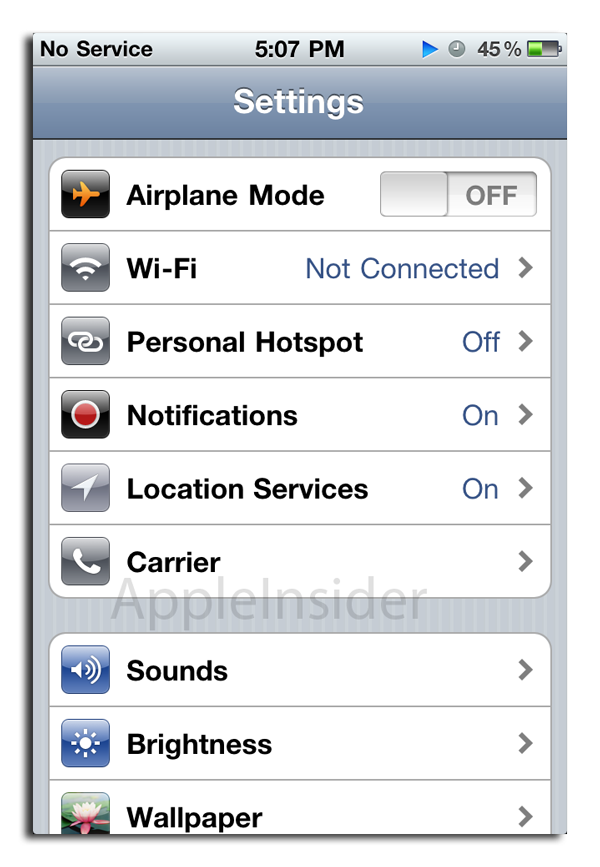 AirPlay for third-party apps
The first beta of iOS 4.3 will also allow developers to add AirPlay functionality to their third-party App Store software. This will give developers the ability to wirelessly send images and data to the new Apple TV set top box, also running iOS 4.3.
Of course, this feature cannot be demonstrated until developers create or modify their existing applications to add AirPlay support.
"Stream video from your app to a widescreen TV using new Media Player APIs that support AirPlay video," Apple's official documentation reads. "You can also update your Web content to support AirPlay."
Lack of support for older hardware
Apple has not provided developers with builds of iOS 4.3 for older hardware, including the iPhone 3G and second-generation iPod touch. Those same devices were already missing features, such as multitasking and custom wallpapers, when iOS 4 launched in June of last year.
While it's possible that the iPhone 3G and second-generation iPod touch could eventually receive iOS 4.3, for now the first beta only supports the iPad, iPHone 4, iPhone 3GS, third-generation iPod touch and fourth-generation iPod touch. Apple has not given any indication as to whether the older devices will eventually receive support, or if iOS 4.2 is the last update available for them.
iOS 4.2 was found to greatly improve the performance of the mobile operating system on the iPhone 3G. Some users of the hardware first released in 2008 have complained about performance on the device, with one lawsuit against Apple alleging that iOS 4 turned their iPhone 3G into an "iBrick."