Evidence points toward potential Feb. 27 launch of Apple's white iPhone 4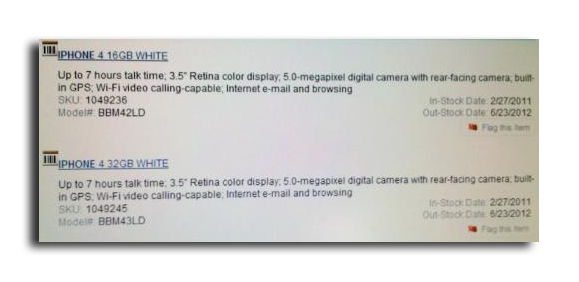 Apple's long-delayed white version of the iPhone 4 could finally debut on Feb. 27, according to information leaked from the retail inventory system of retailer Best Buy.
The photo of the alleged internal information, obtained by MacRumors, shows both the 16GB and 32GB white iPhone 4 models with an in-stock date of Feb. 27. The lower-capacity model has the SKU number 1049236 and model number BBM42LD, while the 32GB model is referred to with SKU 1049245 and model number BBM43LD.
If the white iPhone 4 does launch on Feb. 27, it would be 8 months after the iPhone 4 first went on sale in the U.S. But it would also be sooner than the most recent release date provided by Apple, when it delayed the white iPhone 4 yet again in October.
After the last delay, Apple said the white iPhone 4 wouldn't arrive until Spring of 2011. That season doesn't officially start until March 20, 2011.
The Feb. 27 date in Best Buy's system could also be a temporary placeholder used internally by the company, but not based on any actual information from Apple. The date falls on a Sunday, which would be an uncharacteristic launch date for an Apple product.
Apple has publicly delayed the white iPhone 4 numerous times. In late July, the company issued its last update on the hardware, stating that it would go on sale in late 2010. It has even removed references to the white iPhone 4 from its website, where it was previously listed as "coming soon."
In July, Apple said that manufacturing of the white hardware proved "more challenging to manufacture" than the company had originally anticipated. That reveal came just a week after Chief Executive Steve Jobs publicly said the white iPhone 4 was on track to launch by the end of July.