Apple's iPad owned 87.4% of Q3 2010 "media tablet" market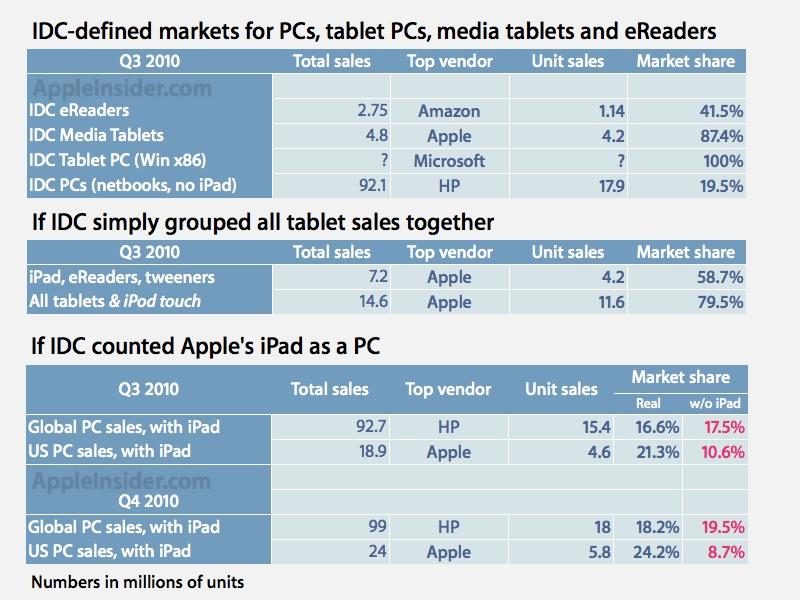 IDC reports that the booming "media tablet" market was "driven almost exclusively by global demand for Apple's groundbreaking iPad," while separately counting eReaders such as the Amazon Kindle and Tablet PCs running Windows. Were it to include all tablet devices globally, Apple would own 79.5 percent of the worldwide tablet market.
The "media tablet" market, as defined by IDC in its report, includes 5 to 14 inch tablet-shaped devices with color displays and running "lightweight operating systems (such as Apple's iOS and Google's Android OS)."
This definition excludes eReaders, most (but not all) of which use monochrome E-ink displays, and also excludes "tablet PCs" (uncapitalized in the report), which the firm defines as running "full PC operating systems" (Windows) as well as being "based on x86 processors," as opposed to "media tablets," which can be use either x86 or ARM chips.
This definition allows Microsoft a two year reprieve during which it can work to port Windows 7 to ARM devices before it will be thrown into direct competition with iPad in IDC's market statistics. IDC's report on "media tablets" and eReaders does not even reference how many "tablet PCs" it believes were sold by Microsoft licensees.
Gerrymandering a market to avoid direct comparisons
Tablet PC (when capitalized) is a well known initiative driven by Microsoft, which introduced the concept a decade ago but hasn't seen widespread adoption. Last year, Microsoft's chief executive Steve Ballmer referred to Apple's iPad as being a new form of PC, but both IDC and the competing Gartner refuse to include the iPad within their otherwise broad definition of the PC market.
In more general terms, "tablet PC" is more often described by the industry as including any handheld device that acts as a personal computer and supplies a touchscreen as is primary interface, a definition that would include some devices running Google's Chrome OS and Android, Nokia devices running MeeGo Linux, as well as tablet-sized devices running both Windows 7 and Windows CE (also known as Windows Embedded Compact).
The problem with this wider definition (used by Wikipedia and others) is that it ropes in smaller devices including Nokia's Internet Tablets such as the N900 mobile computer. If you count that as a tablet device, you also have to count Apple's similar iPod touch, which sold roughly 7.4 million units in Q3 2010 against little to no competition. That would devastate the tablet numbers of other vendors globally.
Thus, IDC draws the line for "media tablets" at 5 inches, including devices like the 5 inch 800x480 Dell Streak and 7 inch 1024x600 Galaxy Tab while excluding the equally powerful 960x640 iPod touch, which clearly competes against those devices in the same general market for handheld computing devices that run apps but are distinct from smartphones.
Segregated to solitary confinement in the iPad room
It is also curious that IDC would exclude Apple's iPad from its definition of PC, while also separating it from its definition of tablet PCs, and further silo sales numbers of simpler eReaders, crafting a "media tablet market" that arbitrarily can't include anything but the iPad and very similar Android-based tablets designed to closely copy its specifications (including even models that are much closer to the iPod touch than the iPad, while excluding the iPod touch itself).
Conversely, both Gartner and IDC have historically roped all new PC-like devices running Windows, at both the high and low end, into their previous definitions of PC, ranging from x86-based servers to cheap netbooks, an unreasonably wide scope of unrelated products that clearly don't belong in the same market definition, unless that definition only exists to flatter shipment numbers of Microsoft's Windows while marginalizing competing platforms including Apple's Macintosh, Network Computers, and Linux machines.
The iPad is the first significant new device that has actually managed to materially threatened the Windows-Intel-specific definition of the PC market. Apple's Mac computers have steadily increased their global market share over the past decade from around 2 percent to around 3.2 percent this year, but sales of the iPad in 2010 have already eclipsed Apple's Mac shipments, suddenly giving iPad its own significant share of the PC market (even as it gobbles up sales of conventional PCs), were IDC and Gartner not opposed to reporting this reality.
The point of defining a market is to group together products that compete for attention, offering similar functionality.
Media tablet is currently a euphemism for iPad
Instead, iPad has been defined as a "media tablet," something that Microsoft's licensees have not been able to deliver, and which Android licensees are only threatening to introduce in full force later this year. IDC reports that "vendors" sold 4.8 million media tablets globally in 3Q 2010, with Apple itself selling "nearly 4.2" million of those. In the previous Q2, IDC said "vendors" sold 3.3 million, the same number of iPad units Apple reported selling.
Apple is expected to report sales of between 5 and 7 million iPads in the most recent winter quarter, later today in its fiscal Q1 2011 earnings report. (Update: has reported sales of 7.33 million iPads)
IDC noted that Samsung's Galaxy Tab represented the "first tier 1 device vendor to [appear in] the Android media tablet market," and noted that the "media tablet" market is expected to "accelerate significantly in 1Q11 with new products from multiple high-profile device vendors, including Motorola's Xoom, based on Android 3.0 (Honeycomb), and RIM's BlackBerry PlayBook based on BlackBerry Tablet OS."
On the other hand, while iPad has been compared against Amazon's Kindle, and even runs an Amazon supplied Kindle apps that makes it functionally equivalent (in addition to competing ebook app and stores including Apple's iBooks and Barnes & Noble's Nook app), iPad is excluded from IDC's new definition of eReader used in its new eReader Tracker statistics.
"Media tablets [like the iPad] support multiple connectivity technologies and a broad range of applications, which differentiates them from single purpose–focused devices such as ereaders," IDC's report explains.
In reality, Amazon's Kindle already supports "multiple connectivity technologies," including the same WiFi and 3G options as Apple's iPad. IDC's definition could run into additional problems if Amazon expands the Kindle to include more general purpose features, including the ability to run apps.
Amazon has already thrown its hat into the ring as an software vendor with the announcement of its Android Appstore, and could easily transition Kindle into being a more general purpose tablet, something it has already signaled a clear intention to do, throwing additional wrenches into IDC's carefully defined submarkets intended to pit the iPad only against itself.
In Q3, IDC reported sales of 1.14 million Kindles and less than half a million units from other vendors in its top five, including Pandigital, Barnes and Noble, Sony and Hanvon. Were it to include global sales of eReaders into the "media tablet" market, Amazon's share would drop from 41.5 percent of the eReader market to being just 16 percent of the total tablet market, while Apple would retain bragging rights to 58% of all tablet devices of any kind, even when including discount eReader devices selling for around $130.
Counting eReaders as tablets would let things really get out of hand once it became obvious that the iPod touch is carefully being excluded from appearing anywhere, despite being more powerful than most tweener media tablets and certainly more capable than other eReaders, while also working as an eReader just like iPad. Adding iPod touch sales into the tablet market would expose the fact that Apple is selling 79.5% of all tablet devices globally.