Verizon leak shows Motorola's iPad challenger priced at $799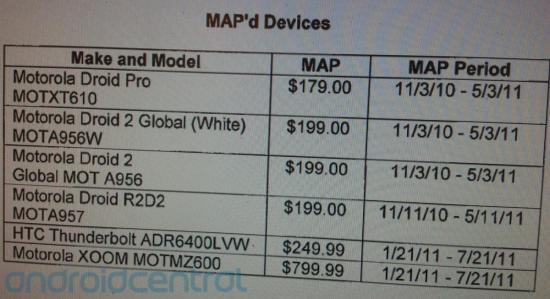 A possible leak of Verizon's 'minimum advertised price' for the unreleased Motorola Xoom tablet lists a $799.99 price tag for the device, $70 more than a comparable iPad.
The leaked updates to Verizon's MAP pricing for the Xoom tablet were obtained by Android Central, though the report was quick to warn that the price could change before launch.
Google VP Andy Rubin showed off a prototype of the Motorola tablet in December. Motorola then released a teaser video for the tablet, downplaying the iPad as "like a giant iPhone" and touting the Motorola tablet as "the next chapter in tablet evolution."
Motorola formally unveiled the Xoom tablet at the Consumer Electronics Show in January, though the device was "not completely done." The Xoom will be the first tablet to run Google's Android 3.0 Honeycomb operating system, which has been "designed from the ground up for tablets."
The Xoom has a dual core 1GHz processor, 32GB of flash storage and front and rear cameras. The 10.1 inch screen has a resolution of 1280 by 800. Additional features include a built-in gyroscope, barometer, e-compass, accelerometer and adaptive lighting.
If the leaked price of $799 is to be believed, the Xoom would cost $70 more than the 32GB 3G iPad, which sells for $729. Motorola plans to release the device in the first quarter of this year.
The leak also listed update prices for several Motorola smartphones and the HTC Thunderbolt, which is listed at $249.99. According to the photos, the minimum advertising prices for the Thunderbolt and Xoom are valid from Jan. 21 to July 21.
Last October, Apple CEO Steve Jobs predicted that competitors would "have a tough time coming close to iPad's pricing" because Apple creates its own "A4 chip, software, battery chemistry, enclosure, everything."
Earlier this week, Apple Chief Operations Officer Tim Cook, who will fill in for Jobs during his recently announced medical leave of absence, downplayed concerns about rival tablets like the Xoom. "There's nothing shipping yet, and they lack performance specs and pricing. Today they're vapor," said Cook during the company's first fiscal quarter 2011 earnings call on Tuesday.
"However, we're not sitting still," Cook continued. "We have a huge first-mover advantage. And a huge user advantage from iTunes to the App Store. Huge number of apps and an ecosystem. We're very confident entering into a fight with anyone."