Pixelmator reports $1 million haul from Mac App Store in just 20 days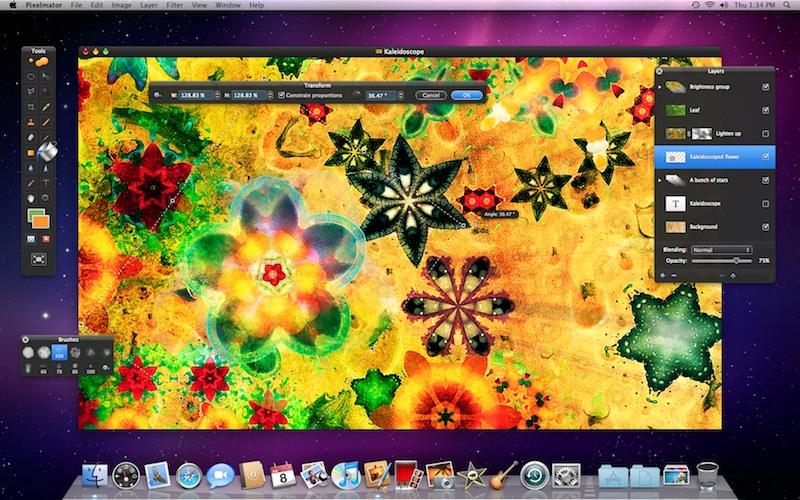 Less than three weeks after listing Pixelmator on Apple's new Mac App Store, its developers report grossing a million dollars from the title, while Microsoft and some other big Mac developers have yet to engage the new online market.
Pixelmator's co-developer Saulius Dailide wrote in the company's blog that he was "ecstatic" to be able to report the news, and noted the apps high ratings in the US, UK and German App Stores.
"Such an amazing success feels fantastic. Thank you so much for your enthusiastic support."
Pixelmator is currently the fourth highest grossing title in the Mac App Store, behind Apple's own Aperture, iPhoto, and Pages (non of which are new versions; Aperture is significantly reduced in price however.)
The rest of the top grossing list includes the $5 Angry Birds game at fifth place, the $50 Call of Duty 4: Modern Warfare at seventh, $30 Civilization IV Colonization at number ten, and filled in by Apple's iMovie, Keynote and Numbers at sixth, eighth and ninth, respectively.
This indicates Apple itself is making additional millions from its current versions of iLife and iWork titles. While iLife was updated last fall, iWork apps haven't seen a major new reference release since the beginning of 2009.
Betting big on the Mac App Store
Pixelmator's developers decided to bank on the success of the new Mac App Store from the start, announcing plans to exclusively distribute its app online via the new store, phasing out direct sales.
The company also slashed the price of Pixelmator from $59.99 to a limited time offer of $29.99, in part as a concession to existing users who will need to repurchase the app to get downloads through the App Store.
The limited time offer is available to everyone however, and includes a free upgrade to the upcoming 2.0 release.
A report by Wall Street Journal blogger John Paczkowski cited Pixelmator co-founder Aidas Dailide as saying that the company sold about 33,000 copies of the software at $29.99 to gross $1 million, noting that "the jump in sales was dramatic."
The report also stated that Pixelmator's developers had no problem with Apple taking a cut to merchandize and promote their work, with Dailide saying, "the 30 percent cut is definitely worth it. The increase in sales and exposure is worth much more than that. Especially in our case."