Apple hit with class-action suit after girl drops, breaks iPhone 4's glass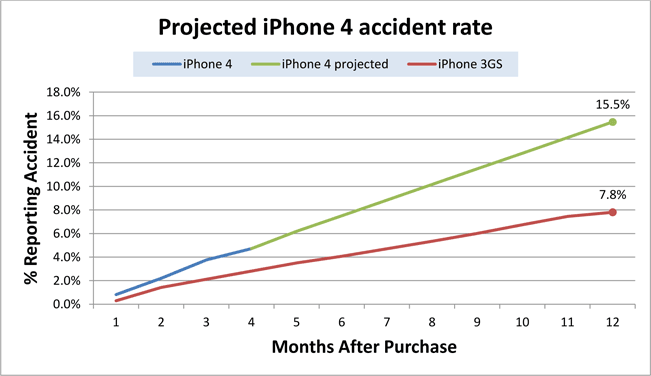 AppleInsider may earn an affiliate commission on purchases made through links on our site.
A California man became so angry after his daughter dropped his iPhone 4 and cracked its glass enclosure that he filed a class-action lawsuit against Apple alleging that its most recent handset design is defective.
In the complaint filed earlier this week, Los Angeles resident Donald LeBuhn claims that Apple has known for months that its industrial design of the iPhone 4 is defective but has failed to warn customers that normal use of the device can lead to a broken phone.
More specifically, LeBuhn said that he paid over $250 in September for a new iPhone 4 only to have it rendered essentially useless after his daughter dropped it from a height of roughly three feet while attempting to send a text message.
In the suit, he claims to have owned an iPhone 3GS that fell from a similar height but did not break. As such, he's calling bologna on the Cupertino-based company's marketing claims that the iPhone 4 glass as "20 times stiffer and 30 times harder than plastic," and is "ultradurable" having been made from the same material as the "glass used in helicopters and high-speed trains."
"Months after selling millions of iPhone 4s, Apple has failed to warn and continues to sell this product with no warning to customers that the glass housing is defective," LeBuhn's attorneys wrote in the complaint.
The suit comes a little over three months after third-party warranty provider SquareTrade issued a report stating that in its first four months on market, the iPhone 4 was seeing a reported accident rate that was 68% higher than the iPhone 3GS, primarily the result of broken screens.
A followup report from the same firm a month later claimed that while the iPhone 4 outperformed all other leading smartphones when it came to reported malfunctions, it also appeared to be more accident-prone. As such, SquareTrade projected the handset would have the highest accidental damage rate after 12 months of all smartphones at roughly 13.8 percent, possibly due to its two sides of glass.
Projected iPhone 4 accident rate | Source: SquareTrade
With his lawsuit this month, LeBuhn has asked the court to mandate that Apple refund the purchase price of the iPhone 4 to all similarly situated class members, to reimburse customers for any repair fees they've paid, and to further compensate customers for their "overpayment" in purchasing a defective product.