Over 60% of Apple's first-wave iPad 2 production to be 3G models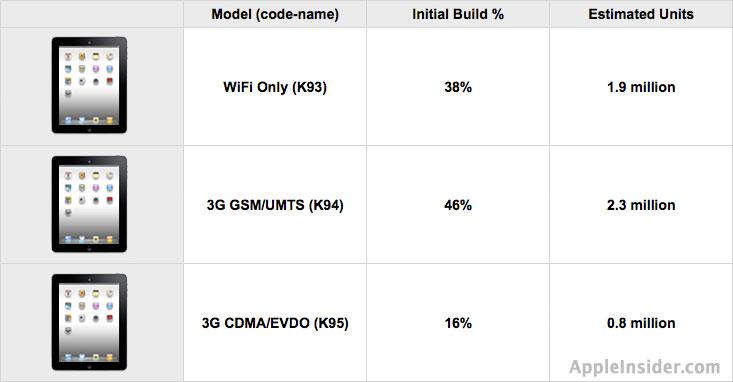 The majority of Apple's second-generation iPad models now being built will include either GSM/UMTS or CDMA 3G support, according to checks of overseas manufacturers, suggesting the company plans on forging stronger relationships with wireless carriers alongside the device's introduction.
After briefing AppleInsider exclusively last month on the components expected to find their way into the new iPads, analyst Ming-Chi Kuo of Concord Securities has provide additional details on the five million unit supply Apple is reportedly amassing prior to its launch in the coming months.
As previously reported, Apple is expected to offer its second-gen iPad in three versions: a WiFi only model, a GSM/UMTS version for AT&T and most other carriers globally, and a CDMA/EVDO model for Verizon (and possibly other CDMA carriers in the future). The naming convention for these three models is said to be K93, K94 and K95, respectively. For comparison, the Verizon iPhone 4 shipping this month is codenamed N92.
In speaking to AppleInsider, Kuo said his checks in the Far East indicate production figures of 38 percent for the K93 WiFi model, 46 percent of the K46 3G model, and 16 percent for the Verizon-compatible K95 CDMA version. This indicates that Apple apparently expects most iPad 2 users will opt for 3G models, even on Verizon where new iPhone buyers have the option to pay $20 for hotspot service through their new smartphone.
Verizon's existing iPad data plans offer 1GB for $20 per month and $20/GB after that, or $35 for 3GB, $50 for 5GB and $80 for 10GB, each with $10/GB overage charges. The $20 tethering plan via iPhone 4 provides 2GB, a considerably better deal.
While Apple has never provided much color on its sales mix of WiFi versus 3G iPad models, it did as recently as last month say that the average selling price (ASP) of all iPads it shipped during the fourth calendar quarter of 2010 came out to roughly $600. With the cheapest 3G iPad retailing for $629, Apple would presumably have had to see the mix weighted heavily towards the the 16GB $499 WiFi model and 16GB $629 3G model for sales of 3G models to outweigh WiFi ones given that ASP.
Still, this isn't the first time that sources close to Apple's manufacturing partners have indicated that sales of 3G iPads are now outpacing WiFi models. The widely cited Taiwanese DigiTimes recently reported that 60 to 65% of all iPads Apple was shipping around the December timeframe were 3G models.
The publication went on to similarly predict that consumers were beginning to prefer models that are able to remain connected to the Internet at all times, adding that Apple was "aiming to work even more closely with telecom carriers by offering more wireless solutions for iPad 2 to satisfy market demand."
That same report estimated that Apple would ship 40 million second-generation iPad units in 2011, representing between 65% and 75% of the global tablet PC market.