Dell previews conceptual tablet running Windows 7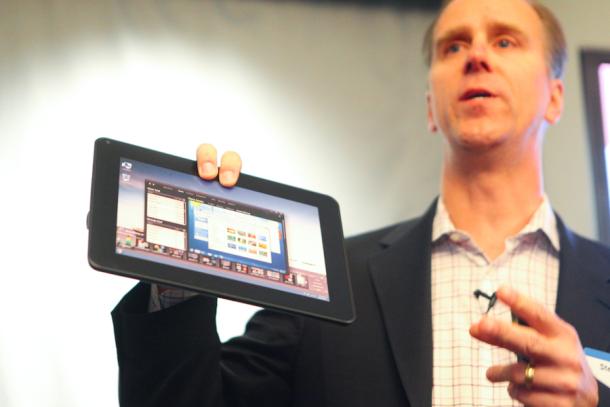 Without providing a price or release date, Dell has begun showing a non-working prototype representing a 10 inch tablet running Windows 7.
According to report by CNET, the product is aimed at users "who need greater mobility, as well as IT organizations that demand control, security, manageability, and integration with existing infrastructure investments."
Named the Windows 7 Business Tablet (rather than using the Dell Streak brand), the product concept is short on specifics apart from needing to use an Intel processor. Last month, Microsoft announced plans to port Windows 7 to the ARM architecture used by Apple's iPad, but said this would take at least two years to deliver. Dell hopes to bring the concept to market "sometime later this year," according to the report.
Steven Lalla, Dell's vice president of its commercial client product group, said that "businesses want Windows because it fits into the IT management scheme," before qualifying that with, "not to say Android doesn't."
For those who don't need Windows to fit into the IT management scheme, Dell will offer the same hardware running Android, an interesting choice given that so far, most Android tablets are built around ARM devices like the iPad.
Apple itself was believed to be evaluating Intel's Atom mobile chips back in late 2007, before deciding to design its own A4 SoC used in the iPad. Apple has also touted that most businesses in the Fortune 500 have been eager to fit the iPad into their IT management schemes.
At the Dell event, Intel appeared to contradict evidence that the PC market was going mobile, with Rick Echevarria, vice president of Intel's Architecture Group, maintaining "we have 30 years in which the PC has proven to be able to adapt itself to the environment," adding, that "rumors of the death of the PC have been greatly exaggerated."