Low inventory, new drives raise questions on future of Apple's iPod classic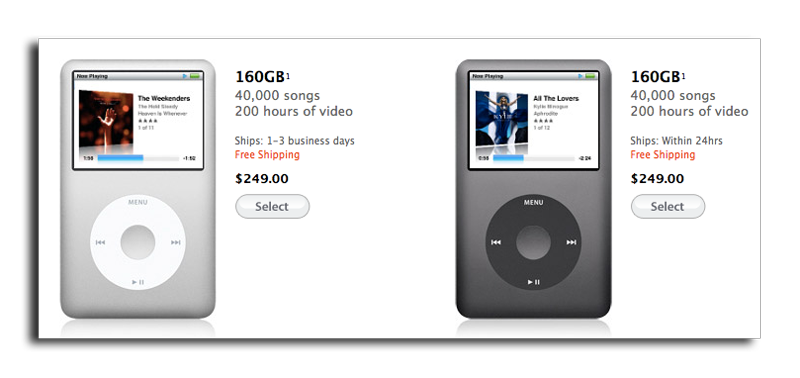 Availability of Apple's only remaining hard drive-based portable media player, the 160GB iPod classic, has run low at some stores, as Toshiba has begun sales of a new 1.8-inch hard drive with a 220GB maximum capacity.
Limited availability of the iPod classic was first discovered by AppleInsider. As can be found in the AppleInsider iPod Price Guide, online retailer Amazon is sold out with shipping times of two to four weeks of both the silver and black 160GB iPod classic models, though stock is still available through the site via resellers. And MacMall is sold out of the black model, but the silver remains in stock at a discounted price of $244.99.
In Apple's official online stores, the silver 160GB iPod classic ships in one to three business days. However, the black model has a quick shipping time of within 24 hours.
Limited stock of the iPod classic has lead to speculation that Apple could finally ax its last hard drive-based media player, the device with the iconic click wheel that helped the iPod lineup become so dominant. Of course, speculation that the iPod classic line is at an end is nothing new, even as the product has continued to soldier on year after year.
The limited inventory could also be sign of a forthcoming increase in capacity of the device. In late January, Toshiba — maker of the hard drive found in the existing iPod classic — released a new line of 1.8-inch drives that are available in capacities up to 220GB.
Toshiba's new microSATA-based drives are available with storage of 160GB, 200GB and 220GB inside an enclosure that weighs just 48 grams and is 5mm by 54mm by 71mm. They feature a 16MB buffer for improved performance, and require just 0.35 watts of power at low power idle, the smallest power consumption levels for any serial-ATA drive.
"Regardless of the device, customers expect to be able to store and access their favorite content, applications, and key data wherever they are," said Maciek Brzeski, vice president of mobile marketing at Toshiba Storage Device Division. "These new drives build on Toshiba's history of innovation and leadership in the 1.8-inch drive segment."
The iPod classic has continually been pushed into the background as Apple's flash-based media players, particularly the iPod touch, have taken over the market. At last year's introduction of new iPods in September, the iPod classic went unmentioned, but retained its 160GB of storage capacity and $249 price point.
In 2009, Apple increased the capacity of the iPod classic to 160GB. But the upgrade was minor, considering that two years prior Apple had sold a thicker 160GB model that was eventually discontinued in 2008. The 2009 update to the iPod classic gave the 160GB device the same slim profile as the 120GB model released in 2008.
Though the iPod classic lags behind newer models in terms of features and performance, it trumps the rest of the iPod lineup in capacity. The largest iPod touch from Apple has less than half the internal storage with 64GB.
AppleInsider has affiliate partnerships and may earn commission on products purchased through affiliate links. These partnerships do not influence our editorial content.