WSJ says Apple now manufacturing next-gen iPads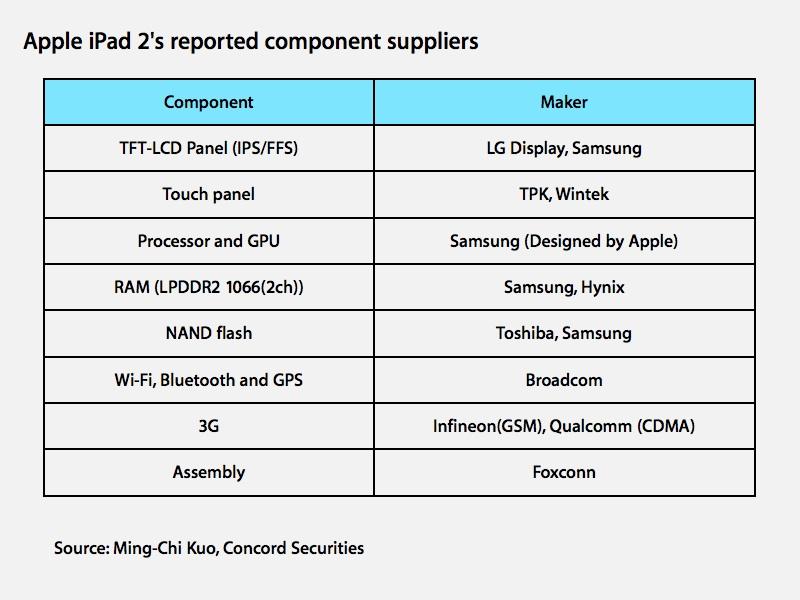 Apple is indeed building new iPad 2 models, confirms a report by the Wall Street Journal, noting a list of features previously reported.
The report cites "people familiar with the matter" as saying "The new device will be thinner, lighter and will come with a faster processor, more memory and a more powerful graphics processor."
It also stated the next iPad "will have a front-facing camera for the first time for features like video-conferencing, but the resolution of the new iPad's display will be similar to the first iPad."
It also noted it would be available through Verizon Wireless and AT&T, but not other US carriers.
In January, AppleInsider exclusively reported notes from Concord Securities Analyst Ming-Chi Kuo, who similarly highlighted a slim new form factor made possible by a new display module said to be 30-35 percent thinner, supplied by both LG and Samsung.
That report also highlighted that iPad 2 wouldn't ship with a Retina Display resolution because panel production volumes and cost couldn't meet Apple's requirements.
The report also added additional color the Wall Street Journal didn't, detailing that extra speed would come from new generation of SoC incorporating a dual core Cortex-A9 ARM processor and Imagination's SGX543 dual core graphics technology.
The coming iPad's RAM is expected to be doubled to 512MB, the same as today's iPhone 4 but still half that of the $800 Motorola Xoom. RAM is also said to be accelerated using a faster 1066MHz bus, compared to the 800MHz timing of iPhone 4.
The Wall Street Journal report didn't supply any details about the resolution of both front and rear cameras, but our previous report expects parts similar to those used on the newest iPod touch: a front facing VGA resolution and a 1MP rear camera capable of 720p HD capture but not equivalent to the 5MP iPhone 4 camera, which rivals many point and shoot cameras in terms of photo quality.
The form factor of the iPad make it less likely to be used as a general purpose camera substitute in the manner of iPhone 4, as graphically depicted in the Xoom ad showing the protagonist capturing a photograph with his tablet.
An AppleInsider report from last September indicated iPad 2 may ship in Q1 2011, slightly earlier than the iPad's one year anniversary, as part of an aggressive move to push its FaceTime video conferencing feature.