$7.8B in parts will make Apple largest customer of rival Samsung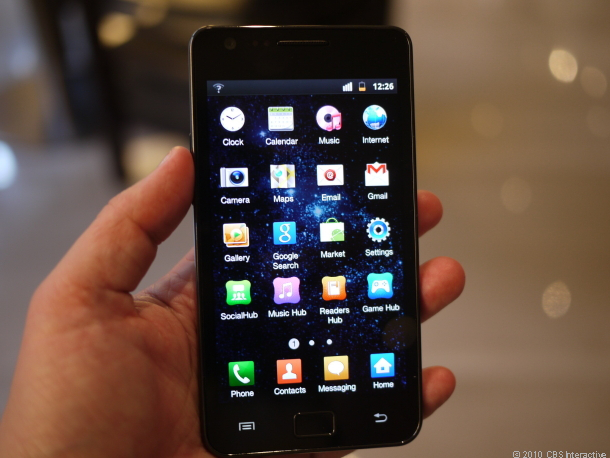 AppleInsider may earn an affiliate commission on purchases made through links on our site.
The partnership between Apple and Samsung is expected to grow in 2011, as a new report claims Apple will become the company's largest customer with $7.8 billion in component purchases — even as Samsung attempts to compete with Apple's iPhone and iPad with new products unveiled this week.
According to the Korea Economic Daily, Apple is expected to buy about $7.8 billion worth of components from Samsung this year. The parts will reportedly be for Apple's mobile products, including the iPhone and iPad, and include liquid crystal displays, mobile application processors and NAND flash memory chips.
The proposed contract, according to industry sources cited in the story, would make Apple the single largest customer of Samsung.
The news comes as the Mobile World Congress is underway and Samsung has shown off a number of products it hopes will compete with Apple's iPhone and iPad. Among the products unveiled was the Samsung Galaxy S II, the follow-up to its hot selling line of Android handsets.
The new Samsung Galaxy S II has a dual-core processor and runs Google Android 2.3 Gingerbread with the device maker's custom TouchWiz user interface skin. It also sports a large 4.3-inch Super AMOLED Plus touchscreen with a WVGA 480-by-800-pixel resolution with 50 percent more sub-pixels.
The forthcoming handset also includes an 8-megapixel rear-facing camera, a 2-megapixel front-facing camera, 1080p video recording and playback, integrated near-field communications chip, and support for HSPA+, Wi-Fi and Bluetooth. The device is expected to debut in Europe and Asia this month.
Samsung also this week introduced the Galaxy Tab 10.1, a touchscreen tablet it hopes will compete with Apple's iPad. The Android-powered tablet has a screen size slightly larger than the 9.7-inch display used by Apple's iPad, a change from the first Galaxy Tab, which had a 7-inch screen.
The Galaxy Tab 10.1 runs Android 3.0 Honeycomb, the latest version of Google's mobile operating system specifically designed for tablets. That, too, is an improvement over the previous Galaxy Tab, which runs a version of Android intended for smartphones.
The Galaxy Tab 10.1 screen has a resolution of 1,280 by 800 pixels, weighs 21 ounces, and measures 0.44 inches thick. It has an Nvidia Tegra 2 dual-core processor, an 8 megapixel rear-facing camera and a 2-megapixel forward-facing camera.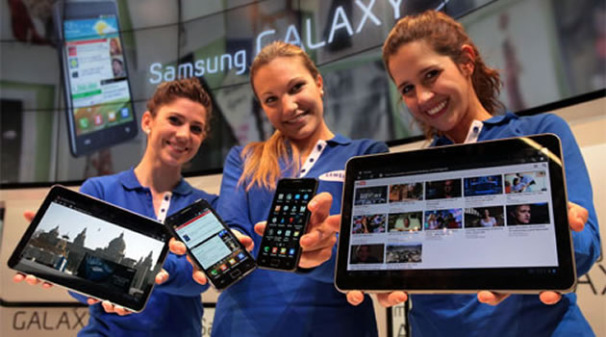 Samsung Galaxy Tab 10.1, via PCWorld.
In terms of components, this past week it was claimed that Apple has shown interest in Samsung's new "Super Plane to Line Switching" (PLS) display technology. A separate report from Korea claimed that Apple will use Samsung LCD panels for the "iPad 2," and that the Cupertino, Calif., company has shown interest in Samsung's "Super PLS" displays, which allow for superior viewing angles.