Samsung Galaxy Tab to take on Apple's iPad via all 4 US carriers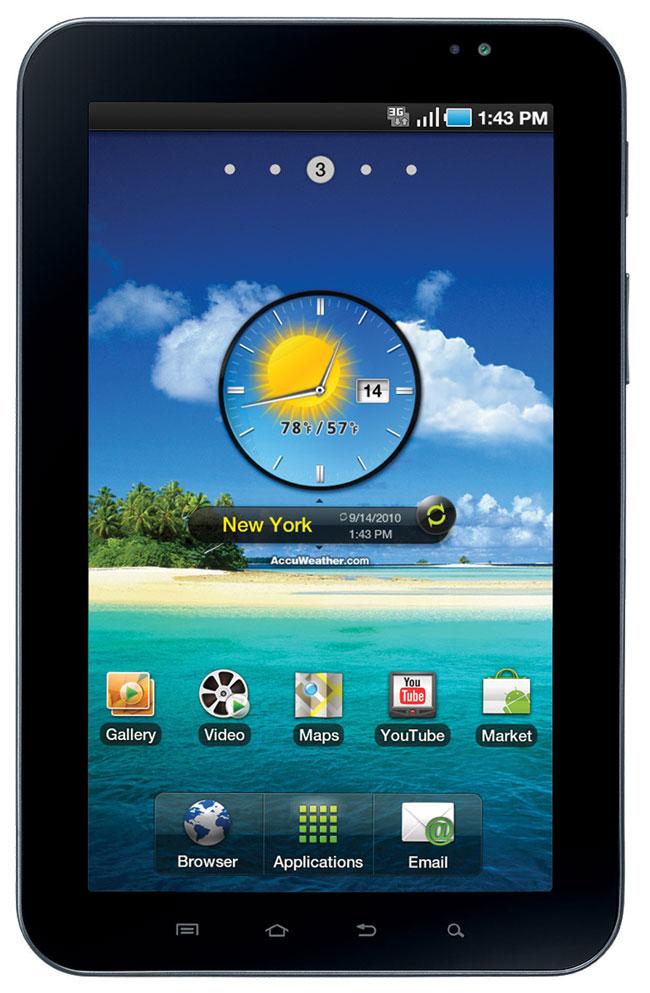 Samsung's Android-powered Galaxy Tab will be coming to all four major U.S. wireless carriers in the coming weeks and months, as the company hopes to compete with Apple's iPad in the booming touchscreen tablet market.
This week, Samsung held an event in New York City to show off its device with a 7-inch screen. Pricing has not yet been made available, but the tablet will be sold by Verizon, Sprint, and T-Mobile, as well as AT&T, which also offers data plans for Apple's iPad with 3G.
Like the iPad, the Galaxy Tab will also be available in a Wi-Fi-only model, Samsung said. Details on when that model will become available — or its price — were not announced.
AT&T, in a press release, said that the Samsung Galaxy Tab would go on sale for the holiday season. No date was given, but the carrier, which is the exclusive carrier of the iPhone in America, said it would sell Samsung's tablet in its own retail stores, as well as on its website, "in the coming months."
"We're looking forward to expanding our computing device portfolio and giving our AT&T customers more great choices with this innovative device," said Glenn Lurie, president of AT&T's emerging devices. "By teaming with Samsung Mobile to deliver the Samsung Galaxy Tab, we're equipping our customers with new and exciting ways to connect to the nation's fastest mobile broadband network."
Verizon, the largest wireless provider in the U.S., said it would launch the Galaxy Tab on its network "in the coming weeks." The carrier also plans to install a number of exclusive applications on the device, including V CAST Music with Rhapsody, V CAST Video on Demand, V CAST Song ID, VZ Navigator, and games "Let's Golf" and "N.O.V.A."
"The Samsung Galaxy Tab is an exciting addition to the Verizon Wireless Android portfolio," said John Stratton, executive vice president and chief marketing officer for Verizon Wireless. "Coupled with the nation's largest 3G network, the Galaxy Tab is a powerhouse that will be as exciting to use as it is practical for both consumers and business customers."
The Galaxy Tab sports a 1GHz Cortex A8 ARM processor and a WSVGA display with a 1,024x600-pixel resolution screen. It has a rear-facing camera with a 3-megapixel camera and camcorder, as well as a forward facing 1.3-megapixel camera, which will allow video conferencing.
The device comes with 2GB of memory built in and has a 16GB microSD card pre-installed. The Galaxy Tab can be expanded to 32GB of storage through the microSD slot.
Samsung's tablet also weighs less than a pound, compared to the 1.5-pound weight of Apple's iPad. Given the device's weight and screen size, its e-reading capabilities have been highlighted by Samsung and its carrier partners.
Unverified rumors have indicated that Apple has shown interest in developing its own, small version of the iPad, allowing for greater portability and a lighter weight. In August, it was alleged that Samsung knew of plans for a "mini iPad" and was taking aim at that model with its Galaxy Tab.
Another report suggested Apple's 7-inch iPad would have a weight of 500 grams, reduced from the current hardware's 700 grams.
However, AppleInsider has been lead to believe that Apple will maintain the 9.7-inch screen size of the iPad with a forthcoming update that is expected to add a forward facing camera for FaceTime video chat. It is believed that Apple intends to aggressively push its FaceTime standard, and would like to put a compatible iPad on the market as soon as this holiday season.