Sources reveal Apple's new-look interface for Mac OS X Lion's Finder, Mail, and other apps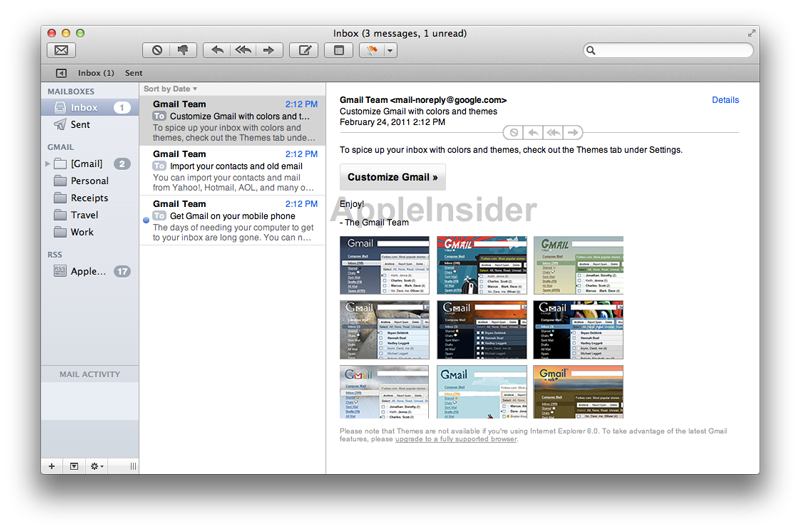 The developer preview of Mac OS X Lion released to developers on Thursday sports a new interface look akin to iTunes for the Finder, Mail and iCal, while applications like Address adopt design elements borrowed from the iPad. AppleInsider offers a first look.
iPad-style Mail, Address Book, iCal
According to people familiar with the software, Mac OS X 10.7 Lion features a new version of Mail with a widescreen layout inspired by the mail application on the iPad. Among the new additions is Conversations, a feature that automatically groups related messages into one easy-to-read timeline.
Mail also features a more powerful search, and support for Microsoft Exchange 2010.
The address book has also taken a cue from the iPad, and iCal has also borrowed design elements from the interface on Apple's popular touchscreen tablet.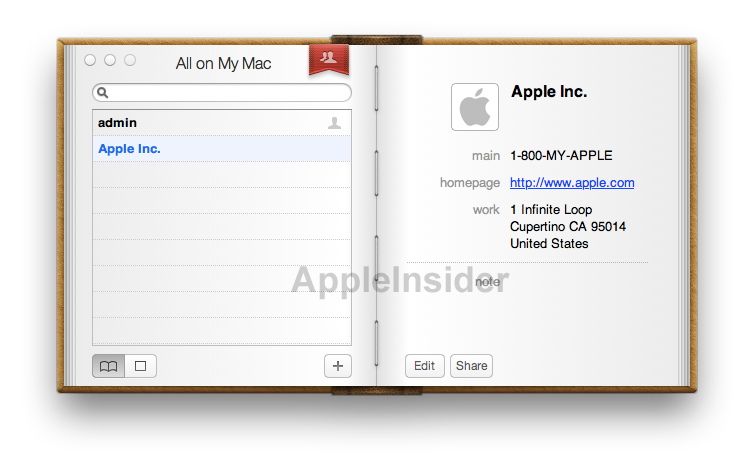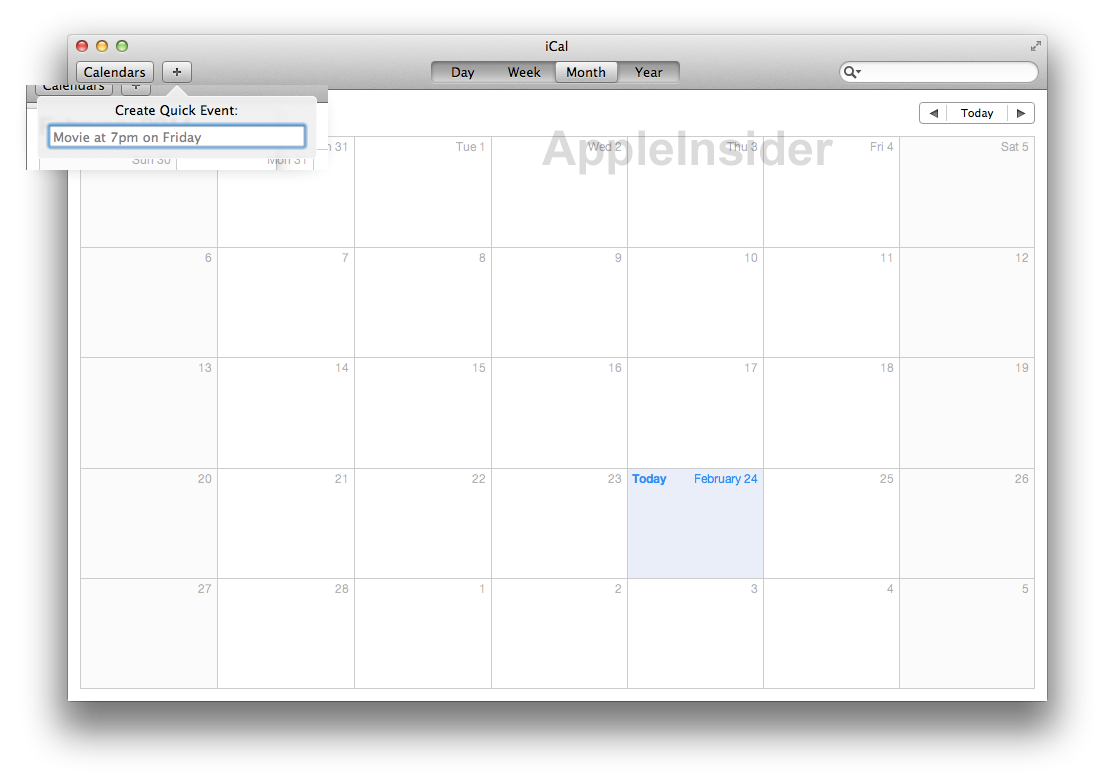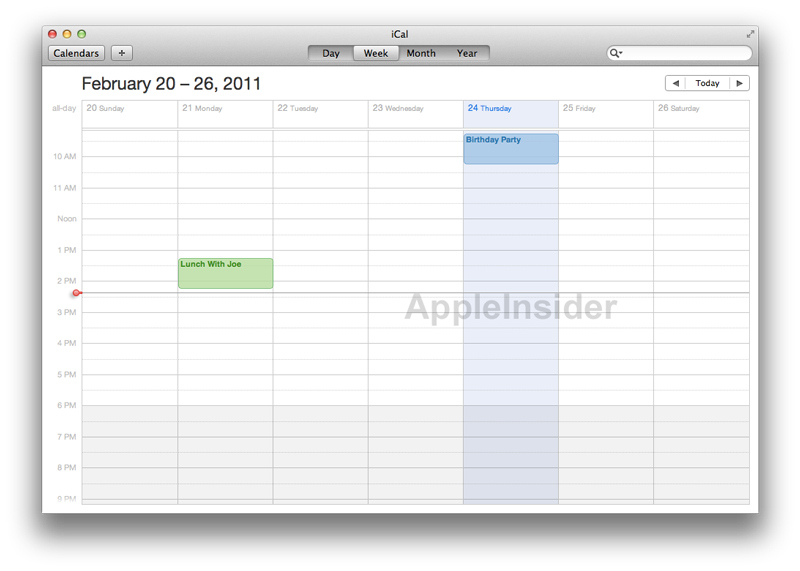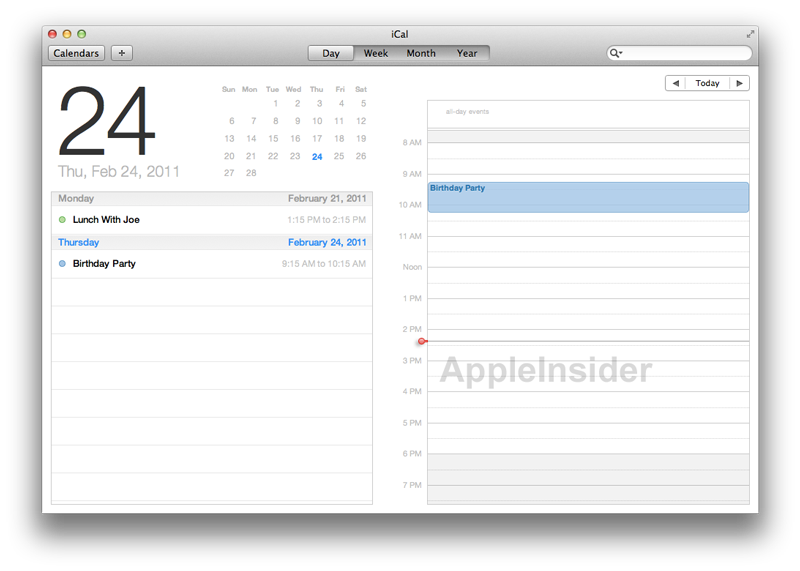 New file view options in Finder, additional multi-touch gestures
According to the same people referenced above, a new view in Mac OS X 10.7 Lion's Finder will break down items in a folder by file type. Meanwhile, the Finder itself sports a new view called "All My Files," which works very much the same way for all of the files belonging to a user on a Mac's hard disk. The feature works like Cover Flow, in that you can scroll through rows with the mouse, trackpad or arrow keys when there are more documents or applications in the row that can fit inside the visible portion of the Finder window.
The new multi-touch gestures are designed to take advantage of the larger click TrackPads on more recent MacBook models, which could make them more difficult with older notebooks. Another strange quirk, people familiar with the developer preview said, is two-finger scrolling is reversed: to scroll down on a webpage in Safari, users must push up with their fingers, which is the opposite of how it works in Snow Leopard, but the same directly as scrolling on the iPad.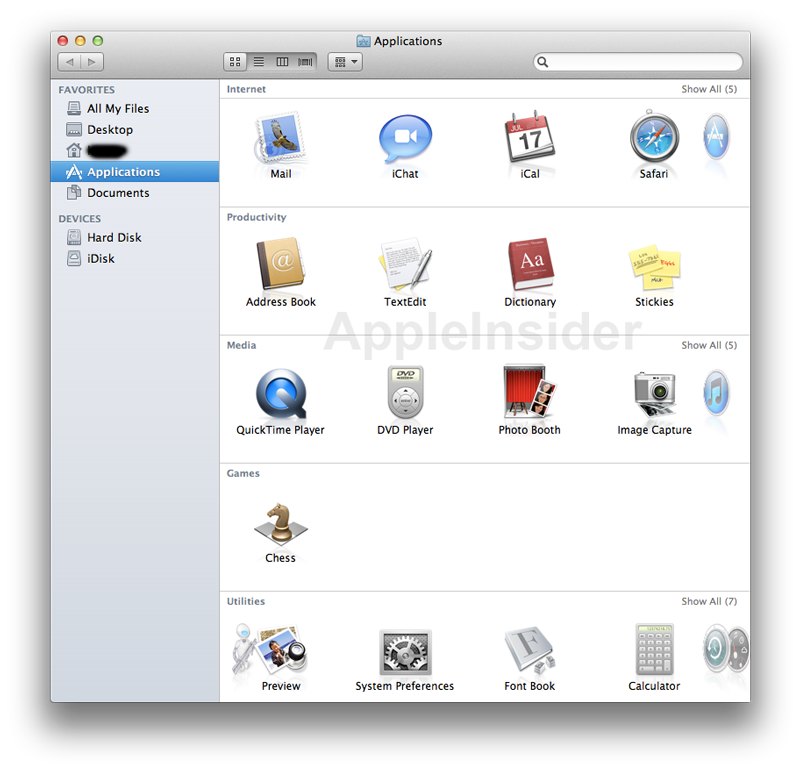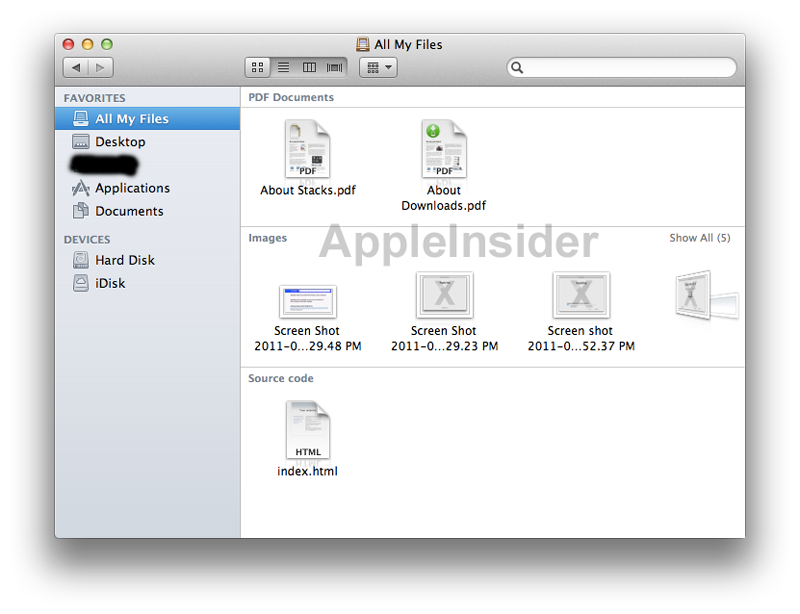 Apple has also added additional multi-touch gestures for users of the MacBook TrackPad, Magic TrackPad, or Magic Mouse. Users can invoke a pinch gesture to bring up the Launchpad, while spreading their fingers will access the Desktop.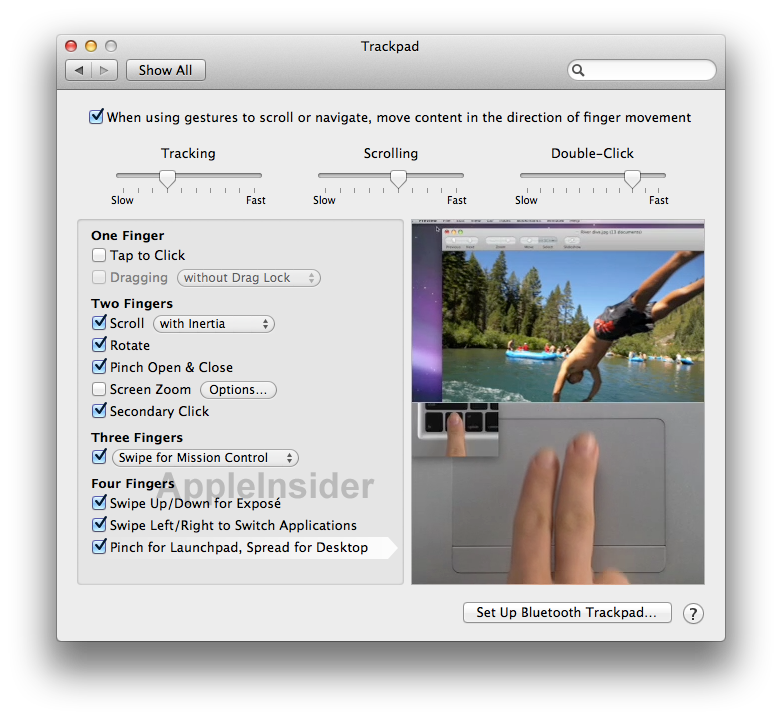 Launchpad & Mission Control
Launchpad aims to make it easy to find applications on a Mac. With a single click, Launchpad displays all Mac apps in a full-screen layout that looks like an iPad's home screen.
From there, applications can be launched, reorganized, or placed into folders that operate identical to folders on iOS. Applications can also be arranged into multiple pages, also like on iOS, allowing users to swipe between them.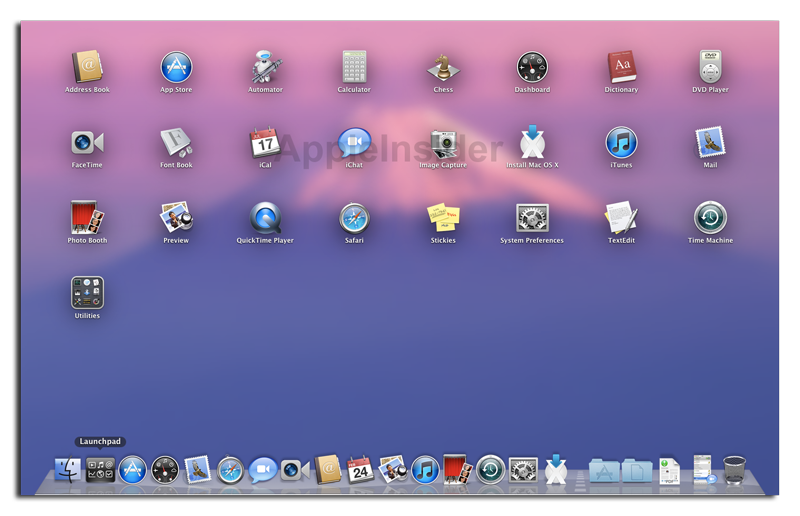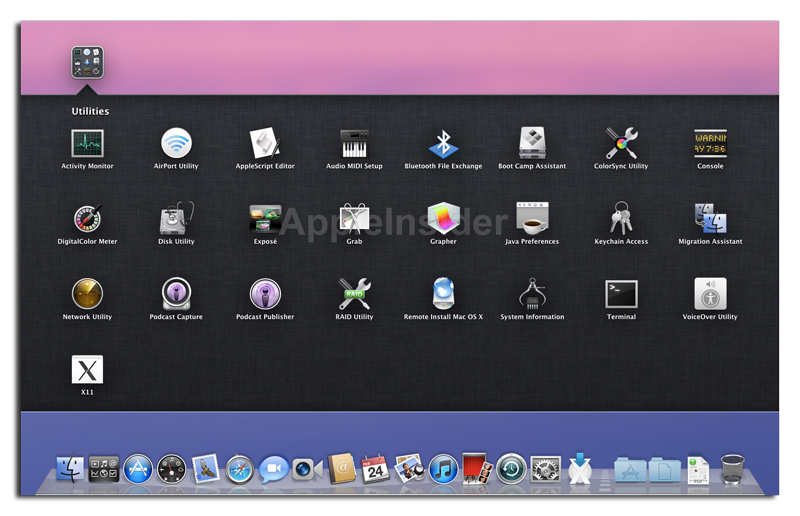 Mission Control unifies Exposé, Dashboard, Spaces, and full screen apps, giving users the ability to view every application and window currently running on Mac OS X 10.7 Lion. A simple swipe zooms out the desktop to display open windows grouped by application.
Mission Control also provides thumbnails of full-screen applications, as well as the Dashboard. It also gives users the ability to instantly navigate anywhere with a click.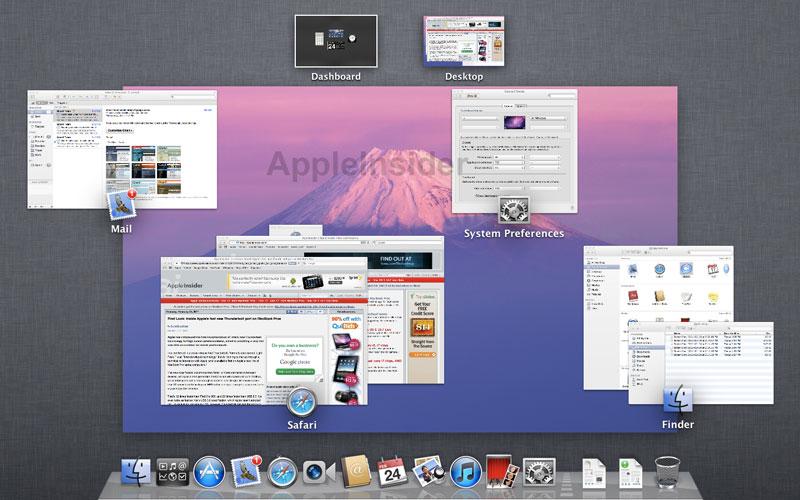 Scroll bar settings, iOS-style switches for menus
As revealed by AppleInsider earlier Thursday, Mac OS X 10.7 Lion features overlay scrollbars similar to those in iOS. If a user's pointing device (such as a TrackPad or Magic Mouse) supports both horizontal and vertical touch scrolling, the scrollbars are hidden during normal use.
Scrollbars will appear as an overlay on top of the window's content while the user is scrolling. The bars will also remain visible briefly after scrolling, to allow users the option to drag the scrollbar.
If a user does not have a device attached that is capable of scrolling, the scrollbars will remain on the screen. In addition, users can turn on the "legacy scrollbar" option in System Preferences.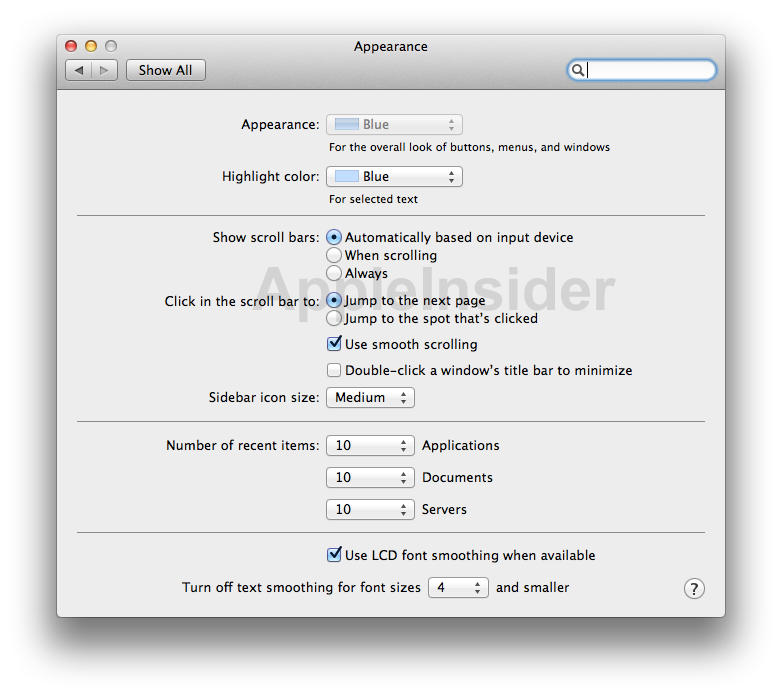 Other iOS-style elements have also been added to the Mac OS in Lion, with switches that resemble those that might be found in an application on the iPad.

New privacy settings, parental controls
A new privacy section has been added to the Security option in System Preferences. It allows users to choose whether diagnostic data will be sent to Apple, and also whether location services are enabled on their Mac. These options are similar to the location services settings on iOS devices.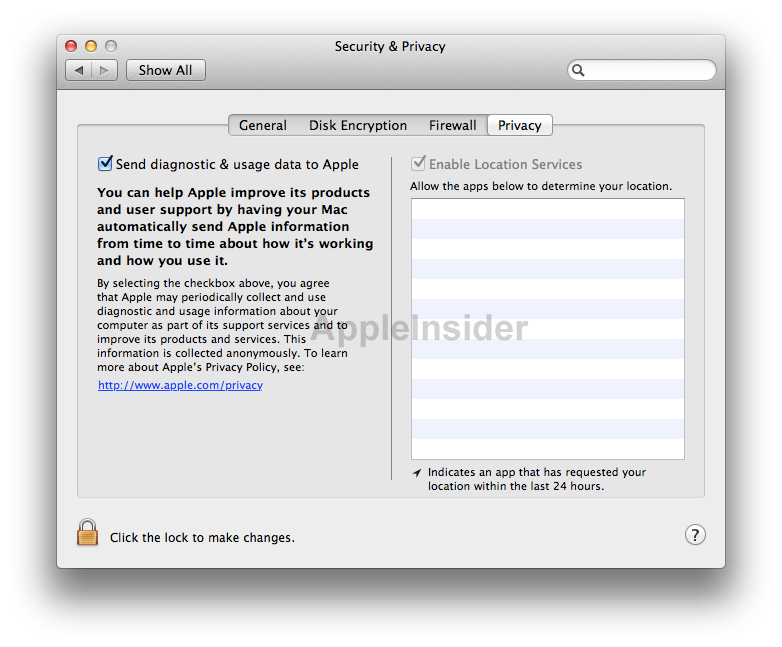 Apple has also enhanced parental controls for the Mac, allowing users to restrict access to certain websites, programs, or even to use the machine at certain times of day.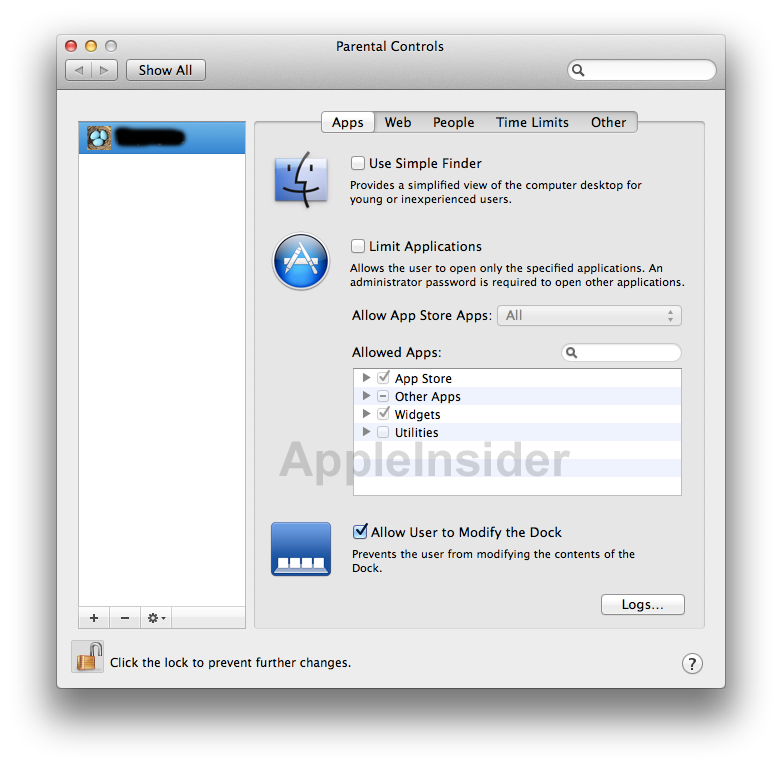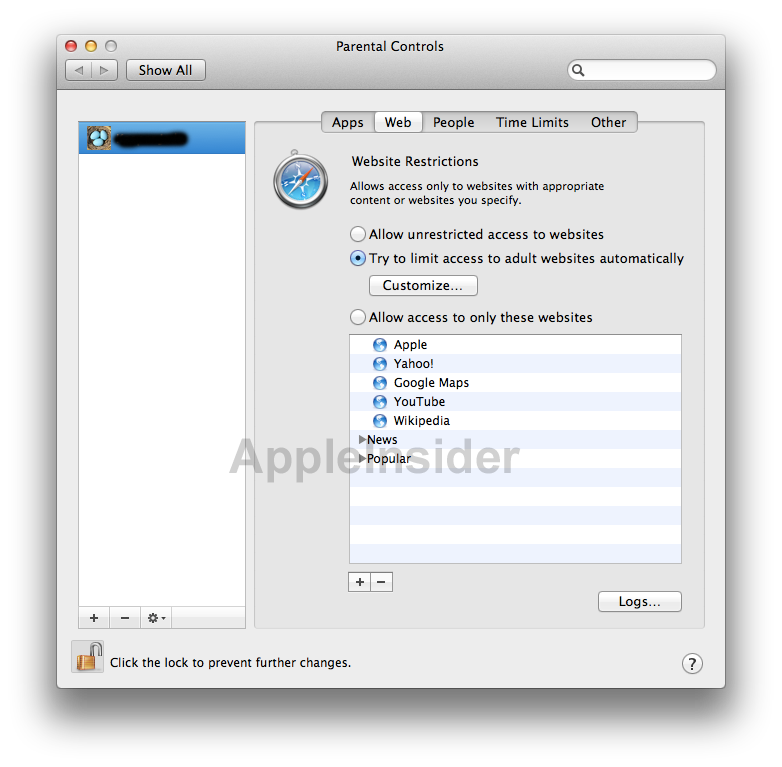 New TextEdit, iOS-style autocorrect, additional Preview interfaces
Options and the overall look and feel of TextEdit have also been tweaked. And the autocorrect user interface from iOS has been brought to the Mac with Lion.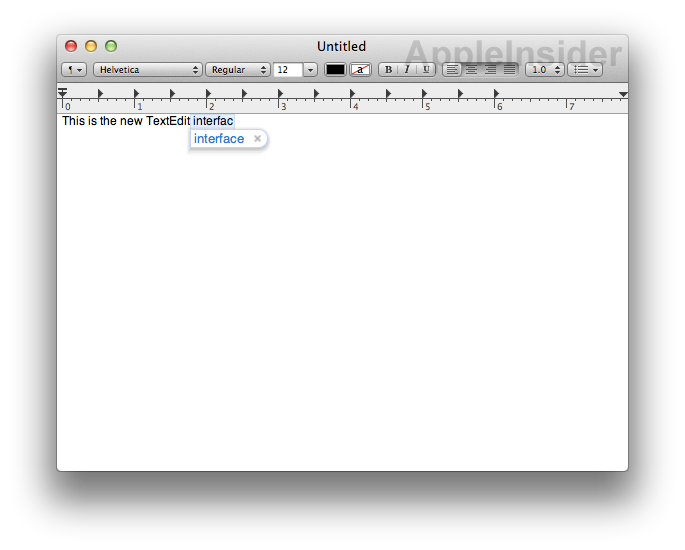 Users can also sort through pictures and view content in new manners with an updated Preview in Mac OS X 10.7 Lion.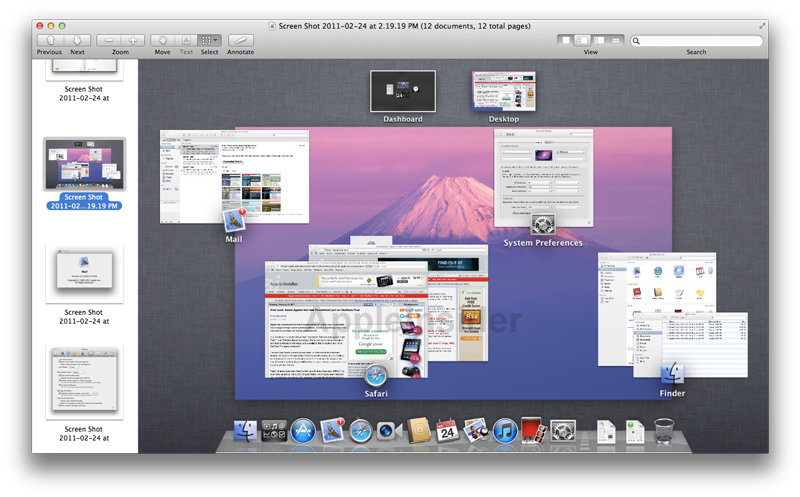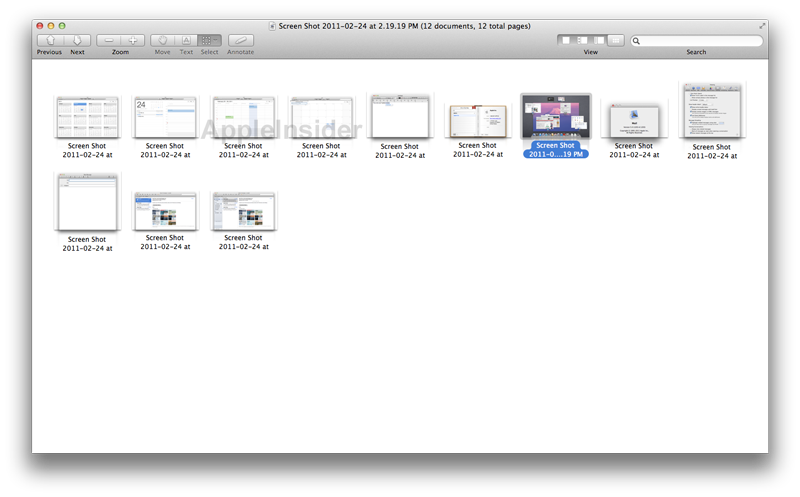 For more on Thursday's release of the Mac OS X 10.7 Lion developer preview, as well as comprehensive coverage of Apple's upcoming operating system update due to launch this summer, see AppleInsider's earlier stories: