Apple begins shipping BTO MacBook Pros for delivery by Thursday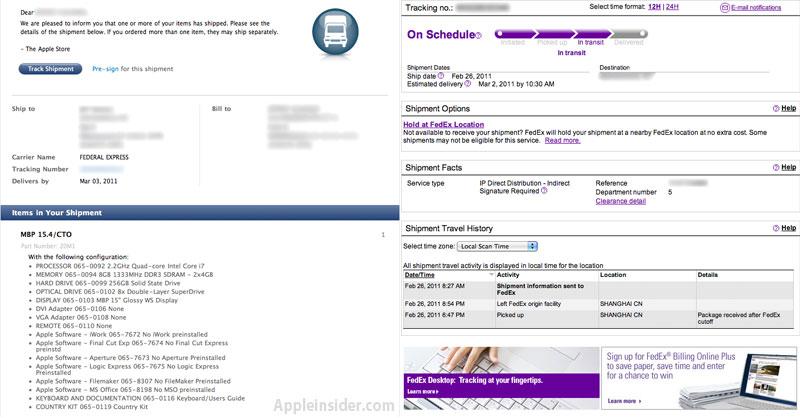 AppleInsider may earn an affiliate commission on purchases made through links on our site.
Apple overnight began shipping the first wave of customer orders for built-to-order versions of its new MacBook Pros, promising delivery by next Thursday.
The Cupertino-based company began dispatching these shipments from its Far Eastern manufacturing facilities to Fed-Ex's Shanghai, China-based shipping hub where they'll be mailed via air fright this weekend to the courier's stateside hubs for delivery to customers early next week.
As can be seen in the shipping confirmations below, Apple promises delivery by Thursday the 3rd through its own order status system, while FedEx is a bit more ambitious, promising delivery by 10:30 am local time on Wednesday the 2nd for this particular order.
It should be noted that the custom configured MacBook Pro shown in the order below was shipped via Apple's $18 2-3 day shipping method, as opposed to its standard free shipping method. This particular notebook was upgraded with a 256GB SSD drive and 8GB of memory.
Savings on retail configurations
Meanwhile, several of Apple's larger authorized resellers are already reflecting stock of the company's five standard retail configurations for the MacBook Pro. And a handful are offering considerable early discounts of up to $150 on the new models.
For its part, MacConnection is offering the lowest prices on the 15- and 17-inch MacBook Pros, while MacMall delivers the best deals on the 13-inch models through its 3% instant discount coupons, which are included in the price guide links below and are exclusive to AppleInsider readers.
For those readers considering a discounted purchase through one of these authorized resellers, it's noteworthy to point out that the MacConnection requires that customers submit mail-in-rebates post purchase to achieve the prices listed in AppleInsider's Mac Pricing Guide, while the discounts shown for MacMall are instantaneous (including the 3% AI discount) and do not require any form of rebate.